Ashley Iaconetti and Husband Jared Haibon Reveal What It Was Like to Hide Their Pregnancy
Ashley Iaconetti and Jared Haibon hid their pregnancy to tell their friends and family before their fans.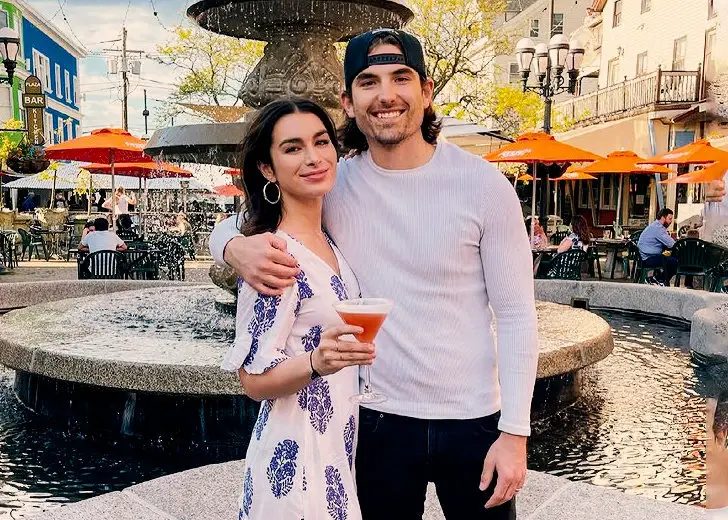 Ashley Iaconetti is a journalist and television personality best known for The Bachelor franchise. She has participated in The Bachelor, Bachelor in Paradise, and The Bachelor Winter Games.
She has been married to her fellow Bachelor in Paradise contestant Jared Haibon since 2019. She first met her husband on season 2 of the show in 2015. 
Iaconetti experienced love at first sight with Haibon, but the same cannot be said for him. The pair dated each other, but it was not serious since they were linked with other people as well. 
After dating on and off for three years, they announced their relationship to the world in May 2018. A month later, Haibon popped the question.
Fast forward a year later, on August 11, 2019, and the pair got married in a beautiful wedding ceremony in front of their friends and family. 
The pair has reached another milestone in their relationship. Recently, they revealed they were expecting their first child. 
Ashley Iaconetti and Jared Haibon's First Child
On July 16, 2021, the pair gave an interview with Hollywood Life and shared their experience about finding and hiding their pregnancy. As of today, Iaconetti is ten-and-a-half weeks pregnant. 
It was difficult for the duo to keep the pregnancy a secret since they've been so accustomed to having their lives put on public display that hiding it was a proper challenge.
Iaconetti stayed at home for the better half of ten weeks and could not make good Instagram content. Unfortunately, it was no different for her husband. 
Since Haibon was running errands alone, people would ask where his wife was. So he would lie to them, saying she was not feeling well. 
They did not want to reveal their pregnancy, so they could let their family and friends know about it before their fans. Regardless, it was awkward for both of them to lie about it. 
The pair found out they were pregnant on Memorial Day. Ianconetti took the test without telling her husband since she had some symptoms which suggested that she might be pregnant. 
They had been trying to get pregnant for seven months by then, but it was all in vain. The journalist's ovulation schedule was off, so the couple thought Ianconetti was not pregnant. 
Nonetheless, Ianconetti took the test, which came back positive. Then, to be sure, they took tests for three days, all of which came back positive. 
To confirm it, the couple did an ultrasound which ultimately proved that they were pregnant. 
Iaconetti has slowly started experiencing the side effects of pregnancy — morning sickness and cravings. Haibon has been doing everything to make it easier for her. 
He shared one instance where Iaconetti had cravings for chocolate cake. So he went to the grocery store at 9 PM to get it but was unsure which kind she wanted. 
As a result, he got two different kinds of cakes to make sure that he did not get the wrong one.
The journalist has been throwing up a lot lately, but fortunately, chocolate cake is the only food item she hasn't puked yet. 
The couple does not know the gender of their baby yet. They will find out about it this week, however, they have speculations about it.
Initially, Iaconetti thought they were expecting a boy, but now, she is not sure. She wants a daughter, but she clarified she would be happy with either of them.
The pair is ready to be parents. Out of them, Haibon is excited to take on his role of being a father. 
Haibon is inspired by his own dad, who taught him a lot growing up. He also used to volunteer at a children's hospital, and as a result, he is very handy when it comes to working with babies. 
He is more than ready for all the diaper duties coming in the future. Iaconetti could not be happier to have a husband like Haibon since she considers him to be "the most helpful husband in the entire world."