When Did Antonio Cupo Get Married To Wang?...Wedding Inside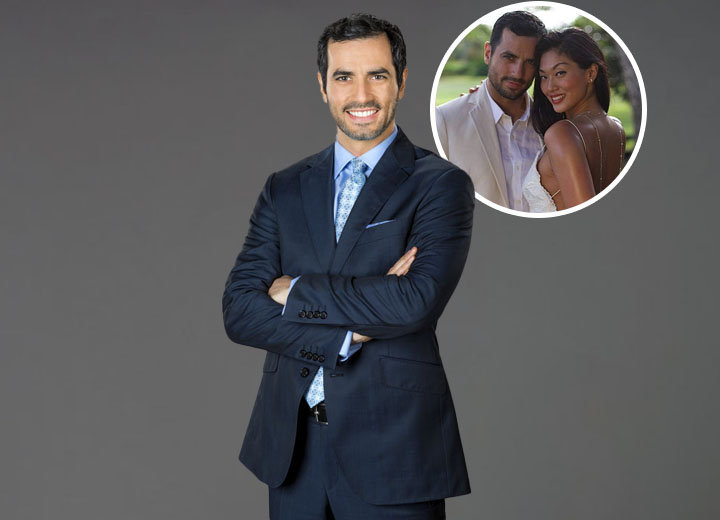 Antonio Cupo has a habit of being a part of happy movies, which Hallmark TV movies such as In My Dreams and For Better of For Worse usually are.
The Vancouver native has been a staple at the TV movie network for over a decade. He is especially known for his comedic style but can also be seen in numerous versatile roles on television and films. 
You may also have seen him on the big screen in movies such as Camera: The Walking Mountain, Barbarossa, September Eleven 1683, It Happened in L.A., and The Legend of La Llorona.
In addition to Hallmark credits, he is also known for his portrayal of Marco Moretti in the Canadian drama Bomb Girls series, Nick in the American series Ice, Captain Bruno Fabi in the American adventure series Blood & Treasure, and Xavier Collins in the Lifetime TV film Wrath: A Seven Deadly Sins Story.
And just like his on-screen characters' family lives, his real personal life, too, is nothing short of amazing. So it's a shame that the American Mary star does not share much about his family with his wife and children on social media.
Here are a few things we know about Cupo's married life, wedding, and how he balances his personal and professional lives.
When did Antonio Wang tie the knot with Dorothy Wang?
Antonio Cupo and his wife, Dorothy Wang, have been together for over seven years.
He has not talked about where he met his wife or how long they dated before tying the knot, but a post on her Facebook suggests they got engaged in 2015.

Antonio Cupo with his wife, Dorothy Wang, in July 2015. (Photo: Dorothy Wang/Facebook)
Cupo and Dorothy Wang got married on May 28, 2015, in the seaport city of Vancouver, British Columbia, which is also his birthplace. Their wedding registry reveals nothing but her name and their wedding date and place.
Going through her Facebook page reveals a bit more about their lovely nuptial. As seen in their wedding photos, the couple wore white for their special day. They also had a beautiful photoshoot at a rocky oceanfront.
Wang seems to keep her social media either private or keep her activity at a minimum. The only public posts on her Facebook page are one of her kids snap clicked on a beach (posted on January 11, 2023) and anniversary posts from 2016—she posted a couple of selfies and vacation posts with Cupo.
And understandably, not all celebrity partners would love to be in the center of the media glare and spotlight. Clearly, numerous factors may influence a celeb partner to keep a low profile.
Some may want to avoid unwanted attention and paparazzi to live their lives normally. Additionally, others may want to keep their personal life and public personas separate. And maintaining a low profile can also prevent rumors and gossip that might hurt the relationship.
Finally, celebrity couples who maintain a low profile may be more likely to have a healthy and stable relationship, as they can focus on their relationship without the added pressures and distractions of a high-profile relationship. And it seems to be the case here for Wang and Cupo. 
The pair have two children. Their son, Brando, was born in 2016, and their daughter, Chiara, arrived in 2019.
Cupo only shares pictures and videos of his daughter on his Instagram, although there are a lot of little clips of Brando on his IG highlights. His wife, however, seems to prefer relative anonymity.
Antonio Cupo's talked about work-life balance with children
Like many parents during the pandemic, Cupo and Wang had their share of revelatory moments alongside their children. The two little ones kept them occupied throughout the lockdowns as they had just moved into a new house and were homeschooling them.
"It was a time for us to reflect," he said in his interview with My Devotional Thoughts in December 2020. He realized that every moment he spends with his children is precious.

Antonio Cupo's two children, son Brando (right) and daughter Chiara (left). (Photo: Antonio Cupo/Instagram)
Being a father is also the role he relishes the most. His "handful" kids are his number one priority.
"When I'm on a job it takes 90% of my waking hours, so between my projects I look to inundate myself with them," Cupo told Community Magazine NJ in November 2020.
Cupo is now still busy with Hallmark, but his Instagram shows he is equally devoted to creating a great family life.
He and his wife bought a new house in 2020.
What is Antonio Cupo's age?
Born on January 10, 1978, in Vancouver, British Columbia, Canada, to an Italian father, Manilo, and a Spanish mother, Lucia, Cupo has two siblings. He is the youngest of three children. As of writing, his age is 45. His parents moved to Canada from Italy in 1968. 
Cupo delved into acting from the early age of six in theatrical productions. 
Note: Antonio Cupo's wife Dorothy Wang shares the same name as billionaire Roger Wang's daughter Dorothy Wang, who has a net worth of $10 million, according to Celebritynetworth. And because of both their Asian ethnic background and common name, many seem to get confused and wonder online searching if the mogul heir is Cupo's partner.