Inside Ansel Elgort's On-Again off Again Relationship with Girlfriend Violetta Komyshan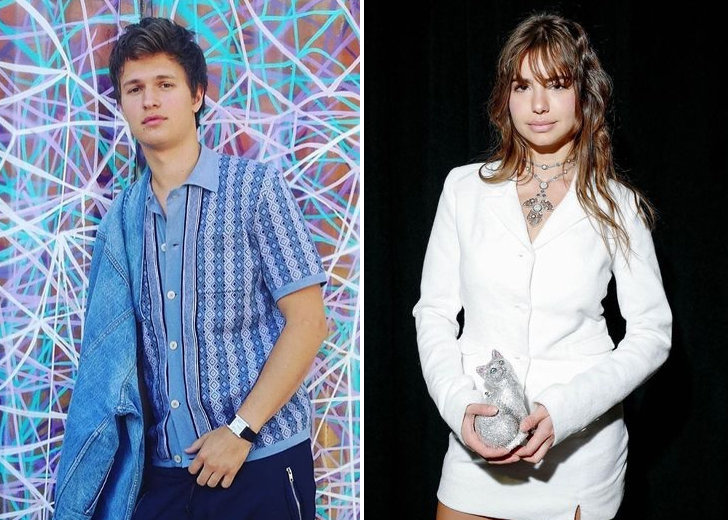 Baby Driver star Ansel Elgort has been in an on-again-off-again relationship with his longtime girlfriend, Violetta Komyshan.
In fact, the couple will be celebrating a decade of love in 2022.
Elgort met his girlfriend for the first time when they were still in high school and even asked for a mutual friend to set them up for a date, but that was a long time ago.
Especially so if one were to factor in the catalytic effects that the actor's global stardom has had on their relationship.
How Ansel Elgort Met His Girlfriend Violetta Komyshan
During an interview with Cosmopolitan, the social media celebrity recalled how she and Elgort were drawn to one another since the first time that they saw one another. 
She recalled being with a friend when she first spotted the West Side Story star.
"He was walking down the block," she said before admitting, "I didn't even know he went to my school — I just thought he was really attractive."
I looked at him and told my friend, 'Oh, my God, that guy's so hot,' and she's like, 'Oh, that's Ansel, he goes to LaGuardia.'
Apparently, Elgort was the one to make the first move as he asked their mutual friend to introduce him to her. 
The mutual friend even played the third wheel when the two went out for Starbucks. 
"We exchanged numbers and became friends, and then we started dating when I was at the end of [my] sophomore year," Komyshan shared, referring to the start of their relationship in 2012. 
Ansel Elgort and Violetta Komyshan Broke Up in 2014
In 2014, as the relationship had just reached its 2-year mark, the actor called for a split. 
As per a source with Us Weekly, the actor's growing stardom, which came with massive commitments of its own, began taking a toll on the relationship. 

Ansel Elgort with his high school sweetheart Violetta Komyshan (Source: Instagram)
They were supposedly still trying to make things work in their relationship, but things were difficult, and so they elected that it was better to break up. 
The split didn't last for long though. The actor confessed the next year:
I was doing OK, but I knew something was missing, and I was like, 'Oh, that's love.'
The actor hadn't really lost touch and reignited the romance with his girlfriend come 2015. 
Ansel Elgort and Violetta Komyshan's Break Up Rumors Ran Rampant
Things were fairly smooth sailing for the next few years as Elgort was often accompanied by his girlfriend to various shows and red carpet events. 
The next hiccup came about in 2019 when the actor came out with a controversial statement claiming that he'd like to find a lot more love in the coming five years. He explained:
It doesn't need to be sexual. I could be done sexually with my girlfriend. I think we've been pretty clear that I want to feel free to fall in love with people and that [option] should be open, but sexually it can be closed off.
Around the same time, rumors began circulating that his West Side Story co-star Rachel Zegler was coming in between the long-time lovers. Zegler even took some time off Twitter when the allegations became too much. 
Elgort and his girlfriend were going strong still, but in 2021 she began deleting several snaps of her beau from her social media pages. 
Fans instantly took notice and speculated that the two had finally broken up. The fact that the two of them hadn't made any public appearances for a couple of months when the rumor was taking shape. 
Thankfully, they proved the rumors false when Komyshan accompanied Elgort to the premiere of West Side Story in November 2021. 
As of this writing, Elgort and Komyshan are still going strong.