Explore Annie Murphy's Relationship with Her Husband of 10 years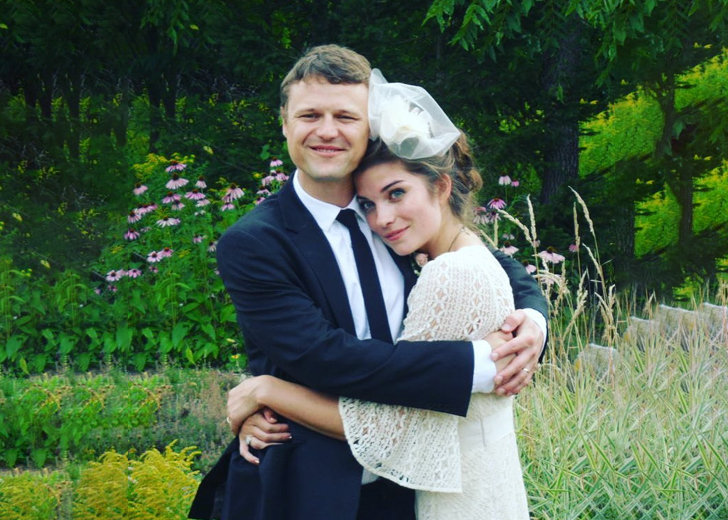 Annie Murphy has been married to her husband, Menno Versteeg, for over a decade. However, not much is known about their personal life. 
The actress has stolen the hearts of her fans and followers with amazing acting skills in various projects. 
From her iconic role as Alexis Rose in Schitt's Creek to her new sitcom, Kevin Can F**k Himself, Murphy has stunned people with her performance. 
While her professional life is well showcased, many don't know about her romantic ventures. Murphy does not usually post pictures with her spouse on her social media. 

Annie Murphy and her husband, Menno Versteeg. (Source: Instagram)
But when she does, she gives a rare glimpse of her personal and romantic life. Here is everything we know about Murphy and her spouse. 
Annie Murphy and Husband Menno Versteeg's Marriage
It is unknown when Murphy and her husband exactly started dating. But they married on August 20, 2011, and they have literally been with each other through thick and thin. 
In May 2013, their apartment in Toronto burned down. While nobody was hurt, they lost many things. 
This included Versteeg's treasured house plant, Murphy's teddy bear, and an autographed photo of Michael Jackson. 
Regardless of it all, the duo had a positive outlook on the situation and did not want "to make a big deal about it." 
Talking about their adorable chemistry, Versteeg is very supportive of his wife's career. 
He often posts pictures of himself promoting his wife's projects and gushing about her. Murphy does the same for her husband and has promoted his projects on her social media many times. 

Annie Murphy and her husband, Menno Versteeg, on their wedding day. (Source: Instagram)
All in all, the couple are supportive of each other's career and life choices, staying beside each other no matter what. 
Who Is Annie Murphy's Husband?
Like his wife, Versteeg is also involved in the entertainment industry. He is a Canadian musician who was the lead vocalist and guitarist of the indie rock band called Hollerado. 
He and his three bandmates were raised in Manotick, and they grew up together. Since they were interested in music, they recorded their first song in 2007. 
They started by playing in bars and ended their journey with over 2000 tours and shows. The band parted ways in 2019 after releasing their fourth album, Retaliation Vacation. 
All four bandmates wanted to do something different in life, so they broke up. 
Versteeg joined another group called Anyway Gang in 2018 and produced an album with them. 
Similarly, he experimented and released a solo debut album, Reno Tapes, as Mav Karlo in 2019. 
Versteeg also has his record label. He co-founded the indie record label Royal Mountain Records in 2009. 
They have signed many incredible musicians, including Alvvays, Mac DeMarco, U.S. Girls, and Finn Wolfhard's band, Calpurnia. 
Murphy has also worked musically alongside her spouse. The actress wrote the lyrics of Schitt's Creek's 'A Little Bit Alexis,' whereas her spouse and their friend created the melody. 
She told Elle in 2020 that after she "got the green light" from the series, she approached "two dear musician people" to work on it. 
Interestingly, it was not the only time the husband-wife duo collaborated. When Murphy was a struggling actress, she often went on tour with Hollerado. 
During that time, she sang on stage and wrote songs. One of the popular songs she wrote is 'Good Day At The Races.' 
Versteeg is also an advocate for mental health. He created a mental health initiative for the musicians connected to Royal Mountain Records in January 2018. 
The initiative was to give $1500 fund to each band signed to the label, specifically to help them cope with stress during tours and performances.