Anne Hathaway Supports Breast Cancer Awareness Campaigns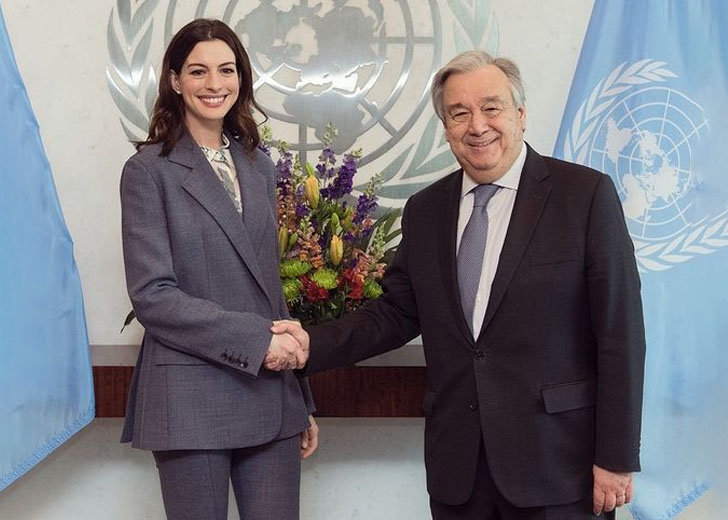 Besides being a talented actress and singer, Anne Hathaway has also recognized herself as a philanthropist with her generous activities over the years.
Speaking of some, she has served as a long-term advocate for the Nike Foundation to raise awareness against child marriage and has traveled to various countries to advocate the rights of women and girls.
She is also a supporter of LGBTQ rights and has donated money to organizations that support same-sex marriage.
In addition, Hathaway seems equally active regarding women's health and especially supports breast cancer awareness campaigns.
Anne Hathaway Admires People Who Support Breast Cancer Awareness
Back in 2013, the Modern Love actress hosted Elyse Walker's Pink Party, an annual event that raises money for the Women's Cancer Program, at Cedars-Sinai's Samuel Oschin Comprehensive Cancer Institute. 
During the event, she opened up about the campaign and her motivation behind wanting to be involved in breast cancer awareness campaigns. She reportedly even shed a few endearing tears.
"This is my first year," Hathaway said, revealing it was her first appearance at a breast cancer awareness campaign. She continued to share,
It's so much fun and it has a good-heartedness as you would expect. It's a powerful event and everyone here is really strong and really there for each other. I'm really happy to be here.
The actress further shared her interest in supporting breast cancer awareness in the future, stating that she was inspired by the entire NFL community.
She added that watching people wear pink uniforms during one of the football matches was touching — and she so wanted to hug each NFL player and say, "Thank you!"
One of Anne Hathaway's Friends Had Cancer
In the same event, Hathaway shared that a good friend of hers struggled with the illness. And it was one of the reasons why standing up in support of breast cancer research was important for her.
She explained,
A dear friend of mine, when she was battling cancer, received help from Dr. Beth Karlan and everyone at the Cedars Sinai Cancer Institute, so I wanted to say thank you.
The actress eventually went on to thank Dr. Beth Karlan and the team related to the women's cancer program at the Cedars Sinai Cancer Institute in her speech for helping her friend recover from the disease.
As she mentioned them and got emotional, Dr. Karlan came from behind and hugged the actress.
"Now, before the evening kicks off I would like to acknowledge and thank the amazing Elyse Walker for her dedication to the cause and for building this remarkable event," Hathaway also acknowledged Walker for organizing the event.
Did Anne Hathaway Have Breast Cancer?
The Interstellar star's frequent appearances and support for breast cancer events have made many fans curious if Hathaway also has or has had breast cancer.
But the speculations of her having cancer is not true, or at least she has not revealed such details so far. Besides, no verified source has reported any story on that front. So it may be safe to say that she, in fact, does not have cancer.