Annaleigh Ashford Mer Her Husband, Joe Tapper, through Her Manager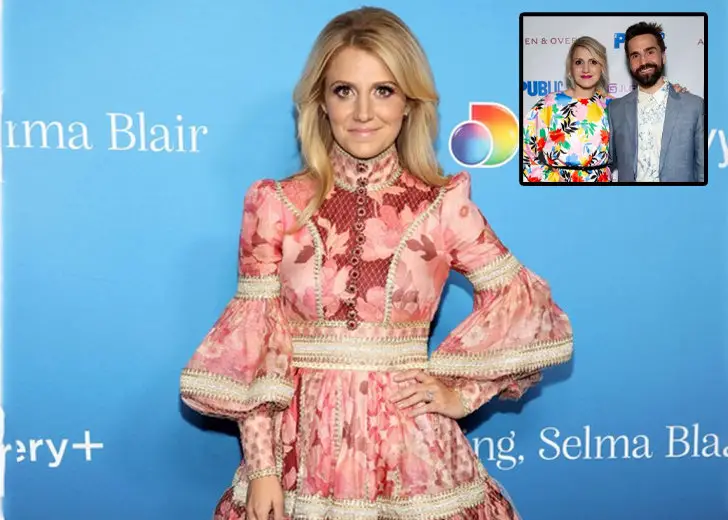 Annaleigh Ashford does not hesitate to show off her personal life on social media. She often posts pictures of her husband, Joe Tapper, and their son Jack on Instagram.
Ashford has been together with her husband for almost 17 years. But, looking at their social media, it seems like their love for each other grows every day.
Both of them are involved in the entertainment industry. In fact, they met each other through it.
Annaleigh Ashford and Her Husband, Joe Tapper
Ashford and her husband first met each other in 2006. Back then, she was on tour with the musical Wicked.
On the other hand, Tapper was doing his Master of Fine Arts at Yale and was in his third year. He was also bartending on the side to support his acting career.

Annaleigh Ashford and her husband, Joe Tapper posing for a photo. (Source: Instagram)
Ashford's manager, Beth Rosner, played Cupid for the couple. Ashford did not have much of a dating history.
She wanted to find "the one" for her and settle down for good. Unfortunately, Tapper also didn't have a good relationship history.
He was skeptical of relationships since he tended to fall for the wrong woman. Therefore, when Rosner arranged a lunch for the two, it did not go quite well.
Rosner believed that once they met each other, they would "illuminate the parts of them that didn't glow as brightly as they could."
They had their first date, but Tapper was unsure if Ashford was the one for him.
On the contrary, Ashford found herself liking Tapper. But the two did not go on another date for a long time.
As if fate was working magic for them, they would occasionally bump into each other. This happened once at a bar and twice on the train.
But still, the two did not talk about going on a second date. As a result, Rosner once again butted in.
She asked Tapper to meet Ashford performing Legally Blonde at the New York Club. He was not a big fan of musical theaters, but still, he went to see her.
He was impressed with Ashford and her skills. After the musical, they went out to dinner and finally had their second date. 
There, they talked about their lives and their interests. Ashford was interested in Tapper, but the latter was still on the fence.

Annaleigh Ashford and her husband, Joe Tapper, celebrate their son Jack's birthday. (Source: Instagram)
He canceled on her several times and did not communicate with her well. Finally, he confessed that he was "like an idiot revolting."
He admitted it was scary to meet the person he loved who would make him start to grow up. But eventually, Tapper realized that Ashford was the one for her.
And the rest is history. 
Annaleigh Ashford, Joe Tapper, and Their Son
Ashford and Tapper had a ritual of going to Six Flags theme park every year on June 25 to celebrate Ashford's birthday. Tapper chose her birthday to propose to the actress.
She described the proposal as "really funny, not glamorous." The couple tied the knot in 2013.
They had their wedding ceremony at Devil's Thumb Ranch in Colorado. The theme was the Old West and theater world combined.
In 2016, Ashford and her husband were pregnant with a baby boy. Jack was born on September 8, 2016.
Ashford often posts pictures of her husband and son on her Instagram, showing off their "happily ever after" life.