Meet Andy Reid's Wife and His Family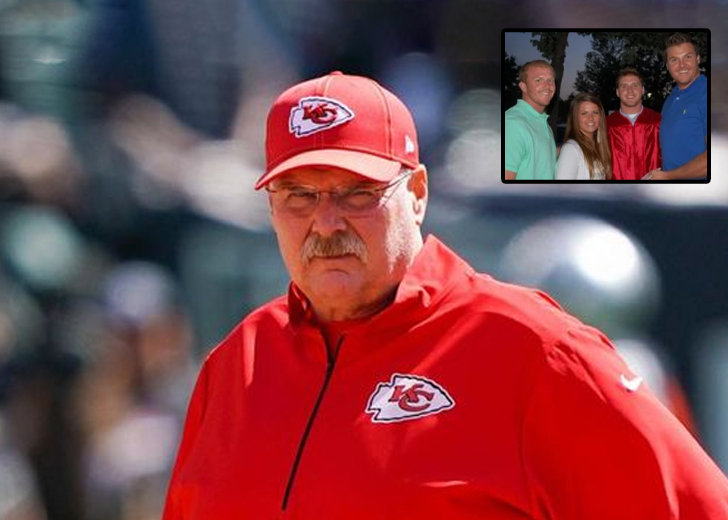 Andy Reid's professional life is well-documented. He is one of the best coaches in the NFL, currently with the Kansas City Chiefs.
Football has always been a constant in his life, one in a few. The other constant is his wife, Tammy Reid, and without her, he might not have won what he has today.
But other than her supportive nature, there's not much known about their private life.
Andy Reid's Married Life with Wife Tammy Reid
Andy and his wife met when they were very young. They first came across each other while attending Brigham Young University in the early '80s.
They began dating, and she soon had a profound effect on his life.
He grew up a "not-very-observant" Lutheran. Tammy, on the other hand, came from a devout Mormon family.

NFL Super Bowl-winning coach Andy Reid poses for a picture with his wife, Tammy Reid. (Photo: Twitter)
Soon after they met, he converted to being a Mormon and became a member of The Church of Jesus Christ of Latter-day Saints.
After university, where he played football for the college team, they married. Their wedding was on August 8, 1981.
Andy's birth name is Andrew, and only Tammy is allowed to call him that.
The NFL coach and his wife had five children — Garrett, Spencer, Britt, Crosby, and Drew Ann. As Andy started getting into his coaching career, Tammy took care of the household and their family.
Among their kids, Brit and Garrett are the most well-known in the media, mainly because of their drug issues in the past. Both Brit and Garrett battled with drug addiction and spent time behind bars.
While Britt made it out of the precarious situation, Garrett, unfortunately, could not. He succumbed to a heroin overdose on August 5, 2012, in Bethlehem, Pennsylvania. He was only 29 at the time.
Britt, after his recovery in 2009, started getting more into football. First, he worked as a camp coordinator for the Eagles.
Then, he spent three seasons working on offense at Temple University and finally joined the Chiefs, where his father was. He was eventually let go in 2020 after his contract expired.
Andy Reid's Wife Is His Pillar
Tammy has always been by Andy's side when he was completely engulfed by football. On some days, he would leave for the office at 4 am and would not return until 11 at night, leaving her to do all the housework.
Andy has always acknowledged her presence and support. He even said winning the 2020 Super Bowl would not have been possible if it was not for her.
During a post-match interview after the 2020 Super Bowl, he mentioned his "four legs." They were the most important things that led him to achieve his dream.
The first three were football, the church, and his family. However, the last one was arguably the most important — his wife and her companionship.
The day after the win, Andy, in a jolly mood, revealed that he did not even spend that much time with the trophy. Instead, he quipped, "I didn't spend the night with the trophy. I spent it with my trophy wife."