Andre Drummond Was Accused Of Leaking Ex Girlfriend Jennette McCurdy's Private Pictures
Drummond and McCurdy had a brief relationship in 2013.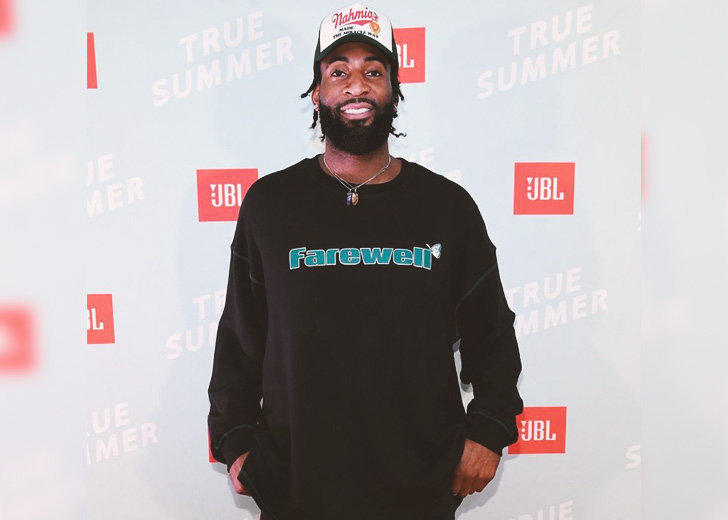 American professional basketball player Andre Drummond once briefly dated iCarly actress Jennette McCurdy. Their hyped romance ended bitterly with regrets and accusations. 
Drummond was even alleged of leaking his ex-girlfriend's intimate pictures on the internet. Here's a rundown on how their relationship started and what went wrong during their short fling.
Andre Drummond and Jennette McCurdy's Relationship
Drummond's relationship with McCurdy started as a public event on social media, mainly on Instagram and Twitter.
In the summer of 2013, the Philadelphia 76ers player started mentioning the stunning actress as his crush. He used her name in the 'woman crush Wednesday' hashtag for weeks. 
Thanks to his sweet gesture, thousands of followers requested the 29-year-old star to follow him back on his socials. McCurdy was admittedly impressed by his consistent efforts.
So after proper research, she followed him on Twitter and sent him a message. Besides the public flirting, the duo started having genuine private conversations. 
They finally met in L.A. when Drummond visited California over Labor Day weekend. McCurdy penned her experience of meeting her admirer in a blog for the Wall Street Journal in September 2013. 
"The Andre Drummond I got to know in person is the same person he projects online," the multi-hyphenate wrote, clarifying that she found the athlete sweet, gutsy, and flattering.
The then-21-year-old also stated that she got to experience moments that the camera wouldn't capture during her face-to-face date with Drummond. 
Reason behind Drummond's Breakup with Girlfriend
Although McCurdy recounted the beautiful moments with Drummond in her tell-all blog, it didn't take her long to realize their chemistry wouldn't work. As a result, she dumped the basketball player and parted with him within a week.
Almost a year after the breakup, McCurdy opened up about why she left Drummond during an interview on Pete Holmes' podcast You Made It Weird. 
The singer-songwriter revealed that she never found him compatible. But despite the odds, she took things further because she had already announced her relationship with him through her Twitter. 
Dropping a bombshell, McCurdy also disclosed that their first kiss was nothing short of terrible. "It just didn't go great ... no sparks. The mouths ... the shapes weren't right," she elaborated in the interview. 
Still, she hanged out with the New York native and even accepted a necklace Drummond bought for her. He had offered her the gift on one knee during a dinner date, asking if she would be his girlfriend. 
The theatre actress accepted the romantic proposal at the moment, but she broke up with him over the phone within days. 
Andre Drummond On Photo Leaks
Days after McCurdy became candid about the reason behind her split, her intimate pictures mysteriously leaked online. 
Moments after that, the actress took to Twitter to indirectly accuse Drummond of the leak. "To anyone disappointed: I sent those pics to 1 person. You can connect the dots," she wrote in the post.
And her suggestion spurred rumors he was the one behind the ordeal. The NBA player, however, denied all accusations. Talking about the issue in an interview with TMZ in March 2014, Drummond refuted the claims.
Instead, he insisted he wanted nothing to do with her or the situation and claimed to be worried about only his games. Since the split, McCurdy hasn't been vocal about her relationships, albeit sharing a short fling with Canadian actor Jesse Carere in 2015.
Her ex-partner, on the other hand, has given birth to two kids. Although it is not confirmed if he has a wife, it is safe to say he has two baby mamas.
Drummond welcomed his son Deon with Abigail Russo in February 2019 and daughter Aubrey EllaRose with Elizabeth Costadoni in March 2019.