Amy Winehouse's Father Mitch Winehouse Opposes the Late Singer's Biopic in the Works
Mitch Winehouse says its "100 percent not allowed."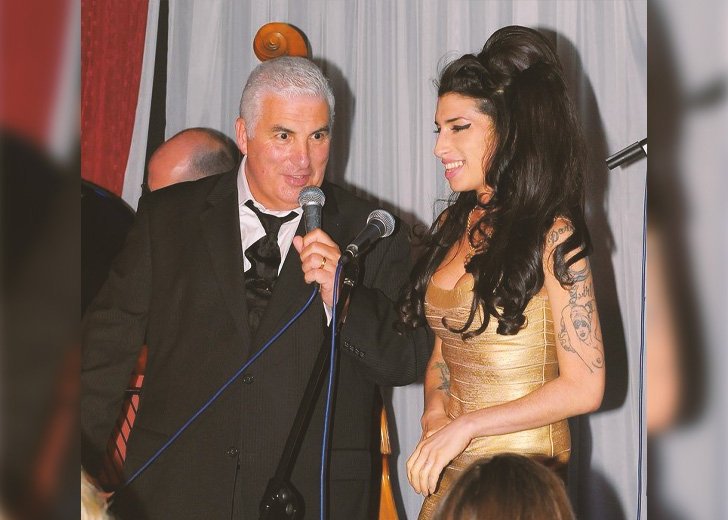 There is a new biopic in the works about Amy Winehouse's final days. It will be produced by Halcyon Studios, who got the rights to Daphne Barak's 2010 book, Saving Amy.
The book is based on six months of filming and comprises several photos and notes that Barak accumulated with Winehouse and her family in the last three years of the musician's life. In 2011, Amy passed away from alcohol poisoning, and she was only 27.
After her death, the Grammy-winning British singer's album Back to Black sold over 20 million copies and became the U.K.'s second-best-selling album of the 21st century. She was an internationally acclaimed artist. 
However, her personal life was muddled with drugs and alcohol use, and she was in an abusive relationship with her boyfriend-turned-husband, Blake Fielder-Civil.
Halcyon Studio's Hurdle 
Halcyon Studio has an obstacle to deal with before the project can be up and running. Amy's father, Mitch Winehouse, is unhappy about Halcyon's plans and shared that he will not allow the biopic to come to fruition.
Mitch, who handles his daughter's estate, revealed to TMZ that he would not allow Halcyon to go through with the project because the estate is planning to release their own biopic and owns all the rights. 
He revealed that the authorized biopic was set to film next year with a prominent production company in the U.K. along with Amy's record label, Universal. 
He added that the production company and Barak needed permission to use Amy's music but has not reached out to the estate or Universal. 
However, Barak shared that the project is not a biopic but her story featuring Amy and Bill Gunasti. She explained she had all the releases and legal agreements, which means her material was legally her property to sell.
Mitch seems to think differently, though. He shared this was not the first time production companies tried to use Amy's images in various projects without permission, although the estate denied the claims.
Despite everything, he opined the situation would not escalate legally because everyone knows that authorization is required. 
Not the First Time
This is not the first time Mitch has expressed his dissatisfaction over projects related to his daughter. 
In 2015, Asif Kapadia's Oscar-winning biopic, Amy, was released, and Mitch, who claimed he was poorly portrayed, had a lot to say about the movie. He called the movie horrible and noted that it was deceiving and fabricated to some extent.  
Mitch's family was approached several times about making a biopic about his daughter's life, but they were not interested until director Asif Kapadia who made the acclaimed biopic Senna, stepped in. 
But after Mitch saw the film, he was not happy. He was shown as an absent father who only wanted his daughter's money. 
In their defense, the filmmakers stated that the entire film was objective and a conclusion of their findings from interviewing people who were part of Amy's life.