Everything about Amy Schneider's Personal Life before 'Jeopardy!'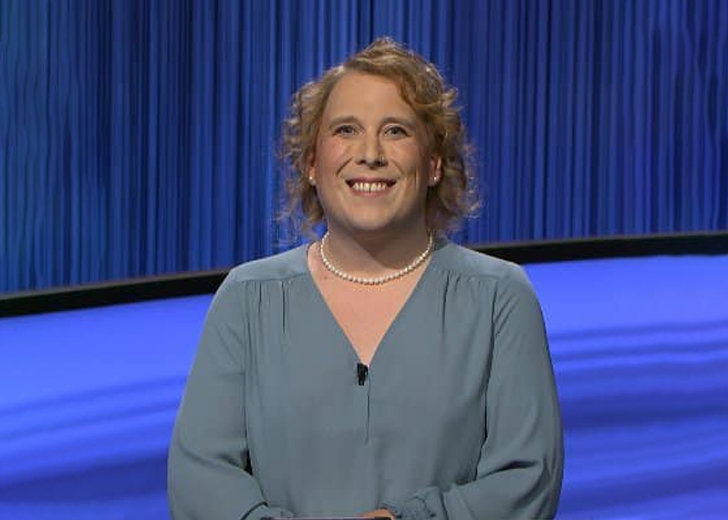 You might recognize Amy Schneider if you have binge-watched NBC's game show Jeopardy!.
If not, she is an engineering manager who was one of the show's most loved contestants. She had a 40-game winning streak on the game show from November 2021 to January 2022.
Her winning streak was the second-longest win streak in the show's history, behind only Ken Jennings, who had won 74 games in a row.
However, she is the most successful woman ever to compete on the show in terms of her streak and her $1.3 million in winnings.
Amy Schneider Is a Transgender Woman
Before making it big with her appearance on Jeopardy!, Schneider underwent a gender transformation surgery.
Quite evidently, there was no public discussion or news headline about her surgery to turn into a transgender woman because she was unknown to the world before surgery. 
"The best part for me has been being on TV as my true self," she told George Stephanopoulos in an interview.
She continued to share her experience, saying, "Expressing myself, representing the entire community of trans people and...just being a smart, confident woman doing something super normal like being on Jeopardy!"
In one of her tweets, she stated she was proud of her gender but never wanted to gather attention or get recognized just as a trans woman.
"I didn't want to make too much about being trans, at least in the context of the show. I am a trans woman, and I'm proud of that fact, but I'm a lot of other things, too!" her tweet read.
Amy Schneider Was Married to a Wife before Surgery
Schneider was previously married to a wife, whom she met after college and before surgery. And that was also before Jeopardy!.
The game show champion took to Twitter on December 8, 2021, and opened up about her life with her followers.
I was born in Dayton, OH, where I lived the first 30 years of my life. I grew up in the Five Oaks neighborhood and went to grade school at Corpus Christi. That's where I was named "Most likely to appear on Jeopardy" (so, not in Corpus Christi, Texas, as some have guessed). — Amy Schneider (@Jeopardamy) December 8, 2021
Doing so, she also revealed that she first met her wife after college when she was playing a part in a theatre play, Taming of the Shrew.
"She [wife] was playing the titular shrew, and I could make some joke about omens, since we ended up divorcing, but that's unfair to a woman I loved for many years, and we're still friends," Schneider further shared.
After the divorce, she found love in Genevieve, her current girlfriend, who is her close friend's boyfriend's sister.

Amy Schneider clicked at Washington D. C. on Valentine's Day 2022. (Photo: Instagram)
Describing how she met her, Schneider wrote, "In the summer of 2020, my friend was hanging out at my apartment, talking on the phone to her boyfriend, and somehow or other she wound up inviting her boyfriend's sister over to my place, to give her a ride somewhere. That sister turned out to be Genevieve."
That said, she implied that the two didn't start dating until February 2021.
Instead, when they were not dating, they invested their time in becoming good friends. In addition, they reportedly realized they had a long future together.