Why is Amy Childs Raising Her Two Kids Differently?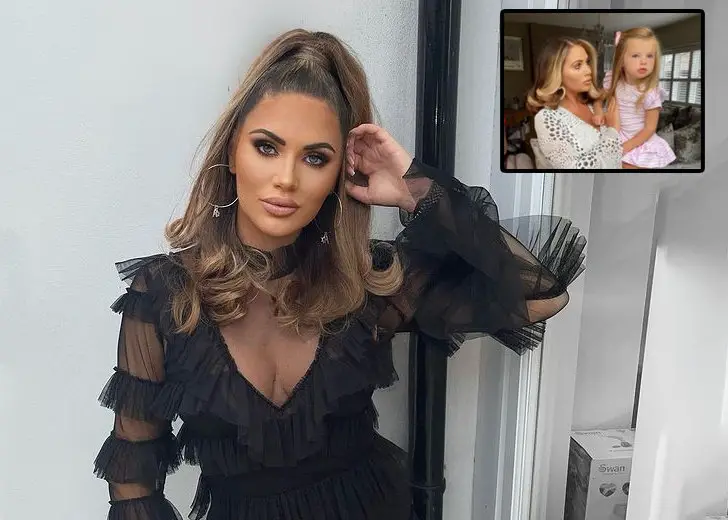 Amy Childs has two kids from two different partners. But, of course, her kids — Polly and Ritchie — are loved equally.
But The Only Way Is Essex (TOWIE) star raises one of them a bit differently. Polly makes appearances on her mother's social media frequently.
Ritchie Jr., on the other hand, has yet to make a public appearance anywhere. But, why is Childs's one kid on the internet and one not?
Amy Childs Raises Her Daughter Differently
Childs got many questions regarding her children's appearances on her socials around September 2020.
After fans noticed she only revealed her daughter Polly on the internet, they started asking if she loved her daughter more than her son.
Responding to these questions, she told The Sun she didn't put Ritchie Jr. on shows and Instagram because of an agreement she had with his father.
"I must get about 20 messages a day about Ritchie, but basically me and Ritchie's dad agreed together not to put Ritchie on social media or TOWIE," the British TV personality said.

Amy Childs with her kids — son Ritchie Jr. and daughter Polly. (Photo: Amy Childs/Instagram)
She also revealed that the decision to be on TV shows and Instagram was completely up to Ritchie Jr. after he came of age.
Childs also squashed the rumors suggesting she loved her son less. "of course I love him every bit as much as Polly," she quipped.
The decisions with Polly and Ritchie Jr. had been different because they had different fathers. And it had been not easy to live with that decision.
She did not want either of her kids to grow up feeling mistreated or left out.
The TOWIE star also clarified that the way she dictated their online presence was not a reflection of her love for them. "It is just different decisions based on different dads," she said.
Further, she defended her decisions, saying it was nobody else's business how she raised her kids.
Childs wasn't forcing Polly to be on social media, either. Instead, her daughter seems to relish the attention and opportunities that came with exposure.
"Polly is the star of the show," Childs said of her little girl. She was funny and loved being in front of the camera.
However, this did not mean she had any restrictions on what she wanted to do when she grew up, either. She could go into TV or any other profession.
Amy Childs's Life with Kids and New Boyfriend
Childs had her two children with two ex boyfriends.
Polly was born in April 2017 from her relationship with her ex boyfriend, Bradley Wright. Childs and Wright started dating in 2013.
Their relationship was always an on-and-off kind, and they parted ways for good in 2017, just weeks after Polly was born.
After this relationship ended, the reality star began a relationship with Ritchie Sr.
She never revealed much about Ritchie Sr. other than he was a businessman. She announced she was pregnant with her second kid in April 2018.
Childs welcomed Ritchie Jr. on September 1, 2018, at 4:12 AM. However, she kept his name a secret when she announced his birth.
It seems like she and Ritchie Sr. had decided to keep their son shielded from the internet from the very beginning. She revealed his name mistakenly during an interview in March 2020, after 18 months of his birth.
Child and Ritchie Sr. broke up 11 months after their son's birth.
She has now moved on with her current boyfriend, Billy Delbosq. He is a gym owner and the director of a flooring company.
They seem serious about their relationship going by her posts with him. They even got matching Cartier rings in December 2021.