British Boxer Amir Khan Claims He Is a Changed Man and No Longer Cheats on His Wife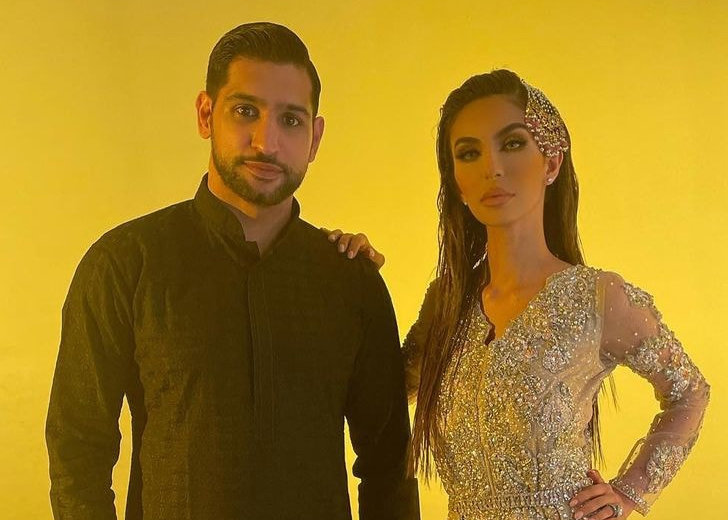 In their BBC series Meet the Khans: Big in Bolton, British boxer Amir Khan and his wife Faryal Makhdoom opened up about their marital woes. 
The couple got married in 2013 in front of 1,000 guests at New York's Waldorf Astoria Hotel. And according to reports, the wedding cost £1,000,000. 
Khan and Makhdoom were both very young when they got together. 
At the time, Khan's career was taking off while his wife was busy raising their children, and as a result, they barely spent any time together as a couple. 
Whether it was the distance or Khan's newfound fame, the 35-year-old fighter has been accused of cheating over nine times.
In August 2017, the couple had a very public split that took over social media by storm. 
Shocking tweets from the boxer's Twitter account claimed he had split from his wife and accused her of cheating on him with fellow boxer Anthony Joshua.
The couple later denied the claims stating their accounts were hacked. But then Khan went on Snapchat and confirmed their breakup. 
Amir Khan and His Wife Claim He Has Changed
In another instance, in May 2018, beautician Sophia Hammani claimed she spent the night with Khan, just 17 days after their second daughter Alayna was born.
The boxer denied it and claimed it was nonsense, but Makhdoom unfollowed him on Instagram.
However, that is all in the past. The couple appears to have moved on. 
On February 22, 2020, they welcomed their son, Muhammad, the younger brother to their kids, Lamaisah and Alayna.

Amir Khan and his wife, Faryal Makhdoom (Source: Amir Khan/Instagram)
Both Khan and Makhdoom claimed the boxer was a changed man now that he had three kids and added responsibilities. 
Khan said he no longer cheated on his spouse now that he was an "old man."
Meanwhile, his loyal partner insisted they had moved on and explained why she stuck by him even though she was branded a "doormat" and "gold digger."
Makhdoom shared that her husband "never got to enjoy his youth so he never really got it out of his system."
As a result, he ended up getting caught in the wrong places. 
Amir Khan Receives Boxing Advice from Wife
With the past behind them, the couple is now focusing on more important things like their marriage and Khan's career.
According to reports, the boxer is looking to get back in the ring, and it seems like he could receive advice from Makhdoom. 
During an interview with SecondsOut about his match with Kell Brook, Khan shared his partner was "a bit of a boxing expert" even though she kept her knowledge of the sport to herself. 
He added she would comment on what the boxers should have done when they watched a fight. She would also tell him what to do. 
"Say we're watching a fight together, [she goes] 'ah, he should be throwing the jab a little bit more. He needs to hit with the overhand left because his guard's too low,'" shared Khan. 
Meanwhile, Makhdoom, who was interviewed by Sky Sports, claimed Brook was boring. She stated she was so impressed with her husband, who looked confident and laid back. 
After eight years of marriage, it looks like Makhdoom has definitely picked up a thing or two from Khan.