Is Amber Riley Still Engaged to Fiance Desean Black?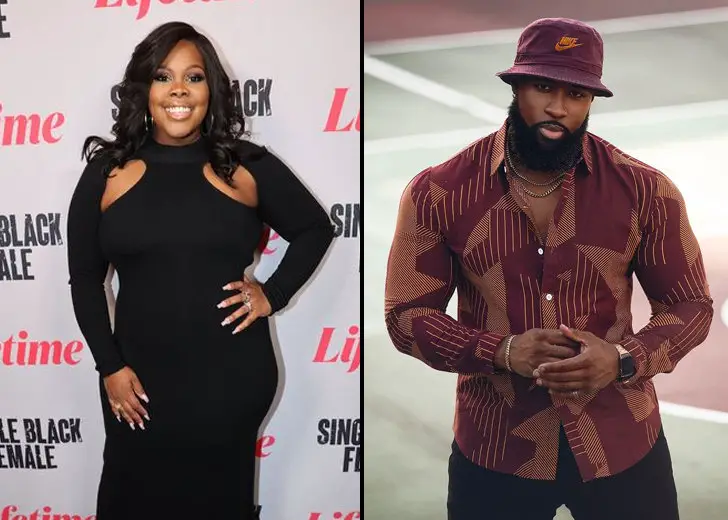 Glee alum Amber Riley is ready to start a new chapter of her life.
In November 2020, the actress announced she was engaged via Instagram with a photo of herself and her boyfriend turned fiancé, Desean Black.
The bride-to-be also posted a video of her showing off her gorgeous new diamond ring for her fans to see.
"There was a time when I thought I didn't want or deserve this kind of love. I'm looking at a man who changed my mind," the 34-year-old singer wrote alongside the photo. 
She added that all the time she had been single and loving herself, it ultimately prepared her for a relationship and the proposal. 

Amber Riley and her boyfriend at the movie premiere (Source: Amber Riley/Instagram)
Riley, who portrayed Mercedes Jones in the hit musical series, thanked her boyfriend for his patience, friendship, and partnership and expressed her love for him. 
The actress has since deleted her engagement posts from her Instagram, leaving fans to wonder if she is still engaged.
But it appears Riley and Black are still together, as he was seen at the actress' movie premiere for Single Black Female. 
Amber Riley Discusses Her Relationship With Her Boyfriend
Riley has always been private about her personal life in the past, but she opened up a little about her relationship during an interview with xoNecole.
She shared that her relationship with her boyfriend was the first healthy relationship she had been in and that she loved him to pieces. 
The Glee alum also recalled how it all started with her man. 
Coincidentally, she revealed that she found out about Black while scrolling through xoNecole one night. 
When she saw a picture of Black, she was blown away by his handsome face, and so she went on Instagram and followed him. 
She had forgotten about him until one time she saw him on her timeline and slid in his DMs saying, "Hey Desean, how are you?"
Thankfully he replied, writing, "Hey beautiful, I am doing great, and you?" and the rest is history. 
The actress clarified there was nothing wrong with a woman making the first move and shared the duo spent their first conversation talking about science, brains, and nerdy stuff.
Later, Black appeared in Riley's 'Big Girl Energy' music video. 
Amber Riley on Her Wedding Plans
In a different interview with People, Riley opened up about the upcoming wedding. 
The actress shared that she had been to many amazing weddings before, so her special day had to be entirely fun, and that all boiled down to one thing — good music. 
And for good music, Riley wanted both a DJ and a band, and thankfully she knew many artists who could help her with that. 
"You're celebrating bringing two lives together, celebrating love, celebrating a union. So the music, and the party, and the food trucks. It has to be hype. It has to be fun!" said the actress. 
Speaking of her relationship with her soon-to-be husband, she said she always wanted to marry a friend and have a great partnership, and she found that in Black.
And despite wanting a big celebration with him, she would be happy with him and a dress on their special day.