Insdie Amber Liu's Dating Status: Gay & Gender Talks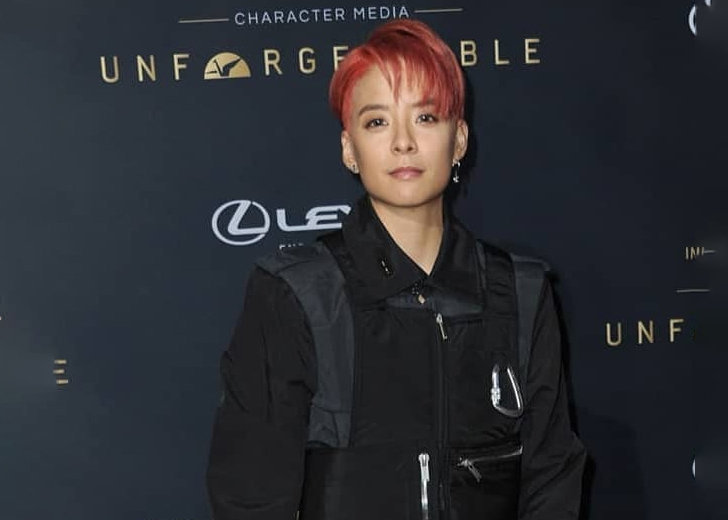 Amer Liu is one name in the K-Pop industry who has been representing K-Pop as one of the few influential LGBTIQ+ and androgynous stars. She is popular for her androgynous style and tomboyish looks. She has been an inspiration for many young people who are struggling with their identity. 
The creator of X Ep overcame her tough childhood in which she faced criticism from society for being different. "They judged, avoided, bothered, and cursed at me for no reason. I hid this problem from my family. I was embarrassed at first," she shared. 
Liu first broke into K-Pop in 2008 when a talent agency scouted her. Since then, she has become a household name in the music industry in both K-Pop and the American pop music scene.
Throughout this journey, expanding over a decade, she has made music by staying true to herself. And one of the things she is open and honest about is her gender and love.
Is Amber Liu gay?
Liu doesn't identify as gay or an LGBTIQ community member. She is not transgender. Similarly, she has not talked about her choice of pronouns yet and has never publicly raised concerns over some using "she, her" pronouns when referring to her.  
Rather, she is an androgynous person, a term used to refer to the people who support and promote the community and have both masculine and feminine characteristics. She has recognized herself as a tomboy and an ally of the community.
"Of course, of course. Love is love, dude... I'm an androgynous tomboy with tattoos, piercings with a very conservative Asian cultural [background], and I'm in entertainment. People are like, "You're a girl; why do you have tattoos?" and I say, "Well, I got even more! Here you go!" You just can't judge people if you don't know them. I'm all for equality," she explained to Billboard when asked what the rainbow and read heart pins she donned in the Three Million Years music video meant to her.
Since androgynous is a term that is not usually indicative of a person's identity, it is generally used in the LGBTIQ+ community with broad gender identity and gender expression. As a result, some may regard the term as an integral part of the LGBTIQ+ umbrella.
As of writing, Liu hasn't used a term to represent her gender explicitly. However, some fans have suggested that she might have been bisexual because of MVs songs such as Ready for the Ride, Lifeline, and Closed Doors. 
In 2015, when she started getting a lot of hate for her participation and different looks in the Kpop group f (x), she wrote a heartfelt message on Instagram requesting everyone to respect each other's differences, posting a blackout background. 
"I've been a tomboy pretty much all my life and honestly, to put it short, it really sucks sometimes. Haters can and will hate, but insulting me in front my face is totally different thing. I personally believe girls and boys are not limited to one specific look. Beauty comes in all shapes and sizes. We are all different. If we all sang the same melody how can there be harmony? Dont judge someone just because they're different. Hopefully we can all grow to respect each other's differences," she emphasized. 
The post received an outpouring of support from fans and fellow celebrities alike, with many praising Amber for her bravery and her message of acceptance and diversity.
In addition, many online commentators praised Amber for using her platform to speak out against hate and discrimination, and her message has resonated with many who have faced similar experiences.
The incident sparked a wider conversation about the importance of acceptance and diversity and the negative impact that hate and discrimination can have on individuals and society as a whole.
What Amber Liu Has Said about Gender and LGBTIQ Community
Standing at 5 feet and 5 inches, Liu has always been honest about her sexuality, gender, expression of love, and all that shows in her music. During one of her interviews with Billboard in 2018, right around the time when her mixtape Rogue Rouge was coming out.
In a conversation where she discussed the entirety of her mixtape and subjects and concepts related, she touched upon her romantic relationships, being androgynous, and being an LGBTQ ally.
Talking to Billboard about the mixed tape, which contained songs such as Lifeline, and Closed Doors, Liu said that the mixed tape album was about her life journey, political stances, and worldview. The album largely consists of songs about love, separation, freedom, privacy, and her struggle.
"I think people still don't know who I am. I wanted to be like, 'Guys, I'm not who you think I am.' I want to show a very humane side of me," she said. She added,
It's always been in me, but I'm not a rapper. I'm a singer. I rap, but I don't consider myself a rapper. I love songwriting and rap is part of my songwriting, but I'm not a rapper. I just love singing, I love narrations, I love using my voice. It's been nearly 10 years being in this industry and I still get people who say, 'She's hard, she's strong, she's so brave.' No! I'm really scared of everything, I'm very, very emotional, I'm extremely soft! If you say something to me I'll be thinking about that until I go home. I wanted to be like, 'Guys, I'm not who you think I am.' I wanted the ability to be me.
Liu also emphasized her support for the LGBTIQ community and related how her songs touched them. She said, "I have a lot of LGBTQ friends, and when you love someone so much, why would anyone take that away from somebody? Just like I say on "Closed Doors," that's their privacy, that's their relationship. Are you in a relationship with them too? No, you're not!"
The Los Angelos native stated that love should be accepted and celebrated in all forms, regardless of sexual orientation or gender identity, and that people's privacy in their relationships should be respected. She also mentioned that she had a transgender friend whose transition was amazing.
She said that love was eternal and took on many forms and that her songs were for anyone to sing, regardless of their sexual orientation or gender identity. Amber emphasized that love was love, and it didn't matter what shape or form it took.
Liu pointed out that she wasn't a vocal person growing up and said that she stayed silent about her identity growing up because of societal pressure, but insisted that she was 25 and wouldn't accept people treating her like she was 16.
In her view, one's sexuality was their own, and it was a private thing not to be questioned by anybody else. She said, 
I'm 25 now, I'm not going to act like teenager. I think that's what a lot of child stars and people that grow up in the industry have to deal with: This is a business too. There are a lot of really good and bad things that happen in this world, and we can't ignore it because we're in entertainment, which is a fantasy world. It happens in the [United] States too. I think this is my way of saying, 'C'mon guys, you can't treat me like I'm 16 anymore. I'm not dumb.

Amber Liu has never discussed her gender explicitly but identifies as an androgynous person. (Photo: Amber Liu/Instagram)
Liu also talked about how complex she found it to describe her image to everyone during an interview with What The Kpop in February 2019. She was sad and tired of the body image expectations put on her and women in general.
But with supportive and understanding friends, she was trying to be comfortable with herself.
Amber Liu goes all-in in love and relationship...talks about her ex-partners
The creator of Z! Ep also discussed her love life with Billboard. She admitted she "sucked" at relationships.
"I'm very cautious when it comes to relationships," Liu said. "I'll say, I'm picky."
She had her reasons to be picky, though. Liu confessed to having a "very all-in personality." She said she was picky because she dated someone only because she wanted to marry them.
The artist even confessed to taking five years to get over one of her ex-boyfriends.
For someone who has written her fair share of love songs, she did not have a set definition for the word. "I think, every time I'm in a relationship the definition of love changes," she added.
She said her first "I love you" at 16, and since then, the word's meaning has changed for her many times.
As of writing, Liu's dating status remains unrevealed as she has been extremely cautious not talking about it. 
What is Amber Liu's net worth?
According to Celebritnetworth, Liu's Estimated net worth is $8 million.
What is Amer Liu's ethnicity?
Born on September 16, 1992, in Los Angeles, California, Liu's parents are from Taiwan. Her mother is Taiwanese, whereas her mother has Teochew ancestry.
Did You know?
Liu has the same name as American former tennis player Amber Liu, who is married to fellow tennis pro Michael Chang. However, they have different full names. She was assigned female at birth. 
The Beautiful singer's full name is Amber Josephine Liu, whereas the American pro's full name is Amber Christine Liu Chang.