Exploring Amanza Smith's Love Life — Missing Ex-husband, Famous Exes Plus More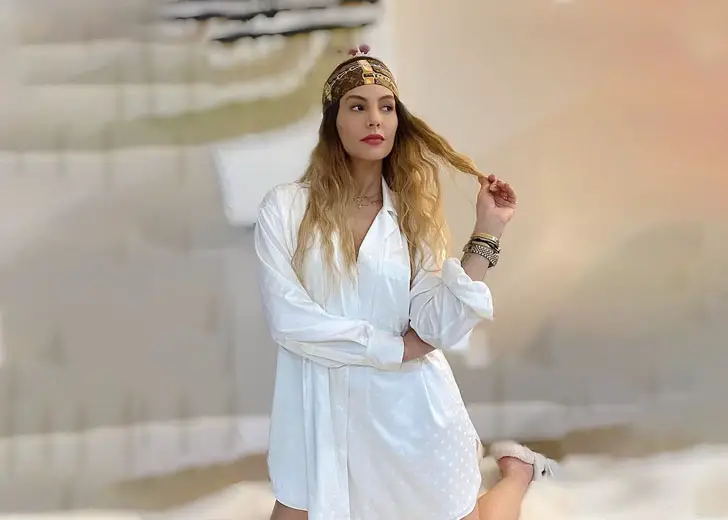 Amanza Smith has made a name for herself as one of the cast members of Selling Sunset, a reality TV show on Netflix. The series revolves around different real estate agents and interior designers who sell properties to elite people. 
While selling real estate is the show's main point, the cast's personal life is also explored. Arguably, Smith has the most mysterious and captivating backstory that raises many questions. 
Smith's love life has been a significant part of Selling Sunset, especially the fourth season, which followed the real estate agent trying to find her missing ex-husband.
Here is everything you need to know about Smith and her ex-husband, ex-boyfriends, and current boyfriend.  
Amanza Smith's Missing Ex-Husband
Smith was married to the former National Football League (NFL) player, Ralph Brown, in 2010. The couple shares two kids — daughter Noah was born in 2009, whereas son Braker was born in 2011. 
Unfortunately, Smith and Brown's marriage could not last long. The two parted ways in 2012 and got a divorce with joint custody of the kids. 
Smith talked about her missing ex-husband on Selling Sunset, where she claimed the kids spent one week with her and the other with Brown. They had been doing so for seven years until Brown went missing in 2019.
The real estate agent claimed that her ex-husband went off the grid and did not have any explanation for him missing. According to her, the NFL player went missing two weeks into filming the second season of Selling Sunset.
He was spotted on August 26, 2019, when he brought his children to school, but there was no sign of him after that. Finally, Smith heard from Brown on September 1, 2019, after sending a cryptic email. 
He explained he could not care for the kids, and they were not safe with him. He also added that Smith had to keep Noah and Braker until he could manage to do so. 
Smith investigated her missing ex-husband with the help of a private investigator on Season 4 of Selling Sunset. There, she found out that Brown had signed the rights of their kids to her. 
On September 29, 2021, Smith was granted sole custody of her kids. At the time of writing, Brown is still missing.
Amanza Smith's Ex-Boyfriends 
After her divorce from Brown, Smith has been involved with a couple of men. She shared her dating history and opened up about famous exes on the 80th episode of the Dear Media podcast, Not Skinny But Not Fat. 
Smith dated the lead singer of The Script, Danny O'Donoghue, right after her divorce from Brown. The duo met in an Irish pub where the real estate agent was impressed with the singer's Irish accent. 
Unfortunately, the relationship did not last long because of various reasons. They lived in different countries, and Smith had just gone through her divorce with Brown. 
Smith had a five-year-long relationship with actor Taye Diggs. She was Diggs' first girlfriend after his divorce with his wife of 14 years, Idina Menzel.
Smith and Diggs had lived together as a blended family since the actor's son Walker and her daughter Noah were the same age. However, the pair parted ways in 2018 since they were not in "the right place to date."
Regardless, they are friends to date, and their kids continue to have sleepovers and playdates. Before Brown, Smith was in an on-and-off relationship with NSYNC member JC Chasez. 
Amanza Smith's Current Boyfriend
Smith is currently in a relationship with a mystery man. She confirmed her relationship status via Instagram stories while answering the questions asked by her fans and followers. 
When one fan asked, "Are you single and if so what chance does an Aussie guy have of getting a date with you?," Smith replied she was in a relationship. 
Similarly, another fan asked if she was dating anyone to which, the Selling Sunset star replied, "Nope! I have a boyfriend!!!" Then, she teased her followers by uploading a picture with her boyfriend, but his face was hidden.