Know About Amanda Perez's Married Life with Wife Ana and Son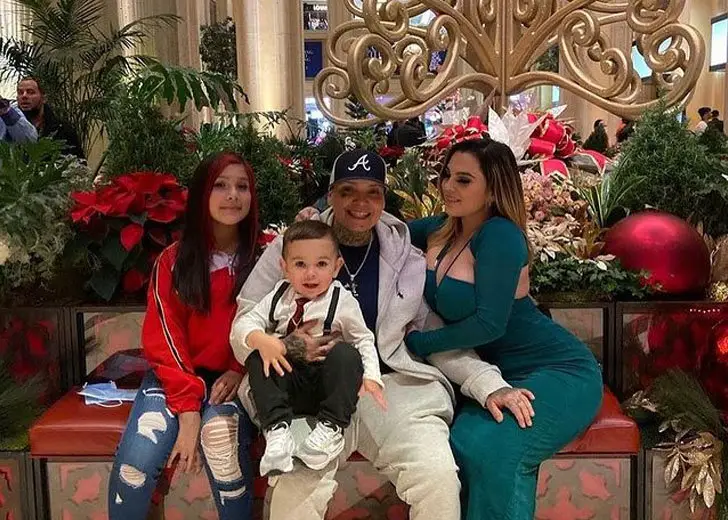 Amanda Perez has been active in the music industry for over two decades now. She has always been open about various aspects of her life through her art.
She talks a lot about her life — her childhood difficulties, past relationships, and sexuality in her songs.
She is now a married woman and has even started a family with her wife. But is she reluctant to reveal the details?
Amanda Perez Has a Son with Wife Ana Laura Perez
Perez became a mother for the first time in 2019. That year, she welcomed her son, Sebastian, with her wife, Ana Laura Perez.
On October 1, 2019, the musical artist took to her Instagram to let everyone know about the birth of her son.
"Welcome, my little man Sebastian King Perez. Thank u God," she wrote, directing gratitude towards the heavens.
The caption was accompanied by a sweet picture. The photo showcased a recently born Sebastian holding his mother's thumb.
In a subsequent post four days later, she expressed her confidence in her son's abilities.
On October 4, she uploaded a picture with her son shot in a black and white filter. Sebastian was seen sleeping on his mother's chest while his face was hidden by her cap.
In the caption, she said her son would continue her legacy and ended the caption conveying her love for him.
Since then, Sebastian has been a constant presence on her Instagram.
She was initially reluctant to reveal his identity, even going so far as to cover his face with a blue heart emoji in one of the pictures.

Amanda Perez's son Sebastian King Perez with her wife Ana Laura Perez. (Photo: Amanda Perez/Instagram)
But she later shed that fear. The first time she showed Sebastian's face was when he turned a month old.
Sebastian is now two years old. On this day, Perez called him the "greatest gift in life" as she posted a video compilation of their cute moments over his two years on earth.
Amanda Perez and Wife Ana Laura Perez — Together for over a Decade
Perez reportedly came out as a part of the LGBTQ+ community in the 90s.
But she did not meet her wife until the late 2010s.
On January 23, 2021, Perez, for the first time in a while, talked about her love life with her wife Ana.
In a post that showed Perez planting a kiss on her wife's cheek, the vocalist revealed the day as her anniversary with Ana.
She began the post by talking about how it was never a walk in the park when it came to love.
But, when people asked her how she lasted so long with Ana, she replied saying when there was love between two people, time was not an issue.
She admitted to having been driven out of her mind by her wife, but she also understood Ana's intentions and what was in her heart.
Ending the caption, she wished her a happy 10th anniversary and hoped God would grant them 10 more years of togetherness.
Ana is a custom jewelry shop owner and runs a small business. She posts about her products on her professional Instagram account, Charmed By Anita.
Even though she admitted this day to be her anniversary date, she did not talk about her wedding and when they got married.
She seems to have been unmarried until 2013. An article from 2013 mentioned Ana as her girlfriend and not her wife.
She also tweeted about gay marriage being legalized in 2014. The replies to the tweet imply that she was not married at the time.
So, she could have married Ana a while after gay marriage legalization in 2014, but this is just speculation.
The artist had a boyfriend before she met Ana, and this relationship even made it to one of her songs released back in the early 2000s.