Did Alice Levine and Longtime Partner Ed Ibbotson Break Up?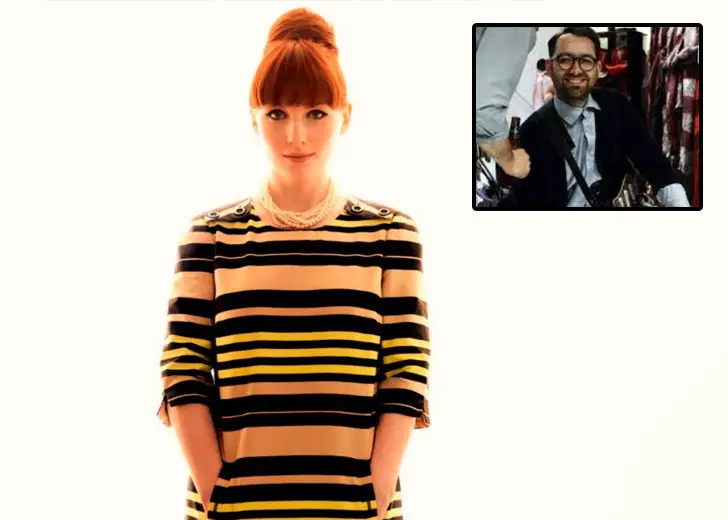 English radio and television presenter and comedian Alice Levine is best known for hosting and co-creating the British comedy podcast My Dad Wrote a Porno, co-hosting the British virtual rating reality series The Circle, narrating Channel 4's TV documentary series Sex Actually With Alice Levine, and also for her on-air works for Radiol 4 and Radio 1.
Levine also participated in the British comedy panel game show Taskmaster in 2018 as one of the five contestants in Series 6. She finished the show last with 152 points as the highest-scoring 5th-place contestant in the show's entire history. 
In this article, we delve into the Beeston native's relationship status and her dating history.
Who is Alice Levine dating now?
At present, Levine is seemingly single as she hosts and narrates Sex Actually With Alice Levine, which is a series focused on individuals or groups moving away from traditional sexuality to what turned them. If you haven't watched the show, you can expect distinct episodes focused on diverse ways people extracted pleasure, generally sexually and sometimes non-sexual, from their unique sexualities, worldviews, lifestyles, and fetishes.  
For a long time now, there have been no posts, interviews, or pictures from her relating to her dating life. Moreover, there has been no evidence, pictures, or reports till now about Levine getting married to anyone.  
Was Alice Levine married?
Levine once lived with Life in Film singer and guitarist Edward Ibbotson. The band broke up in 2017.
They used to date in the early 2010s and some even assumed he was her husband.
Even though they always kept their relationship private, their time together was much talked about back then. Now, however, they don't make as many headlines, mostly because Levine has had no social media posts related to him since 2019. 
So, it is obvious that many fans have questioned if they are still together. 
Alice Levine called Partner Ibboston her Other Half
When Levine and Ibbotson started dating, it isn't clear, but they were apparently serious around 2014.
In her writing for The Telegraph in October that year, Levine revealed a few intimate details about her relationship with him, calling him her "other half."
At the time of her writing, she lived in Hackney, East London. She also went to dinners with her partner on the weekends.
She liked to cook for him at home when they decided to stay home. But he was not allowed in the kitchen since he was a "control freak," according to Levine.
In addition, Levine also didn't allow him to cook at home because it would become a "busman's holiday" for him if he cooked. He was already working as the head chef in the evenings at public-lavatories-turned-canteen The Convenience on Charlesworth Road.  
Ibbotson also received romantic gifts from then-girlfriend Alice Levine
Levine also called Ibbotson her other half in one other interview at the time. Talking to Daily Mail in August 2015, Levine called the tiny flat she shared with him her 'home.'
When asked what the most romantic thing she had done was, Levine gushed about secretly buying her partner an electric piano on his 30th birthday.
She set the gift up at their place as a surprise when he returned home.
Other than these, Levine did not reveal anything else about the relationship.
Alice Levine and Partner Ed Ibbotson Broke Up in 2019
Levine and Ibbotson seemed to have a really good bond, at least from what she revealed. However, they did not stay together for long.
A feature on her in The Times in May 2019 revealed that they were no longer together at the time.
Further, the piece said that they had broken off their relationship in 2017, and since then, both their dating lives have been relatively unknown.
And in Levine's case, the secrecy was intentional.
While talking to I News in June 2021, she revealed that she kept her private life out of the limelight because she did not want it to be a subject of public discussion.
"I've always had a real aversion to fame," the former The Circle host (alongside Maya Jama) told the publication. "I find the thought of it completely overwhelming."

Alice Levine lived together in a flat with former partner Ed Ibbotson in 2015. (Photo: Alice Levine/Instagram)
She also diverted questions regarding her relationships away, saying, "You think you want to know, but you'd be really quite underwhelmed, there's not an awful lot to know."
The self-professed introvert then talked about feeling lucky for having her personal life private, even though she had a job that forced her to deal with a bit of publicity.
"you [sic] wouldn't want the things you talk about with your partner to be on the pinboard at work," she quipped.
Levine's chemistry with Dev was lauded 
And in past, precisely in 2018, Levine and British radio presenter Devin Joseph Jordan Griffin started hosting the famous show, Dev & Alice, in the weekend breakfast slot. Many wanted them to turn their professional relationship into a personal one and never end the show. 
Unfortunately, the show's final episode aired on 9 August 2021 after Levine left Radio 1 for Radio 4 in 2020. 
What is Alice Levine's age?
As of writing, Alice Esme Levine is 36 years old. She was born in Beeston, Nottinghamshire, England, to a lecturer father (now retired) and a caterer mother (former artist). She has a degree in English from the University of Leeds.