Did Alice Levine and Longtime Partner Ed Ibbotson Break Up?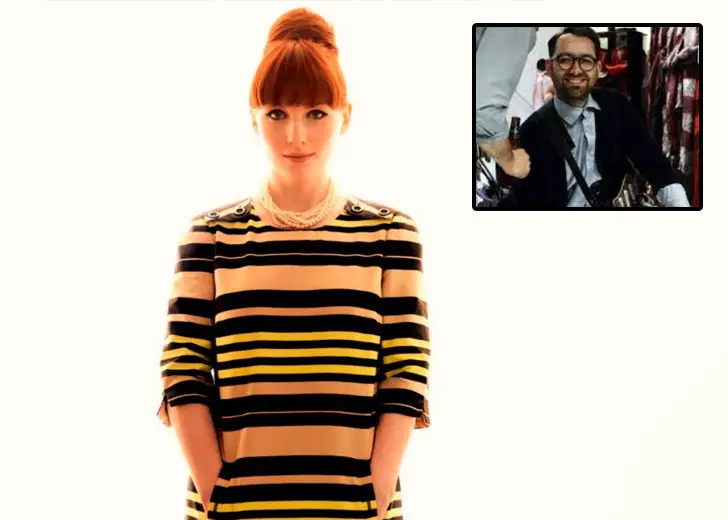 Alice Levine, known for her podcast My Dad Wrote a Porno, once lived with musician partner Edward Ibbotson.
They used to date in the early 2010s and some even assumed he was her husband.
Even though they always kept their relationship private, their time together was much talked about then. Now, however, they don't make as many headlines.
However, are they still together now? Or have the couple gone their separate ways?
Alice Levine Called Partner Her Other Half
When Levine and Ibbotson started dating, it isn't clear, but they were apparently serious around 2014.
On her writing for The Telegraph in October that year, Levine revealed a few intimate details about her relationship with him, calling him her "other half."
At the time of her writing, she lived in Hackney, East London. She also went to dinners with her partner on the weekends.
She liked to cook for him at home when they decided to stay home. But he was not allowed in the kitchen.
Levine took her time and cooked when they stayed in, but didn't allow him to cook at home. This was because it would become a "busman's holiday" for him if he cooked.
Ibbotson worked as a chef at a local eatery on Chatsworth Road called The Convenience. He used to work in the evenings as the head chef for the cafe.
The radio host also called her partner a "control freak" in her piece, another reason why he was not allowed in the kitchen.
She called Ibbotson her other half in one other interview at the time. Talking to Daily Mail in August 2015, Levine called her tiny flat she shared with him her 'home.'
Ibbotson also received romantic gifts from her.
When asked what the most romantic thing she had done was, she gushed about secretly buying her partner an electric piano on his 30th birthday.
She set the gift up at their place as a surprise when he returned home.
Other than these, Levine did not reveal anything else about the relationship.
Alice Levine and Partner Ed Ibbotson Broke Up
Levine and Ibbotson seemed to have a really good bond, at least from what she revealed. However, they did not stay together for long.
A feature on her on The Times in May 2019 revealed that they were no longer together at the time.
Further, the piece said that they had broken off their relationship in 2017, and since then, both their dating lives have been relatively unknown.
In Levine's case, the secrecy is intentional.
While talking to I News in June 2021, she revealed that she kept her private life out of the limelight because she did not want it to be a subject of public discussion.
"I've always had a real aversion to fame," The Circle host (alongside Maya Jama) told the publication. "I find the thought of it completely overwhelming."

Alice Levine lived together in a flat with former partner Ed Ibbotson in 2015. (Photo: Alice Levine/Instagram)
She also diverted questions regarding her relationships away, saying, "You think you want to know, but you'd be really quite underwhelmed, there's not an awful lot to know."
The self-professed introvert then talked about feeling lucky for having her personal life private, even though she had a job that forced her to deal with a bit of publicity.
"you [sic] wouldn't want the things you talk about with your partner to be on the pinboard at work," she quipped.
It might be safe to say we will not know her relationship status anytime soon unless she reveals it, of course.