The Story of Alexander Ludwig and Wife Lauren Ludwig's Elopement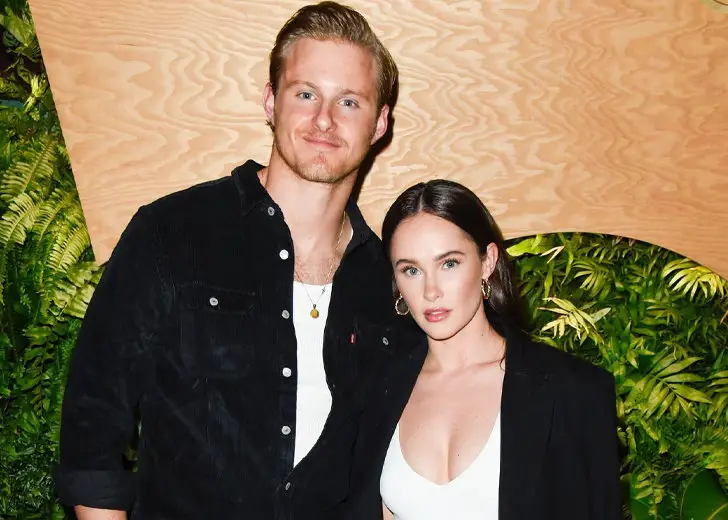 Alexander Ludwig's relationship with his wife, Lauren Dawn Ludwig, progressed quickly, at least in the public's eyes.
The couple, who made their relationship Instagram official in July 2020, married just six months later. And it wasn't a conventional wedding for the two.
They eloped, and here's the story of having their special day all to themselves.
Alexander Ludwig and Wife Lauren Dawn Eloped after a 'Crazy Year'
Ludwig surprised everyone when he announced that he was married on January 3, 2021. It would not be too wrong to say it was a great way to start a new year for him and his fans.
He began the post by calling his wife his best friend, the future mother of his children, and his "everything."
Then, he revealed where they had eloped to — at The Lodge at Blue Sky's private mountain retreat — and thanked the reverend who officiated their wedding, Craig Gordon, Gabriella Santos, their wedding photographer, and Yam, their dog, for being the witness.
"We decided to elope," he wrote beneath that. "It has been such a crazy year but it certainly put things into perspective."
He talked about how life was short, and he did not want to spend another day "without calling this beautiful woman [his] wife."
The Vikings actor also said that they would have a "proper celebration" with his friends and family once everything settled down. But, for then, the post had to do.
A wedding with the love of his life, their dog Yam, on a "mountain top in the middle of nowhere" sounded like the "perfect beginning" to him.
It wouldn't be until a year later that everyone would know the actual date of their wedding.
On December 23, 2021, Ludwig posted their first-anniversary post.
"Happy anniversary To the love of my damn life. Never looking back and grateful for every day I get with you. You're my inspiration," he wrote in the post.

Alexander Ludwig and his wife, Lauren Dawn Ludwig, on their wedding day in December 2020. (Photo: Alexander Ludwig/Instagram)
In both of these posts, Ludwig uploaded the same picture from their wedding. In the picture, they are intimately looking at one another, standing in front of the snowy Utah mountains.
He was dressed in a black tuxedo with a white shirt, and she wore a beautiful white wedding gown.
Alexander Ludwig and Wife Lauren Dawn's Love Life
Ludwig and Dawn first came across one another in 2020, as she revealed in her wedding post on the same day Ludwig made his.
The actor made their relationship Instagram-official on July 14, 2020, her birthday. "happy birthday Trev!" he wrote in the post, with a picture of her kissing him on the cheeks accompanying the caption.
The two became a permanent fixture on each other's Instagram since then, and they have a lot of uploads from their outings together.
On November 22, 2020, the couple announced their engagement with a couple of selfies where Dawn was showing off her engagement ring.
When asked about their wedding plans, Ludwig told ET in December 2020 a lot of kind-of misleading information. He talked about how his Vikings co-stars would be in attendance, and Travis Fimmel could even be one of his groomsmen.
Maybe they will do a second wedding where all this will happen? Who knows?