Meet the Host of 'Alex vs. America' Chef Eric Adjepong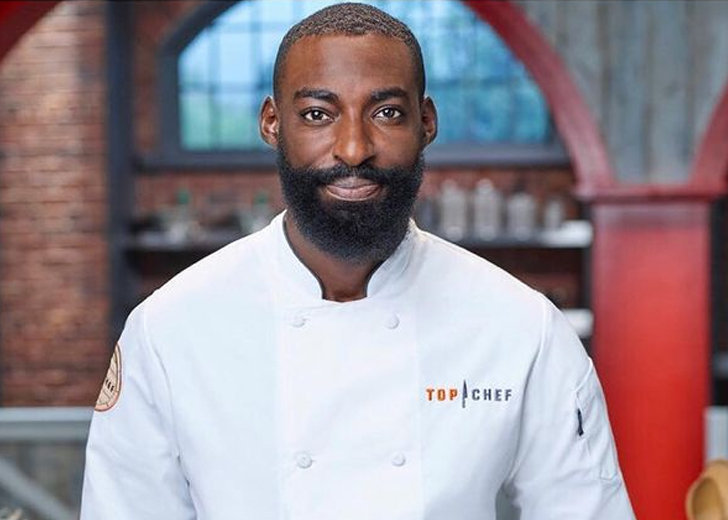 With 2021 coming to an end, there are many things to look forward to in the coming new year.
One of which is Food Network's TV show, Alex vs. America, hosted by renowned chef Eric Adjepong.  
The new competition series will premiere on January 2 and revolve around 15 brave and talented chefs from different age groups across the United States.
These chefs will battle it out with arguably one of the most famous chefs in the world, Alex Guarnaschelli, for the winning trophy. 
Unlike other cooking competitions, where contestants are tasked to cook something random, competitors will be given an ingredient or a dish of their expertise. Using what they have in their arsenal, they will compete with Alex in Alex vs. America.
The upcoming culinary show will be a little mix of comedy and drama, with a whole lot of cooking.

Eric Adjepong, Host Of Alex vs. America (Source: Eric Adjepong Instagram)
And to give the show some fun touch, Adjepong will be bringing his fine hosting skills.
Eric Adjepong, Host of 'Alex vs. America' 
Acclaimed chef Adjepong made a name for himself on Top Chef and Top Chef All-Stars. He used the platforms to introduce viewers to traditional Ghanaian cuisine.
The first-generation Ghanaian-American was born and raised in New York City.
His parents noticed his interest in cooking early on and supported his passion, which led him to work in various Michelin-ranked kitchens across the city.
But while preparing food in these restaurants, the Alex vs. America host realized he never felt a connection to the food he was making.
That's when he took it upon himself to tell stories about the African diaspora and his Ghanaian-American roots by drawing on West African flavors. 
Adjepong did this by founding Pinch and Plate, a full-service dinner party company with his wife, Janell Adjepong.
Clients were introduced to West African cuisine with a curated menu and a table and space professionally designed by Adjepong's wife. 
The Alex vs. America host also made it his mission to spread awareness about African cuisines by hosting virtual cooking classes and teaching community cooking lessons. 
These lessons have allowed Adjepong to expand African cuisines' cultural and culinary footprint across the U.S.
Eric Adjepong and His Wife, Janell
Besides having a successful professional life, Adjepong is happily married to his wife.
The duo got married in May 2017, in an intimate ceremony in Philadelphia.
The couple planned the wedding on their own through Pinch and Plate, which Essence featured. They also opened up about their relationship with the outlet. 
According to Adjepong, he knew Janell was the one when that had "this whole existential conversation about knowledge, faith, and God."
The chef shared that he knew he'd find true love, but not in the way it happened. 
As for Janell, she iterated that Adjepong was everything she wanted. "Eric is passionate, caring, creative, and strong," said Janell to describe her groom.
She shared that she knew he was the one the day they were officially together. 
She revealed that, right after they got together, she was touched when Adjepong prayed to God to bless their relationship and be the best they could be to each other.