Times When Alex Morgan Absolutely Crushed Red Carpet and Award Show Looks
The most memorable of Alex Morgan's red carpet appearances.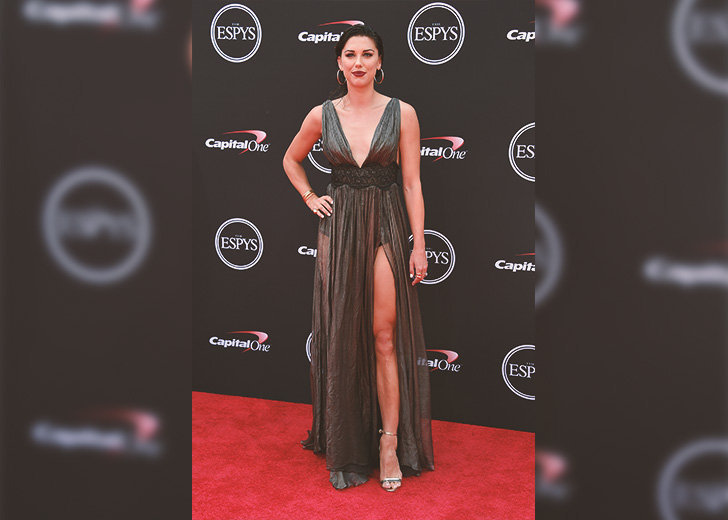 Alex Morgan is a force to be reckoned with when she is in the field, but when she lets her high ponytail loose and dons something other than her uniform, one might very well mistake her for a model. 
She has proven this statement true on more than one occasion. Here is a list of the times that this soccer professional absolutely crushed red carpet appearances. 
1. ESPYS Red Carpet 2015
Starting this list off is Morgan's look for the 2015 Excellence in Sports Performance Yearly Award. 
Morgan went with a somewhat minimalist blue theme for her red carpet look. The dress featured an asymmetric wavy pattern for the top, while the slit-cut navy blue skirt put her muscular legs on full display. 
2. New York Fashion Week 2015
One can seldom talk about fashion without mentioning the prestigious New York Fashion Week, and so the second entry on this list comes from the NYFW 2015. 
The soccer star went with an elegant yet casual look this time around in a white-on-black printed minidress. Her look was accessorized with a couple of bracelets on each hand. Her auburn locks were not held back either. 
3. Glamour WOTY 2015
For the Glamour WOTY red carpet, Morgan opted for an off-shoulder dress complete with an asymmetrical hem. The beautiful red floral print on her regal-looking attire was accented by a hint of purple here and there. 
As for the bling, she chose to go with shimmery bangles and a couple of rings. However, driving the look home was the bright smile that she wore for her red carpet photo shoot. 
4. Met Gala 2016
This time around, Morgan jazzed things up a little for her Met Gala look with an elegant white dress that perfectly hugged her slender frame. The left sleeve on her dress was absent, but the full sleeve on the right was accessorized with a beautiful geometric pattern that more than made up for it. 
She understood that a simple pair of earrings and a little bling on the fingers were all the jewelry she needed to bring her look to perfection.
5. 'Alex & Me' Premiere
This list would have been truly incomplete without mentioning the red carpet from the Alex & Me premiere. 
Alex & Me is a fantastical movie where a poster of Morgan magically comes to life to coach an aspiring soccer player named Reagan Wills. Morgan plays herself in the film while young actress Siena Agudong plays the teenage soccer player. 
Morgan proudly posed alongside her co-star in the premiere red carpet photos she shared on her Instagram. The soccer star donned a pristine white off-shoulder mini dress while young Agudong twinned in her own white gown embellished with floral motifs. 
Morgan's choice of footwear was a pair of white closed-toe heels, while Agudong went with a pair of comfortable-looking pink sneakers with ribbon-like laces. 
While a list of five is barely enough to contain the variety of red carpet looks that the star has donned over the years, it will have to suffice for this installment. Stick around for more!