'Doctor Who' Star Alex Kingston Was Full of Tears While Marrying Her Third Spouse Jonathan Stamp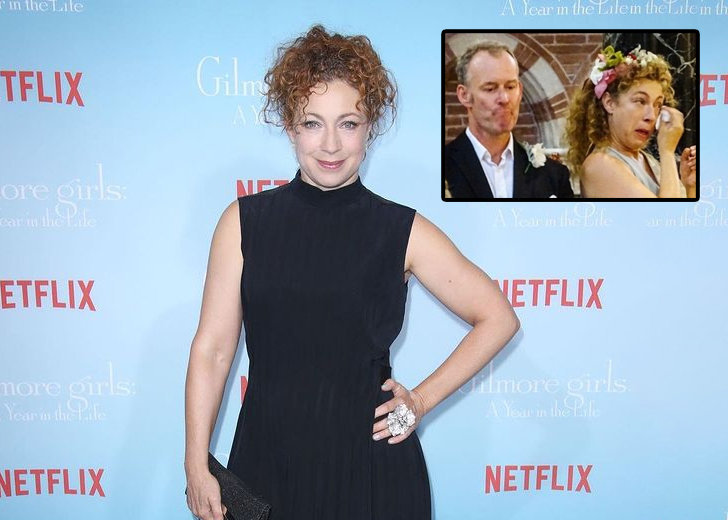 On July 18, 2015, Alex Kingston broke down in tears during her wedding with her third spouse Jonathan Stamp.
The marriage ceremony was hosted at the All Saints Anglican Church in Rome, Italy, where the Doctor Who actress, then-aged 52, walked down the aisle for the third time in her life.
Interestingly, Kingston wore a pastel green skirt in exchange for the traditional white gown. Likewise, her husband, Stamp, opted for a white shirt and black suit.
And among the bridesmaids was her daughter, Salome Violetta Haertel, who was in her black prom outfit.
Alex Kingston's First Spouse Ralph Fiennes
The actress was first married to actor Ralph Fiennes and later to freelance journalist Florian Haertel.
Kingston met Fiennes while studying at the Royal Academy of Dramatic Art in London. She dated him for ten years before getting married in 1993.
But unfortunately, their marriage did not last more than four years after Fiennes opted for actress Francesca Annis's love, who was eighteen years older than him.

Alex Kingston's first spouse, actor Ralph Fiennes photographed during the premiere of The King's Man. (Photo Credit: Instagram)
In the aftermath of their 1997 divorce, Kingston felt worthless and was clouded by suicidal thoughts.
She swapped Britain for Los Angeles in an attempt to get away from the chaos surrounding her marital affairs.
Flash-forward to nearly two decades, and the actress had admittedly forgotten about the agony she was forced to go through.
"I feel no connection to him or her [Annis] now. It's been so long, I can't quite believe I was ever married to him," Kingston shared with Standard in 2012.
She even recalled watching the Fiennes starrer 2005's flick The Constant Gardener, which according to Kingston, was the first time she watched him on film after their separation.
Kingston said she watched the entire movie with ease and enjoyed the experience of watching her former spouse on the big screen.
The actress said she admired Fiennes' acting, but admitted not being drawn towards him emotionally, calling it a good thing.
According to her, it could have been that time had healed her mental wounds and also her second marriage, which potentially helped her look ahead in life.
Alex Kingston's Second Spouse Florian Haertel
In 1998, Kingston walked down the aisle again, this time with her second husband, Haertel.
But in the year 2010, they decided to go their separate ways.
Haertel filed the divorce against Kingston in Los Angeles County Superior Courts, Stanley Mosk Courthouse in California on October 30, 2009.
While Spiegel Lance Stephen represented Kingston, Wiesner Susan Elizabeth represented Haertel.
The German journalist shares daughter Salome, born on March 28, 2001, with Kingston.
Kingston's daughter once appeared on ER's episode titled 'ER: On the Beach' [2002] as Ella Greene, the daughter of Dr. Elizabeth Corday, a character played by her real-life mother.
Chatting with The Daily Mail in 2015, she shed light on their mother-daughter relationship.
The actress, who apparently lived with constant guilt of leaving her daughter home while she worked long hours, shared her daughter would tell her not to worry as her absence was understandable.