'Remember When' Singer Alan Jackson's Beautiful Family: Wife Denise Jackson and 3 Daughters
Alan Jackson and his wife Denise chose to work on their marriage instead of giving up.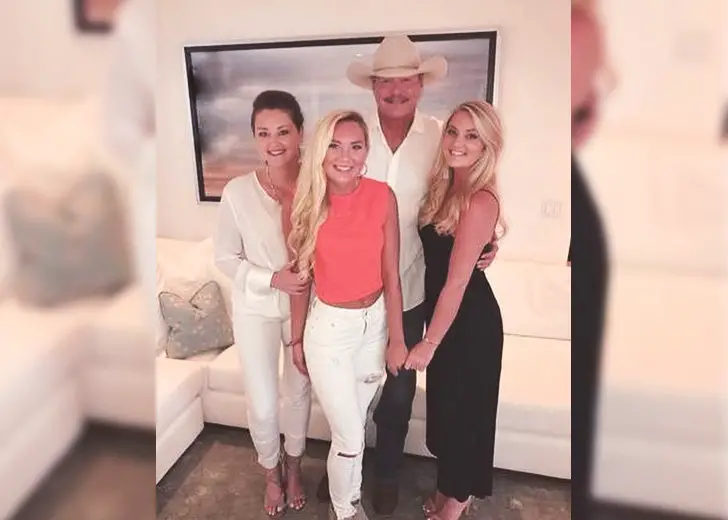 Three decades ago, no one would have thought that Alan Jackson, who worked in the mailroom of The Nashville Network (TNN), would become a prominent name in the country music industry.
His debut album, Here in the Real World, spawned an impressive string of number-one singles, including 'Chasin' That Neon Rainbow,' and 'I'd Love You All Over Again.' 
Alan's other gems include 'Remember When,' and 'Chattahoochee,' all of which featured his signature contemporary sound, a mixture of honky-tonk and ballroom ballad. He sold over sixty million albums worldwide and released twenty-six Billboard no.1 country singles.
But none of this would have been possible without his wife, Denise Jackson. 
Alan Jackson and His Wife
Alan and his wife got married on December 15, 1979. After marriage, Alan, who grew up singing gospel music, played at the local club circuit with his band Dixie Steel and worked on his songwriting. 
He got the opportunity of a lifetime when his wife spotted country-pop star Glen Campbell waiting for a flight. She approached him and gave him a copy of Alan's demo tape, explaining that Alan was an aspiring country singer.
Glen gave her a business card for his music publishing company, and as they say, the rest is history.
In 1989, Alan became the first country artist signed to Arista Records who has signed artists like Carrie Underwood. Jackson eventually became one of the biggest country music superstars, but it came at the cost of his marriage. 
The couple separated for several months in 1997 after Alan had been unfaithful in their marriage. They, however, did not separate for good and instead worked on their problems in marital counseling.
Denise revealed in her 2007 book, It's All About Him, that her newfound Christian faith helped them salvage their marriage. She told People that the bump in their marriage allowed them to have the union they always wanted. 
Alan Jackson and His Daughters
Alan and Denise have three daughters. 
Their oldest, Mattie Denise Jackson Selecman, was born on June 19, 1990, just months after Alan released his successful hit debut album Here in the Real World. She was married to assistant district attorney Ben Selecman. 
The couple had first met in 2015 and tied the knot in October 2017.
But just 11 months after their marriage, Ben passed away after suffering a traumatic brain injury that ultimately led to his death during a vacation in Florida. He was helping a woman board a boat when he slipped and hit his head. 
Three years after Mattie was born, Alan and Denise welcomed their second daughter, Alexandra Jane Jackson, on August 23, 1993. She is currently married to her husband, Sam Bradshaw.
The youngest daughter, Dani Grace Jackson, was born on August 28, 1997. Not much is known about her, and it seems she likes to keep things private.