Alan Davies Says Children Are Great but Bad for Marriage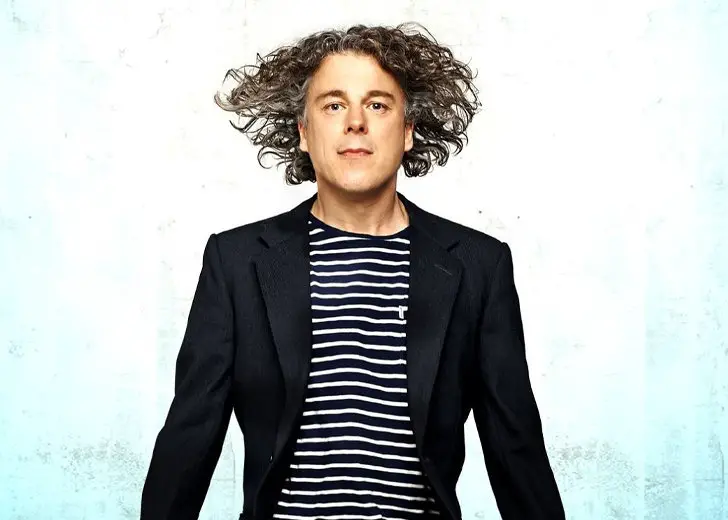 Alan Davies, the once famed eternal bachelor, finally decided to put down roots with the family he's built with his wife, Katie Maskell, and their three children.
As you might have already guessed, Davies has a few pointers to hand out to the fans now that he is a father of three.
Admittedly, fatherhood has changed his life — for better and for worse. 
Alan Davies Did the Kids' School Run
In 2017, the actor was down for an interview with Dailymail in his North London residence. His wife was out to get the children, and they were all to arrive any moment. 
"The whirlwind will come through the front door any minute," he said to lighten the mood. 
He shared it was usually he who picked the children up from school or accompanied them to music groups, playgroups, school runs, and all that. 
Most times, he was the only dad there. But Davies paid it no mind because he was working unusual hours anyway, and he could make time for all of that. 
Alan Davies Built a Life around Family
Davies planned his work around his children and family such that he could spend most of his time at his North London residence with the three kids: Susie, Bobby, and Francis. 
I harbour no ambitions at all on the work front.
He explained how he liked doing his job. However, since he became a parent, his priorities have changed drastically. 
He was no longer pushing for acting jobs as he did in his career prime because that would mean spending 60 hours a week on the set. 
That is actually why his comedy chat show As Yet Untitled went on for as long as it did. 
"As Yet Untitled is really fun and the guests are hilarious," the show host remarked, "We only film for two hours and the studio is really near where I live."
How Having Children Affected the Marriage
The interview was about ten years into Davies' marriage and 12 years since he'd first met the woman he now calls his wife. 
The comedian spoke of the changes that having kids brought into their marriage. 
"It's really hard, especially when you have the third one," he admitted in all honesty. He went on:
It's horrible because the thing you lose is your wife.
The actor explained how the couple had to work extra hard on their relationship to ensure that they didn't wreck what they had when they first came together. 

Alan Davies recording his audiobook in September 2020. (Source: Twitter)
He was very accepting of the idea that the relationship was bound to change and that both partners had to allow that change to run its course and work around it. 
"Every cliché you've ever heard about marriage and parenthood is true," he warned but still went on to add, "Parenthood is the greatest joy but fatigue is your enemy so you really have to try to go to bed a bit earlier."
Talking about his relationship in particular, he shared he and his wife stopped having sauvignon blanc since welcoming children into the family,