Reverend Al Sharpton's Daughter Dominique Married the Man of Her Dreams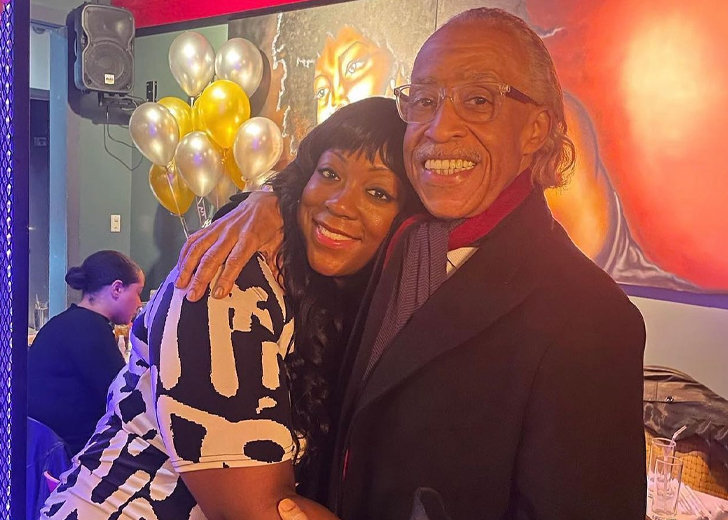 Reverend Al Sharpton shares two daughters, Ashley Sharpton and Dominique Sharpton, with his former wife, Kathy Jordan. 
And on October 15, 2017, the reverend had a bittersweet moment when he married off his oldest daughter, Dominique. 
His daughter tied the knot with her longtime boyfriend, Dr. Marcus Alan Bright, at the Greater Allen AME Cathedral in Jamaica, Queens, in front of 1000 guests. 
Dominique had met her husband in New York while she was hailing a taxi to return home on June 1, 2012. 
The two were supposed to meet their mutual friends for dinner at Sylvia's Restaurant in Harlem. 
But her husband was late for dinner because of previous engagements, and just as he arrived at the restaurant, he caught up with his friends and was introduced to Dominique. 
Dominique then invited him to a rally the next morning, which was scheduled at the same time as his flight back home. 
Bright missed his plane and gave his number to Dominique. 
Almost two months later, Bright officially asked Dominique out, and they became a couple. From there, the rest is history. 
Al Sharpton's Sweet Moment with His Daughter
Dominique's husband proposed to her on October 15, 2017, and following a 16-month engagement, the couple exchanged vows. 
Essence magazine covered the wedding and delved into all the details of the celebrations. 
The outlet reported that the reverend's daughter was very emotional, especially when she saw her father for the first time as a bride. 
The duo broke out in almost uncontrollable tears, and the father and daughter had a hard time letting go of each other, but they got it together and walked down the aisle. 

Al Sharpton and his daughter Dominique Sharpton on her wedding day. (Source: Dominique Sharpton/Instagram)
Dominique shared she realized she was stepping into responsibilities and purpose when she met her husband at the altar.
The prospect of a new future with her partner excited her and scared her simultaneously. 
But she knew deep down that her dad and family would always be there for her. 
"I was thankful for that. For them. For life. For his blessing of marrying the man of my dreams. I knew I was meant to be where I was at that moment in that specific place and time, and I was beautiful!" said Dominique. 
Dominique Sharpton on Finding the One
Dominique also recalled the moment she knew her husband was the one. 
The bride recalled an incident when Bright flew to Niagara Falls for her now late grandmother's 90th birthday. 
She shared he could not make it for the entire weekend due to work, but he flew in on Sunday morning to make it for church service and Sunday dinner. 
He went the extra mile to meet her nana and show his love and support. 
But she truly realized her husband was the one when her nana gave her stamp of approval. 
Dominique shared her grandmother loved Bright when she got to know him a little better. 
"He wanted to show me in such a special way how much he cared to be there with and for me, and how important family was to him. I was completely hooked from then," shared Dominique. 
After that, Marcus returned to Niagara Falls a few times and got to know her nana before she passed in 2020.