Does Akin Akinozu Have a Wife? A Look at the Actor's Love Life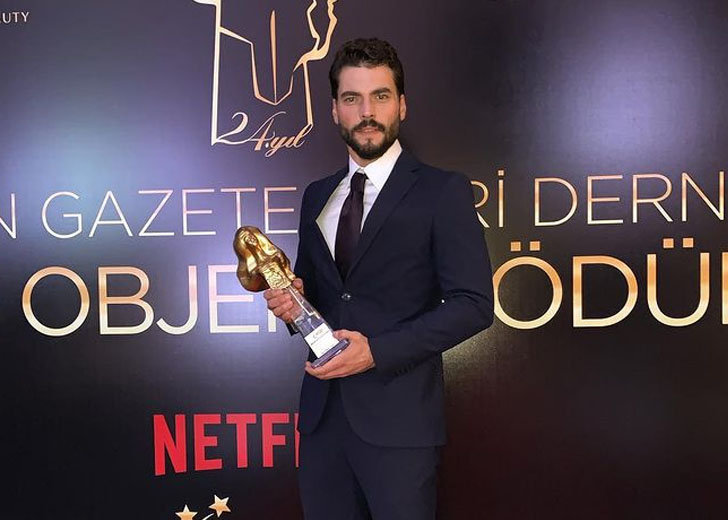 In early 2020, rumors were rife that Akin Akinozu had made his longtime girlfriend, Sandra Pestemalciyan, his wife.
Several tabloids reported the Hercai star had popped the question during New Year's holiday in France and that his girlfriend had agreed.
Following the initial reports, many began wondering whether Pestemalciyan was Akinozu's wife. There were even claims that the couple would become husband and wife in the summer of 2020.
However, when Akinozu was asked about the proposal and marriage during an encounter with reporters from FORX5 TV at a mall in March 2020, he put an end to the rumors.
"There was such news but for now, there's not a proposal," Akinozu answered while adding that his relationship was going very well.
Akinozu and Pestemalciyan have known each other for over nine years and have been in a relationship for about seven years.
Does Akin Akinozu Have a Wife?
Despite the actor's attempt at clearing the misunderstandings about his proposal, there are still plenty of marriage rumors surrounding him.
During an interview with Hola! Akinozu shared he wouldn't be taking Pestemalciyan as his wife anytime soon. 
"It is not even our topic because we are both working on making our shared dream happen," he answered. "And if marriage becomes part of this shared dream, then we will welcome it whole-heartedly."
Akinozu said their relationship was based on friendship. The two wanted to strive towards the same goal and believed both of them could make it to the top individually.

Akin Akinozu with his girlfriend Sandra Pestemalciyan in August 2021. (Source: Facebook)
The famed actor further added he thought supporting each other on their journey to achieving their goal was much more fun and meaningful.
When the filming for Hercai was concluded in 2021, he was spotted with his girlfriend walking their dog in Cihangir in March 2021.
A few days prior to the sighting, he had expressed taking some time off for himself.
Akin Akinozu on Love
Though Akinozu has remained largely private about his relationship with his girlfriend, he has opened up about his views on love.
In an interview with Hakan Gence, Akinozu described himself as a faithful man. He explained he would never cheat because he saw the act of infidelity as lying to himself more than to his partner.
"About loyalty, I have a point of view. It is more like deceiving yourself. I see it as being unfaithful to yourself… Since I see it that way, I don't let myself be in a circumstance of unfaithfulness."
In another instance, when talking to North America Ten, Akinozu, alongside his Hercai co-star Ebru Sahin, answered various questions, including those about their views on love.
He shared he was a firm believer of love at first sight. He also talked about wanting to fight for love. "A love which I don't struggle to reach is not love, I guess."
Akinozu compared love to a teacher, saying it helped people learn about themselves and their life.