Adam Scott and His Wife Are Partners in Both Life and Work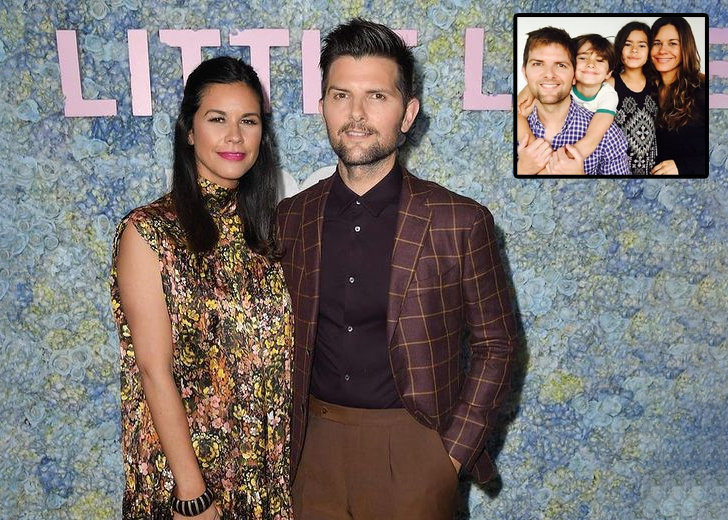 Parks and Recreation star Adam Scott has been married to his wife, Naomi Scott since 2005. Together, the two are parents of two kids.
Scott and his wife are also producing partners who have worked together on projects such as The Greatest Event in Television History (2012-2014), The Overnight (2015), and Ghosted (2018).
Adam Scott and Wife Naomi Scott Are Producing Partners
Scott and his wife have their own production company named Gettin' Rad Productions. 
During an appearance on Conan, he revealed he and his partner had picked the name Gettin' Rad Productions because it's a terrible name.
Prior to starting the company, Naomi had worked as a producer in other shows and projects such as Jimmy Kimmel Live! (2003) and The Andy Milonakis Show (2005-2006).
When speaking about working together, Scott shared the two weren't sure at first because a good partnership at home doesn't necessarily translate to a good partnership in work.
However, they soon realized they were great at working together, as they shared much in common.
And even the things that they differed in helped their chemistry. Naomi gave an example of how Scott was creative and enjoyed things like acting and directing while she enjoyed things he didn't like, like scheduling and crunching numbers.
Naomi joked she thought of working together because Scott was working so much, the only way to see him was to work together. She later shared how them being friends in their relationship helped them work together. 
"We're really good friends in our marriage, which is like the lucky thing," she said.
"If you're gonna work this many hours, you wanna be surrounded by people who trust you can get this done."
Adam Scott and Spouse Have Two Kids
Scott and his wife tied the knot in 2005 after eight years together. Since then, the pair has welcomed two kids together — son Graham Scott and daughter Frankie Scott.
The actor has shared many stories about his kids during his appearance on shows. He previously told Stephen Colbert that his children refused to watch his shows, even when he suggested they watch Parks and Recreation.
"They love everything around it [Parks and Recreation]. They love The Office, and The Good Place, and Brooklyn Nine Nine," he said. 
"They love everything around it, but they won't do Parks and Rec just because I'm on it."
In another appearance on Late Night with Seth Meyers, he shared another story of how shocked his kids were when he popped up in The Good Place. "They saw me on it and they kind of looked at me like, 'Woah! What are you doing on this great show?'"

Adam Scott with wife Naomi Scott and kids (Source: Instagram)
Aside from talking about them on TV, Scott also takes to Instagram frequently to show his love for his children. Back in May 2021, he posted several pictures of his family to mark Mother's Day. 
"I marvel at what an incredible mother she is–and the kind, smart, caring people our kids are as a result," he captioned the post.