Inside Adam Rippon and Partner Jussi-Pekka Kajaala's Relationship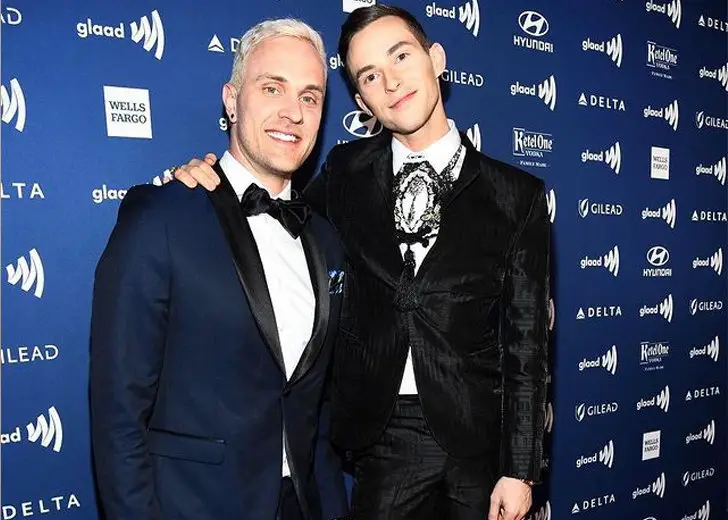 Olympian Adam Rippon is undoubtedly a global heartthrob and when he announced that he was dating Finnish-born partner Jussi-Pekka Kajaala back in 2018, he broke more than a few hearts. 
Rippon broke the news to his fans via an Instagram post of himself and his new boyfriend posing shirtless with the caption, "Good boys Finnish first."
Adam Rippon & Jussi-Pekka Kajaala Began Dating in 2018
Speaking to Extra (via Gay Times), ahead of the Dancing With The Stars finale that year, he explained to the show host, Mario Lopez, that he first met his partner when he was at a competition in Finland.
At the time, he shared that Kajaala was still in Finland but was considering moving out to the States. 
"Oh so [it's] serious?" asked Lopez, to which Rippon replied, "Yes."
Fast forward three years and the couple was making headlines again—this time for getting engaged.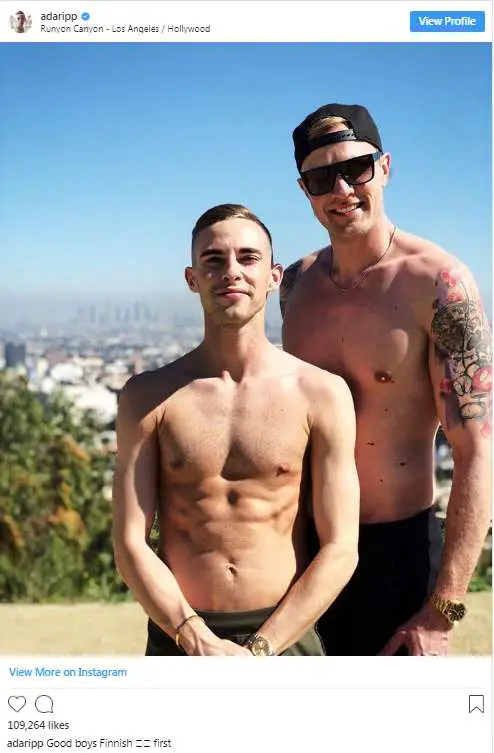 Adam Rippon introduced his partner Jussi-Pekka Kajaala to his fans (Source: Instagram)
Adam Rippon & His Partner Get Engaged
After making the news official via an Instagram post in February 2021, Rippon sat down with People for an exclusive interview where he walked the outlet through the whole process. 
Rippon disclosed that he did not have a chance to meet his partner for most of 2020. Still, during that time, they had a conversation about the engagement. 
"So when I was finally able to get to Finland this November, we felt like it would be the perfect time," he shared.
Another question that might be bugging fans might be: Who proposed?
Well, the answer is fairly simple, both of them did. The athlete told the outlet that both he and his boyfriend got down on one knee. 
In fact, they did everything together. 
We bought the rings together and picked them up at the same time.
Rippon further elaborated that it was important for him that the couple get their rings from Finland such that they have a little piece of Finland with them at all times since Kajaala was to move by the end of 2021. 
Once everything was sorted, the couple proposed on a low-key night, went to Hotel Kamp in Helsinki, enjoyed dinner, and walked around the Finnish capital to celebrate.
Adam Rippon Shared His Wedding Plans
Later in the same interview, Rippon shed light on their wedding plans too. 
Understandably, it would be hard to gather friends and family from either partner in one location. The logistics would be a nightmare. So, they came up with a clever solution. 
Rippon shared that he and his long-time boyfriend were planning on a courthouse wedding.
The couple also planned to film the entire day so that they could share the video with their family. That way, everyone would feel included. 
Adam Rippon's Fiancé Finally Moved to LA
Recently, Rippon shared a couple of pictures of himself and his boyfriend posing against the LA skyscape, making it known to the world that the two of them were to celebrate the holidays together. 
More importantly, in the captions, the DWTS star announced that, after a year of waiting for his beautiful fiancé, Kajaala had finally moved to Los Angeles for good. 
"To celebrate, I'm dressed as a mid-level real-estate agent from Peoria, AZ," he joked, before announcing his love for his fiancé one more time.