'Love Is Blind' Star Abhishek Chatterjee Introduced His New Girlfriend via His Instagram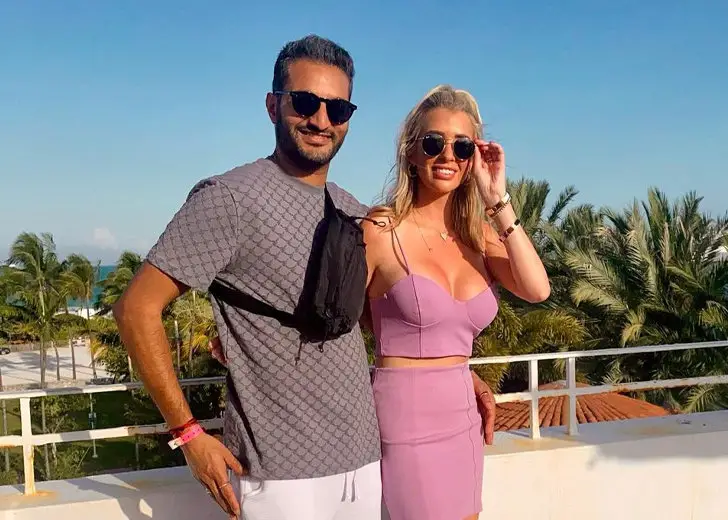 Abhishek "Shake" Chatterjee has swiftly moved on from his previous relationship with ex fiancee Deepti Vempati. Netflix's Love Is Blind Star is now in a new relationship.
He officially revealed his new girlfriend on Instagram in March 2022.
Abhishek Chatterjee Reveals His New Girlfriend Emily
On March 17, 2022, Shake took to his Instagram to post a picture with a new woman in his life. The new couple looked elated in the posts.
He posted a bunch of pictures and videos with his new girlfriend. A couple of them were selfies at an oceanfront in Illinois, Chicago.
Donning casual outfits and fashion eyewear, the pair smiled at the camera as it captured the blue water and the beautiful cloudy Chicago sky and skyscrapers.

Abhishek Chatterjee poses for a selfie with his new girlfriend, Emily, in Chicago. (Photo: Abhishek Chatterjee/Instagram)
In one of them, his new girlfriend was seen planting a kiss on his right cheek.
The other upload was a video where she walked to the camera on a white top and pink bottoms as she tied her hair in a knot.
"Good things come to those who w̶a̶i̶t̶ don't settle," he captioned the post.
The next day, it was Emily's turn to make their romance official. His new girlfriend, too, posted a selfie of them together.
This picture was a callback to their time attending the One Tail At A Time event in early March.
Emily wore a dark blue dress for the event as Shake donned an all-black outfit.
On March 24, 2022, his new girlfriend tagged him in a picture taken in Miami, Florida. She captioned the photo 'sidekick' as Shake joked about her hand position in the picture, saying, "Always reaching for my phone" in the comments.
Abhishek Chatterjee's Relationship with Ex Fiancee Deepti Vempati
Shake and Vempati had a shaky relationship on Love Is Blind. Their journey to engagement was filled with uncertainties.
They had initially bonded over having Indian background and having only dated white people before meeting each other.
However, Shake never showed that deep an interest in Vempati. He even admitted to not feeling a physical connection with her.
It was also later revealed that he showed bad behavior towards the women on the show, directing disrespectful questions towards them.
As the end of their season approached, it seemed like Shake would leave Vempati alone at the altar. But by this point in their relationship, Vempati had had enough of him.
So, she stood him up on what was supposed to be their wedding day. As for her reason, she pointed towards Shake's indecisiveness.
She said she wanted "somebody who knows for sure" that they wanted to be with her.
After it was all done and dusted, Shake apologized to Vempati on Instagram, saying he was wrong in saying some things he said about her.
"Deepti, I am truly sorry for some of the things I said. Things that, honestly, just could've been left unsaid, or could have been said differently," he said in the video.
He also confessed that he never wanted what he had with her to end, despite feeling like they would not end up married.
As for Vempati, she has had a few dating rumors after getting out of her engagement with Shake. She was reportedly dating Sal Perez, which she denied.