Inside Aaron Donald and His Wife Erica Sherman's Relationship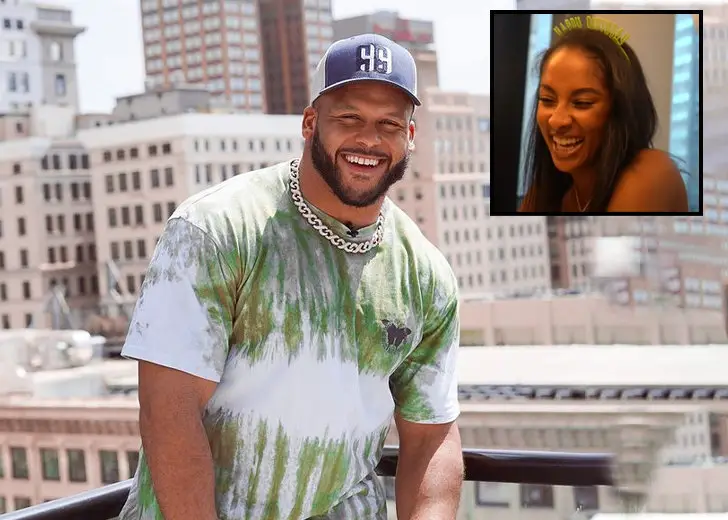 Aaron Donald is happily married to his wife, Erica Sherman.
Sherman is a community affairs manager who closely worked in the sports industry. And this is how she met her significant other.
The couple crossed each other's paths while they were working for Los Angeles Rams. They became good friends and started dating eventually.
The couple is regularly seen together, especially via Sherman's social media posts. And in the pictures, the two clearly show that they are made for each other.
Moreover, the Los Angeles Rams player also has two kids from his previous relationship with his ex-girlfriend. But his spouse seems to love the children like her own.
Aaron Donald and Erica Sherman Married Privately
Sherman is proud to be Donald's wife.
Even though they tied the knot privately, they are often expressive about their love. So much so that Sherman has started referring to the NFL star as her husband publicly.
For instance, on February 15, 2022, she stated that she was proud of her husband while complimenting him as an "amazing father, husband, and human being."
She then went on to congratulate him on his wonderful career so far. She wrote, "What a journey it has been to watch you not only get back to the Super Bowl but win it. You kept your promise and we appreciate the sacrifices you've made and continue to make for your family."
But again, there are absolutely no words on how and when they had their intimate wedding.
Aaron Donald and Wife Welcomed Their First Child Together in Late 2021
While it remains a mystery when Donald married his partner, the duo had previously taken significant steps in their relationship. The pair first got engaged and subsequently welcomed their first child together. 
In Donald's Instagram post dated June 6, 2021, his spouse was seen flaunting a pregnancy bump. She sported biker shorts and a sleeveless top that accentuated her baby bump.
The lovebirds even did a pregnancy photo shoot, and Sherman uploaded a picture on her Instagram. "first came love, then came you," she penned in the caption.
Fast forward to October 2021, they had already given birth to their first child. In his Instagram post, Donald was spotted chilling with his wife and his kids. His partner was holding their newborn baby.
That being said, he has not yet revealed the gender of his child or shared other details.
Aaron Donald's Sweet Birthday Gift for Erica 
Donald loves his wife very much, which is evident through his sweet gestures. On her birthday in July 2021, he surprised her with a customized bracelet.
He even documented the preparation of the gift through his YouTube video titled, 'Aaron Donald Surprises His Fiancée For Her Birthday.'

Aaron Donald and his wife, Erica Sherman, in July 2021. (Source: YouTube)
In the clip, he discussed the design of the bracelet with his designer and said that he wanted to make it memorable and "intimate" for her.
That is when his designer suggested making a heart-shaped box that would contain a picture of her and her brother.
Sherman felt special and loved when Donald gave her the gift.
Interestingly, the love between them is a two-way street. That is to say, his spouse also adores him and never misses a chance to make him feel special.
On May 23, 2021, Sherman celebrated her beau's 30th birthday amid the pandemic.
In a YouTube video documenting the celebration, she said she didn't want to plan anything for his birthday because of the pandemic. So she took him for breakfast, decorated the house, and celebrated the day with his children.
She even baked him his favorite cookie cake. The duo looks happy, and it wouldn't be a surprise if they planned their wedding anytime soon.
Aaron Donald's Kids with Ex-Partner
Before Donald met Sherman, the footballer was in a relationship with Jaelynn Blakey. They were high school sweethearts.
The Rams player rose to fame during the initial phase of his relationship with Blakey.
After the fans found out the player had kids, there were rumors about them getting married, but they never exchanged vows as husband and wife despite dating each other for a long time. 
They welcomed their first child, daughter Jaeda in April 2013 and son Aaron Jr. in April 2016.
Three years later, they parted ways. Since the split, the children have been living with Donald. But Blakey, too, has permission to visit her children often. 
The defensive tackle for the Rams of the NFL seems to be on good terms with his baby mama.
Donald, along with Sherman, shares a great relationship with the kids, and they are featured frequently on the player's YouTube channel.