What Happened to 4freakshow? Everything We Know About the Break up and Possible Reunion
The freaks of '4freakshow' are working towards a possible reunion, or are they?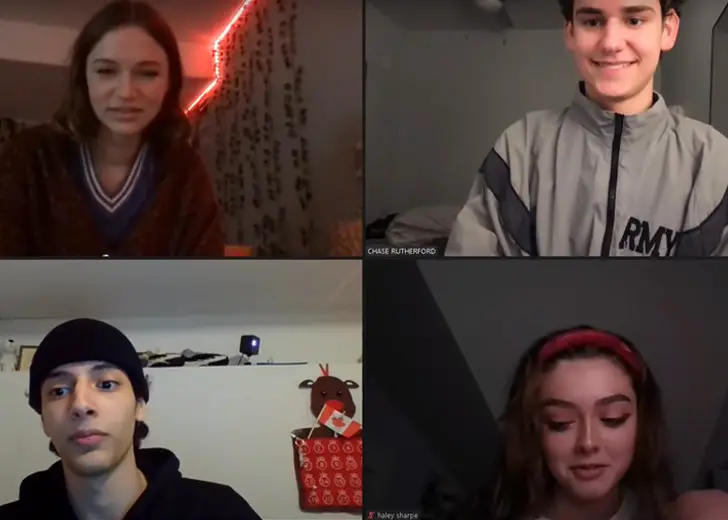 4freakshow is a popular show on Twitch. It is about a group of four TikTok personalities just having fun with one another over Zoom.
The group had, and still has, a massive following — 416,000 — on Twitch. But the group seems to be having a hard time staying together.
What is '4freakshow'?
Chase Rutherford, HamzahTheFantastic, Haley Sharpe, and Claire Drake are the four 4freakshow members. The four met each other through mutual friends, group chats, Snapchat, and following each other on TikTok.
They kicked off with diverse content, including mukbang, pillow fights during sleepovers, truth or dare, and talent shows.
The group primarily built their audience on Twitch and seemed to be headed for bigger and better things. But things started going downhill for the freaks in early 2021.
What Happened to '4freakshow'?
The disintegration of 4freakshow started with Chase Rutherford. In January 2021, Rutherford did a video where he announced some major things for himself and the group.
On the segment titled Chase Host, he started by saying that the news he was going to share would make people have mixed feelings, using almost every adjective in the dictionary to explain the range of human emotions the news could trigger.
Then, he softened the blow before the blow was dealt, saying that his decision was for the good of the group and possibly the viewers, although he wasn't clear on that.
Finally getting to the news, he revealed that he was leaving 4freakshow and starting anew.
Following Rutherford's announcement, Haley Sharpe made a video of her own on February 24, 2021, explaining how they wanted to make the group work but failed. She was constantly trying to stop herself from crying as she was talking about the split.
They even planned to continue without Rutherford and planned a stream three times, but nothing panned out. After a few days, everybody started having doubts about whether the show would work anymore.
Just the day before, Hamzah, too, announced the split of the group during a stream but didn't go into much detail there.
Drama of the Freaks
Everything was silent till August. But Hamzah posted several now-deleted tweets on August 5, 2021, rekindling interest in the group, and igniting an online drama.
In his tweets, Hamzah expressed his feelings about Rutherford without actually saying his name. He revealed in another tweet that a reunion wasn't in the cards, either.
Then, during one of his Out of Character podcast episodes, Hamzah addressed the split and the drama in full. He accused Rutherford of doing him dirty and Sharpe of being two-faced.
Further, he also revealed that the group had not been in communication with each other since January.
However, they came together for a reunion of sorts. During an Instagram Live that lasted four minutes on August 9, they played the blame game, but Rutherford's momentary appearance enraged the rest three.
Headed for a Proper Reunion?
Soon after the 4freakshow drama, things unexpectedly started looking up. Albeit cryptic, they began hinting about getting back together.
On August 10, all four members posted pictures of themselves when they were younger, with red dots over their right eyes. Fans did a bit of thinking and concluded that the group might be announcing season three of the 4freakshow.
After that, they put up new merch on their website. And now, it seems that they're back with their shows on Twitch. They are live streaming regularly and seem to be on good terms with one another again.
No one knows whether they'll continue to do the show, but it sure is exciting to see that they're trying to make a comeback.