Post Divorce: Van Jones & Wife Give Serious Family Lessons Despite Split
Van Jones and his long-term wife, parted ways after she filed for a divorce...The two got married in 2005 and have got two sons of ages 10 and 14...The Van Jones Show on CNN that started with Jay-Z as the first guest...Van Jones doesn't step back hiding when it comes to speaking up for gay people...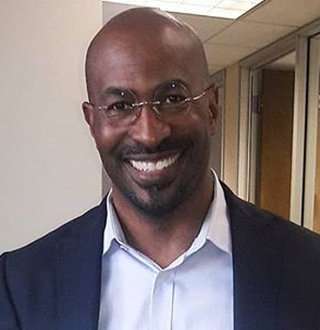 American news commentator, Van Jones, and his wife parted ways following their divorce, but the two didn't end their family bonding as they continued to support each other maintaining a strong bond.
Van Jones is best known for his contribution as a regular in CNN and hosting The Van Jones Show and for his New York Times best-selling books, The Green Collar Economy and Rebuild the Dream.
Straight From CNN: Van Jones telling Larry King about the reason he thinks Democrats who are hoping for a Trump presidency to end by impeachment are acting delusional (Published on 14 September 2018)
Van Jones also served as the Special Advisor for Green Jobs for former US President, Barack Obama.
Van Jones' Bio: Age, Height, Education & Early Life
Anthony Kapel Jones was born on 20 September 1968 alongside his twin sister in Jackson, Tennessee. Van often accompanied his grandfather who was a leader in the Christian Methodist Episcopal Church to religious conferences.
The 49-year-old author looked up to his heroic figures, John F. Kennedy, Martin Luther King, Jr., and Bobby Kennedy while growing up. Van graduated from Jackson Central-Merry High School in 1986 and received his B.S. in political science and communication from the University of Tennessee at Martin.
You May Also Like: Larry Bakman, Married! Family Man With Wife - Age, Birthday, Salary And More Facts
Standing tall at a height of 6 feet 1 inch (1.85 meters), he embraced the nickname, Van at the age of 17 while working at the Jackson Sun. Van went to attend Yale Law School in 1992 when he was with several law students selected by the Lawyers Committee for Human Rights. They were serving as legal observers in the trial of four officers charged with attacking Rodney King.
When the officers were acquitted, Van participated with several others in protesting the verdicts and got arrested, but the district attorney dropped the charges against Van.
Van graduated from with his J.D. degree from law school in 1993 and moved to San Francisco to give hands to radical left activists who protested against police brutality.
Van Jones' Multiple Career Paths
Being affiliated with the Lawyers' Committee for Civil Rights, Van initiated the project of Bay Area Police Watch, the certified hotline for victims of police abuse. In 1996, Van founded a new NGO, the Ella Baker Center for Human Rights that he started out of a closet office.
Van co-founded a grassroots organization with James Rucker called Color of Change to address racial issues. Van eventually left the organization after two years of its founding.
Read Also: Jim Hoffer Bio: From Moments With Mika Brzezinski To Painful Divorce
It wasn't long before Van started to promote environmental justice in 2005 as the Ella Baker Center expanded the vision and officially began Ella Baker Center's Green-Collar Jobs Campaign.
In September 2007, Van participated in the Clinton Global Initiative and announced his plans to launch the NGO dedicated to creating green pathways, Green for All. After all the good deed he went to lengths for, Van was appointed as Special Advisor for Green Jobs in March 2009 at the White House Council on Environmental Quality.
Eventually, Van was announced as the co-host of a reboot of the CNN political debate show, Crossfire in June 2013 alongside Newt Gingrich, Stephanie Cutter and S.E. Cupp.  
Van Jones' Immense Net Worth
As a CNN contributor who has done segments on many topics, including Obama administration policies and Supreme Court decisions, Van Jones undoubtedly earns a gross amount of money.
His books, The Green Collar Economy, Rebuild the Dream, and Beyond the Messy Truth have brought him more than what an average author earns. Since the average salary of an author in the US is $50,965 on an annual basis, Van definitely makes more than that as he is one of the most selling authors.
You Don't Want To Miss: Clarissa Ward Bio: Happily Married To Husband, Adds Baby To Family
Van's show, The Van Jones Show on CNN that started with Jay-Z as the first guest, brings him a significant amount of wealth as well. And while his exact net worth is residing under the veil, it's safe to say that his net worth counts in millions.
Is Van Jones Gay?
Van Jones doesn't step back hiding when it comes to speaking up for gay people and gay rights. Well, that expectedly led to rumors surrounding his sexual preferences.
During the rise of the show, Transparent, Van interviewed its director, Jill Soloway putting out topics on the show itself and the rights of gays and transgenders.
While interviewing Jill, Van showed great enthusiasm concerning the freedom for gay people living in the post-Trump world. But Van Jones isn't gay as he already bears a beautiful family with his wife and two sons. Well, he used to.
Van Jones & His Wife: Divorce After Kids
Despite sharing a deep and loving bond with each other, Van Jones and his long-term wife, Jana Carter parted ways as Jana filed for divorce on 7 September 2018.
Don't Miss: Larry Bakman, Married! Family Man With Wife - Age, Birthday, Salary And More Facts
The two got married in 2005 and have got two sons of ages 10 and 14. Neither Van nor his former wife has revealed the reason behind their out of the blue divorce.
Jane has asked for joint legal and physical custody of the kids along with spousal support. In the talk about their divorce with the People, Van said,
Though we have decided to end our marriage, we still love each other very much.
This pretty much convinced that the two didn't end their marriage on a bad term. In fact, Van even posted a picture with his ex-wife on Instagram.

Divorce Does No Harm: Van posts a picture with his former wife on Instagram on 9 September 2018 sporting Manchester United beanie, the biggest soccer club in the world (Photo: Van Jones' Instagram)
Van is pretty confident about his strong concept of family as his caption of the picture supports his familial bond even after the divorce with his partner. The two also mentioned in the People that they would continue to raise their children together and support each other's growth.
So, the divorce didn't really come as devastating news for Van and his former wife. The two were ready and are still very supportive of each other in matters of their success.