Vic Fuentes & Girlfriend Finally Getting Married? Hit Another Milestone
Vic met his red-headed model girlfriend...when she appeared in his music video... their relationship has been just as fresh as the first time...He fills the caption with the cheesiest words and doesn't fail to let the fans know that he's living...the pair might pronounce...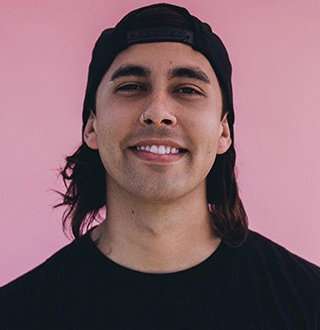 American singer, Vic Fuentes never failed to fascinate his fans hardships through his songs which led him to drop a spark of his love story with his girlfriend to the lyrics. 
Vic Fuentes is widely known as the lead singer of the famous metalcore and post-hardcore rock band, Pierce The Veil. He occasionally plays the keyboard on some of the band records.
Age of Rock: Vic Fuentes talks about the beginnings and the evolution of his band, Pierce The Veil getting the gold record status (Published on 9 July 2018)
Vic's brother, Mike used to play in the band as a drummer but left to achieve a solo career.
Vic Fuentes' Bio: Age, Birthday, Education & Early Life
Born in 1983 in San Diego, California, Victor Vincent Fuentes blows his birthday candles every 10 February. He was raised by parents Vivian K. Fuentes and former Mexican jazz musician, Victor Gamboa Fuentes along with his brother, Mike Fuentes.
You May Also Like: Cassidy Hubbarth, ESPN Beauty Married With Husband, Keeper Of Wedding Vows
Vic was inspired to play guitar looking at his father, and he did try to learn guitar at the age of 7. But since he wanted to try the hard things right off the bat, he lost the motivation and later learned to play at the age of 16.
The 35-year-old singer graduated from Mission Bay High School and attended San Diego State University studying graphic design.  
In December 1998, Vic formed the band Before Today with members, Joe Tancil, Mitchell Ballatore, and Michael Fuentes. The band was a success as it was signed to Equal Vision Records, which made Vic quit his studies.
Vic Fuentes' Music Career
After the disbandment of the band, Before Today, Vic and his brother Mike founded Pierce The Veil in 2006. The duo released the debut record, A Flair for the Dramatic in 2007.
The band invited bassist Jaime Preciado and guitarist, Tony Perry, eventually dropping two more albums, Selfish Machines and Collide with the Sky.
The albums were released under the Fearless Records label that featured their first hit single, King for a Day alongside Kellin Quinn.
When the band gained massive recognition, Vic toured in Australia, Asia, Europe, and America multiple times and played at big music festivals like Warped Tour, Soundwave Festival, and Slam Dunk Festival.
Vic shared the stages with the lead singer of famous rock bands like Oliver Sykes, Alex Gaskarth, Kellin Quinn, and Jenna McDougall.
Vic Fuentes' Immense Net Worth
According to sources, Vic Fuentes has got an estimated net worth of $1 million which is a hardly a surprise for a successful musician.
Vic has earned many fans and a considerable amount of wealth from his songs and hit albums. He also makes money from the tickets that people buy for his concerts.
Read Also: Michael Greyeyes Blessed Wedding Day Reflects Now! Content With Wife & Beautiful Family
Featuring on many albums of other bands like The Hearts of Lonely People, brought him some reasonable amount of fortune.
Vic Fuentes' Quotes Connect To His Personal Experiences
As any singer and songwriter, Vic writes his lyrics in a personal level connection. He mentioned in an interview that he writes poems at first, then, changes them into songs.
Aside from the lyrics, he has spelled some beautiful quotes that have inspired so many of his fans. He always comes across fans who write to him about his lyrics and quotes and thank him for making their days better.
One of his known quotes is the one he wrote against suicide that says,
Suicide does not end the chances of life getting worse. Suicide eliminates the possibility of it ever getting better.
Vic has also participated in the event that promotes people to get help and not keep things that are troubling them to themselves.
As a musician who treats his fans like family, Vic often gets deep, and emotional fan letters that connect to him and half of his songwriting inspiration comes from the love of his fans.
Is Vic Getting Married To His Girlfriend Danielle Victoria?
Vic met his red-headed model girlfriend, Danielle Victoria when she appeared in his music video, King for a Day in 2012.
After two years, the pair started dating in 2014 and being together for four years; their relationship has been just as fresh as the first time.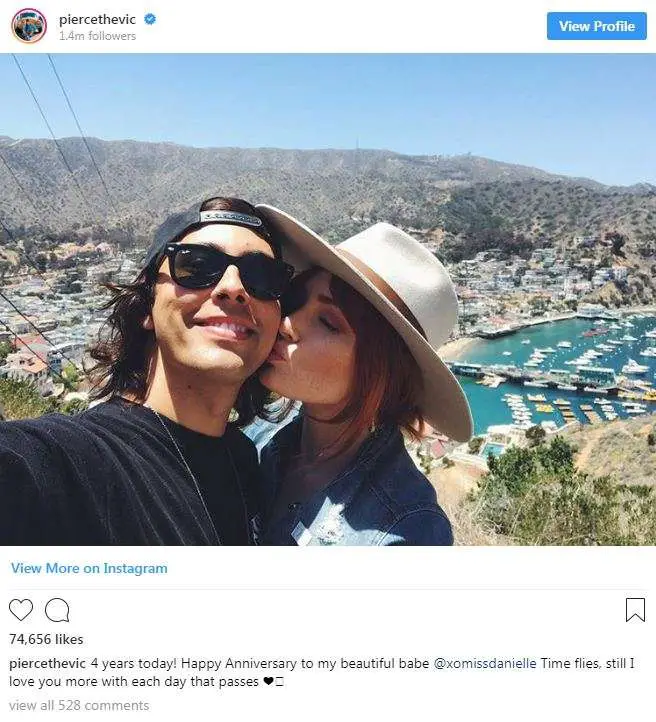 Future Wife-To-Be: Vic posts a picture with his girlfriend, Danielle on their four year anniversary on Instagram on 4 June 2018 (Photo: Vic Fuentes' Instagram)
Vic is more than open about his affection for Danielle and shows his adoration on social media sites by sharing pictures of the two.
You Don't Want To Miss: Ami Brown Wiki: Health Update At Age 54 | Almost Death To Cancer-Free Story
He fills the caption with the cheesiest words and doesn't fail to let the fans know that he's living a happy life with his possible future wife.
Even though Vic hasn't mentioned anything about getting married, the pair might pronounce wedding vows soon following their long relationship.