The Weeknd Abel Makkonen's After Hour Album Review, Tour Dates And Song
The Weeknd, aka Abel Makkonen Tesfaye, has made a drastic upturn with his fourth studio album, After Hours, blending his dark and psychedelic theme to the songs. The fans are feeling the mood brought up by the album's glittering soft music fused with dark and smoky lyrics. The article tries to understand the narrative logic of the song and also gives the latest information about tour dates, tour delay and tickets.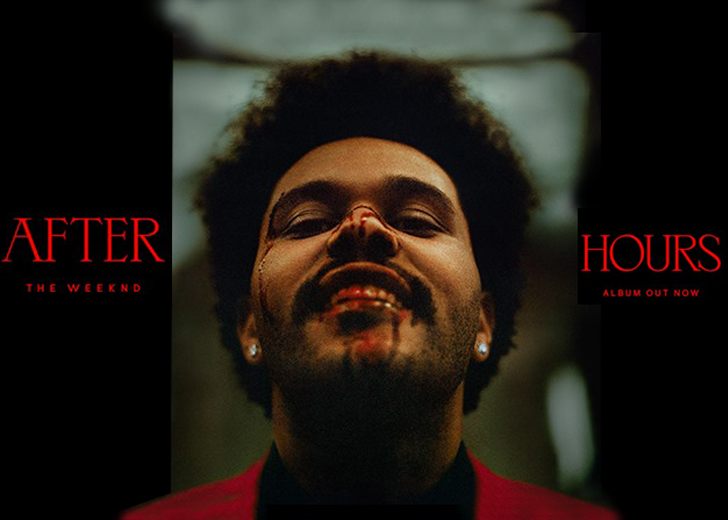 The Weeknd, aka Abel Makkonen Tesfaye, has made a drastic upturn with his fourth studio album, After Hours, blending his dark and psychedelic theme to the songs. 
After seemingly announcing the making of the album back in November 2018 at the opening of HXOUSE (a non-profit initiative by The Weeknd and his team to help creative entrepreneurs) in Toronto, the Canadian singer finally released the album on Mar. 20 2020.
So, what is so special about this album of The Weeknd? 
Get a comprehensive analysis of the album and also learn about his tour dates in this article.
The Weeknd's Strongest Record After Hours Performance On Billboard Chart
The album promoted three singles: "Heartless" (released on Nov. 27, 2019), "Blinding Lights" (released on Nov. 29, 2019), and "In Your Eyes" (released on Mar. 24, 2020).
Even before the official release of the album, "Blinding Lights" and "Heartless" were already platinum hits, with both peaking #1 on the US Billboard 100. 
With the singles taking no time to reach the peak, The Weeknd became the first R&B artist to hit #1 in his first week on the charts. 
The album itself did not disappoint. With 14 tracks and three deluxe bonus tracks, After Hours, became the first album to lead four consecutive weeks on the Billboard 200 since Drake's 2018 album, Scorpion.
The critics proclaimed the album as The Weeknd's "strongest record in some time." Till the end of March 2020, the album had sold as sold over 275,000 copies as a full album with more than 221 million streams. It had made a strong debut at the US Billboard 200 with 444,000 sales – the biggest opening sales of 2020 so far.
Dissecting The Weeknd After Hours Upbeat Music. Does It Sugarcoats its Dark Lyrics?
The success of After Hours could be dedicated to Abel's visually narrative videos and music that highlights a distinct style we got to see during his early work. He would then mesmerize his fans with music enriched with intense lyrics played in soft tunes.
The album easily relates to the pain and vulnerability that comes with conflict in a romantic relationship, especially after the breakup. The singer's dating life and his on-again-off-again relationship with American model Bella Hadid seem to have inspired the core emotive elements of the album.
Talking to Apple Music after the album's release, Abel related people's sufferings, redemption, and unity to the essence the album portrayed.   
You can find love, fear, friends, enemies, violence, dancing, sex, demons, angels, loneliness, and togetherness all in the After Hours of the night.
When Genius asked about the title of the album, Abel simply directed it to the fact that it was based on his emotions and thoughts that he conjured late at night "after the club, after the fight and after a long day." 
Talking to Variety, Toronto native also shared that the music in the album displayed the narrator after he had let his walls down.
But in his previous songs, Abel had valued the mysterious air in music, and the lyrics were left for people to decode. However, After Hours blatantly throws upon a cohesive narrative, making it different from The Weeknd's conventional style.
Several songs from the album also emphasize the work of Max Martin—Abel's longtime collaborator, DaHeala, Illangelo, Kevin Parker, Ricky Reed, and Oneohtrix Point Never. 
In conclusion, the songs in the album showcase how the narrator lived life partying, abusing substances, and spending time with a questionable amount of bed partners. Add into the mix the singer's expression of the narrative via the funky beats coupled with 80's synthesizer, and you can grasp why the album is a perfect storm in the modern R&B scene. 
The Weekend World Tour Date & Price; 2020 Tour Cancelled Because of Pandemic? 
In the beginning, The Weeknd and his team were still not sure if they could release the album as planned on Mar. 20, 2020. The album had already been delayed for three and a half years. In the end, the R&B and pop singer decided to release the album so that his team could meet the fan's expectations.  
The singer told Variety that even though the streaming was down by 10% with the stores closed, he simply didn't care because he knew the importance of his anticipated album to his fans.
While he was also confident that his After Hours tour would work out as planned at first, the situation hasn't turn out well. As per Pitchfork, the Weeknd and his team have rescheduled their tour from Jun. 11, 2020, to Jun. 12, 2021.
What Are The Weekend After Hours 2021 Tour Dates/Schedule And Ticket Price?
In the table below, we have referenced up-to-date information about The Weekend's After Hours upcoming world tour from the singer's official website—where you can also purchase the tickets. (Note: we don't get any commission when you buy a ticket on the website. The link is only given for to help you as per our Editorial purposes).
The price of the tickets may range from $65 to $140 depending upon various factors such as location, time, venue area, and others. 
Tour Location
Country
Venu
Date
 Vancouver
Canada
Rogers Arena
Jun. 12
Vancouver
Canada
Rogers Arena
Jun. 13
Edmonton
Canada
Rogers Place
Jun. 15
Winnipeg
Canada
Bell MTS Place
Jun. 17
 Saint Paul
USA
Xcel Energy Center
Jun. 19
Chicago
USA
United Center
Jun. 21
 Detroit
USA
Little Caesar's Arena
Jun. 24
Pittsburgh
USA
PPG Paints Arena
Jun. 25
Toronto,
Canada
Scotiabank Arena
Jun. 27
 Toronto,
Canada
Scotiabank Arena
Jun. 28
Bell Centre
Canada
Ball Centre 
Jun. 30
Boston 
Canada
TD Garden
Jul. 2
Uncasville 
USA
Mohegan Sun
Jul. 4
Newark,
USA
Prudential Center
Jul. 6
Washington
USA
Capital One Arena
 
Jul. 7
 Brooklyn
USA
Barclays Center
Jul. 9
 Charlotte
 
USA
Spectrum Center
Jul. 12
 Atlanta
 
USA
State Farm Arena
Jul. 13
 Miami,
USA
American Airlines Arena
Jul. 15
 Miami
 
USA
American Airlines Arena
Jul. 16
 Orlando
USA
Amway Center
Jul. 19
Houston
 
USA
Toyota Center
Jul. 22
 Dallas
 
USA
American Airlines Center
Jul. 23
 Denver
 
USA
Pepsi Center
Jul. 25
Salt Lake City
USA
Vivint Smart Home Arena
 
Jul. 27
 Portland
 
USA
Moda Center
Jul. 29
Tacoma
 
USA
Tacoma Dome
 
Jul. 30
 Sacramento
 
USA
Golden 1 Center
 
Aug. 1
 Oakland
USA
Oakland Arena
Aug. 3
San Jose
 
USA
SAP Center
Aug. 4
 Anaheim
 
USA
Honda Center
Aug. 6 
Glendale
 
USA
Gila River Arena
Aug. 8
San Diego
USA
Pechanga Arena
Aug. 10
 Los Angeles
 
USA
STAPLES Center
Aug. 13
 Los Angeles
 
USA
STAPLES Center
Aug. 14
 Los Angeles
 
USA
STAPLES Center
Aug. 15
 San Antonio
 
USA
AT&T Center
 
Aug. 18
Fort Worth
USA
Dickies Arena
Aug. 19
 Tulsa
USA
BOK Center
Aug. 21
 Omaha
 
USA
CHI Health Center Omaha
Aug. 22
 St. Louis
 
USA
Enterprise Center
Aug. 24
 Nashville
 
USA
Bridgestone Arena
 
Aug. 25
 Cleveland
 
USA
Rocket Mortgage FieldHouse
Aug. 28
 Buffalo
 
USA
KeyBank Arena
Aug. 29
 Toronto
 
USA
Scotiabank Arena
Aug. 31
 New York
 
USA
Madison Square Garden
Sept. 2
 Stockholm
 
Sweden
Ericcson Globe
Oct. 4
 Copenhagen
 
Denmark
Royal Arena
 
Oct. 6
 Oslo
 
Norway
Telenor Arena
Oct. 9
 Hamburg
 
Germany
Barclaycard Arena
Oct. 11
 Antwerp
 
Belgium
Sportpaleis
 
Oct. 13
 Paris
 
France
Accorhotels Arena
Oct. 15
 Paris
 
France
Accorhotels Arena
Oct. 16
Paris
France
Accorhotels Arena
Oct. 17
 Amsterdam
 
Netherlands
Ziggo Dome
 
Oct. 19
Birmingham
 
England
Utilita Arena Birmingham
Oct. 22
Manchester
 
England
Manchester Arena
Oct. 24
 London
 
England
The O2
Oct. 25
 London
 
England
The O2
Oct. 29
London
 
England
The O2
Oct. 30
 London
 
England
The O2
Oct. 31
Newcastle
 
England
Utilita Arena
 
Nov. 3
Cologne
 
Germany
Lanxess Arena
 
Nov. 5
 Glasgow
 
Scotland
SSE Hydro
TBD
 Prague
 
Czech Republic
O2 Arena
Nov. 8
 Munich
 
Germany
Olympiahalle
Nov. 9
 Berlin
Germany
Mercedes-Benz Arena
Nov. 11
 
 
 
 
Keep updated to view the latest information about The Weekend's tours.