Tee Grizzley Spent a Fortune On Brand New Chain — Find Out His Net Worth
The American rapper bought a custom-made 'half-man half-beast' $300,000 white gold pendant.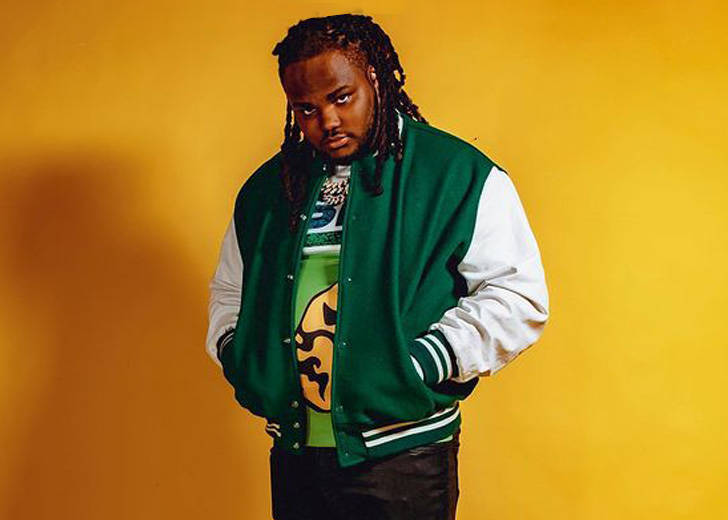 Jewelry has been a sign of wealth and opulence for centuries. In a more recent context, hip-hop and jewelry have gone hand in hand for decades. Most rappers have a strong affinity for jewelry, and they often compete to own flashy chains, medallions along with bracelets, rings, and watches. 
These larger-than-life pieces of jewelry is more just a show of one-upmanship in the hip-hop community. It also serves as a powerful reminder of how far the artist has come.
Many rappers spare no expense when it comes to accumulating their accessories, and Tee Grizzley is no different. 
Tee Grizzley Loves to Flex
In his recent music video, Gave That Back, Grizzley made it a true family affair by featuring his baby brother and their mother. All three of them are rocking huge chains with massive pendants and diamond-encrusted watches.
Grizzley's little brother, Baby Grizzley in particular, is seen wearing Grizz's trademark 'half-man half-beast' $300,000 white gold pendant covered in over 200 carats of VS diamonds. The rapper and his friends are also seen waving an enormous stack of dollars. 
His Jail Time Jumpstarted His Career
After Grizzley was released from jail in October 2016, he vowed never to go back and worked hard to achieve his dream of making music.
Picking up where he left off, he released his breakout single 'First Day Out,' a personal diaristic tale about his downfall and standing trial for his real-life crimes. 
The single peaked at 48 on the Billboard Hot 100, and his music video went viral and, as of today, has garnered over 100 million views on YouTube.
Jay-Z, one of the most influential rappers of his time, took to Twitter to praise the song.
Following that hit first single, he clinched a record deal with 300 Entertainment & Atlantic Records and released his debut mixtape "My Moment" in April 2017 and received two nominations from the BET Hip Hop Award for Best Hip-Hop Artist and Best Mixtape. 
He also partnered up with Lil Durk and reached the top 10 of the Billboard 200 with his debut album, Activated.
What Is Tee Grizzley's Net Worth?
As of 2018, Tee Grizzley's net worth was $1.5 million, as per The Cinemaholic. Grizzley is not just a millionaire, but might just be one of the best brothers out there. Last year, when he went to pick his brother up from jail in his Bentley car, Grizzley is seen giving $500,000 to his little brother in a viral Instagram video. 
The Bentley Bentayga luxury SUV was unveiled in 2018 during his "Activated" album party. 
Not only does Grizzley earn from his music, but he also collaborates with apparel companies and releases merchandise. On March 19, the rapper took to Instagram to announce that his collaboration was dropping soon. 
With the advent of streaming, many rappers have taken to Twitch and dived into the gaming world. The Detroit artist has over 80,000 followers and is a pretty impressive gamer. 
Fans get on the site to watch him play Call of Duty. in an episode of Curated, the artist talks about his love for gaming and his favorite gaming equipment.