Fans Overjoyed At Taylor Swift's Re-Recorded Album 'Fearless (Taylor's Version)'
Taylor Swift's re-recorded album Fearless (Taylor's Version) brings a fresh wave of late-2000s nostalgia, sweeping Swifties along with it.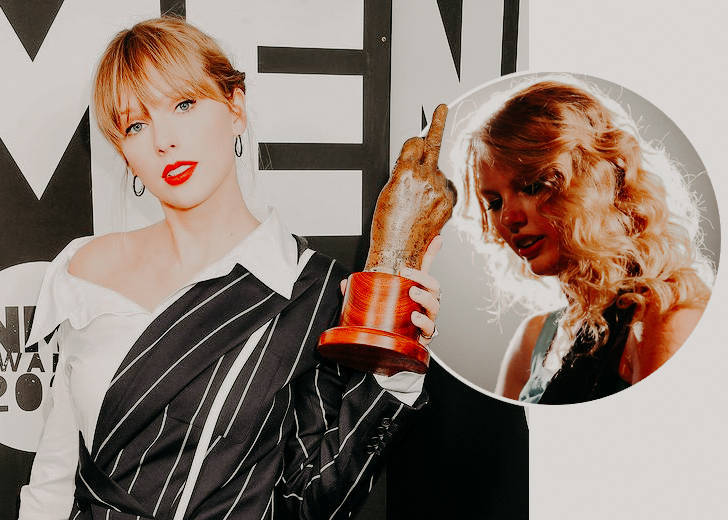 Taylor Swift's re-recorded album Fearless (Taylor's Version) arrived on April 9, 2021, bringing with it a fresh wave of late-2000s nostalgia.
The singer began the next step of her career by revisiting her 2008 sophomore album, and Swifties (a term for Swift fans) are here for it. The 26-track album comprises 20 recent versions of previously released songs and six vault tracks written at the same time but not included on the original album.
The new album, which is expected to be the first of several re-recorded Taylor Swift studio albums, trended on social media both before and after it was released. Fans went back when they listened to music on streaming platforms and expressed their opinions.
Rebs Fisher-Jackson, a self-identified Swiftie, finished listening to Fearless in early April. "I made my peace with it," she said. She was one of the millions of global fans who bid their goodbyes to Swift's second album, released in 2008.
Many others are listening to the record and couldn't help but appreciate Taylor's improved vocal sound and notice the slight differences between the old and new versions. 
For instance, 'Hey Stephen,' a song that features a signature Taylor giggle interspersed throughout the lyrics. Fans seem to like the latest chuckle better, which is more of a cackle in the re-recording. "THE LAUGH THAT TAYLOR MADE IN HEY STEPHEN THIS IS MY NEW FAVORITE SOUND WHAT THE FHDJFJDN," one fan tweeted.
The Hey Stephen laugh is 13,000 times better in Taylor's Version — believe survivors 💛💛 (@helmsinki) April 9, 2021
Other fans are blown away by the 31-year-old's mature vocals as she tackled classics like White Horse beautifully.
Not only are Swifties gushing over her, but people are also acknowledging the talented Liz Rose (Taylor's early collaborator) who co-wrote songs like 'White Horse.' She also has two collaborations on Taylor's Version, We Were Happy and Bye Bye Baby.
Rose also took to her Instagram on April 9, 2021, to celebrate the release of these songs and expressed gratitude for being a part of Taylor's album.
Now, let's bring attention to the vault tracks. 'You All Over Me,' featuring Maren Morris and 'Mr. Perfectly Fine' released first. Followed by it, 'We Were Happy' (featuring Keith Urban's background vocals), 'That's When,' featuring Urban, 'Don't You,' and 'Bye Bye Baby,' re-released last Friday.
The song 'We Were Happy' is evoking many emotions among the audience. Rolling Stone's Rob Sheffield tweeted "We Were Happy," "This is your advisory to be in a safe private place when you hear 'We Were Happy' because when she was 18 she was already planning an 'Exile' prequel to ruin your future life." 
Another is 'Don't You,' a heartbreaking song about a past love you haven't yet let go of. And fans were surprised why Taylor had kept the song hidden from them because it's so good. 
Overall, Taylor fans are overjoyed that she now owns four-ninths of her studio album discography.
Fans Believe Taylor Has Hinted At the Release of Her Re-Recorded 1989 Album
After the successful launch of Fearless, Swift appeared on The Late Show With Stephen Colbert on Wednesday. And according to fans on Twitter, she dropped hints about her next re-recorded album.
Swifties tried to piece together clues from the singer's interview to claim that she hinted her 1989 re-recording would be released next. Some hints that fans pointed out include a 1989 photograph of Stephen Colbert, Seagull, which is on the shirt on the 1989 album cover, and 8 hearts and 9 stars which leads to '89.
The release date has been rumored to be somewhere between mid-May and June, as a fan predicted the date with a fan theory.
YNTCD, Shake It Off and Hey Stephen are the mentioned tracks. mentioned album - 1989

1989 = 5th Album
YNTCD = Track 14
Shake It Off = Track 6
Hey Stephen = Track 4

connecting it to my theory last April 8th.
we got the dates.

so single May 14th
& Album on June 4th? pic.twitter.com/xHHVA9OKVP — andy (taylor's version) (@renjunrush) April 14, 2021
Others saw Colbert holding a pizza with five pepperonis (a New York City staple and allusion to Swift's 1989 song 'Welcome to New York').
However, nothing is confirmed for the 1989 remake just yet. The fans also pointed out that a re-recorded version of the Wildest Dreams was used in the trailer for the upcoming animated film Spirit Untamed, which fueled the speculation. 
Only time will tell if Swifties have solved the puzzle once again.