Tom Bergeron Actually Has A Sweet Family With Wife; Meet Her Exclusively
Tom was in deep love with his now wife...His love for her was the reason to start his...which made him a different person that...he was an angry young man striking his fist...for transforming Tom to the one we see and love today...share an unbreakable bonding together...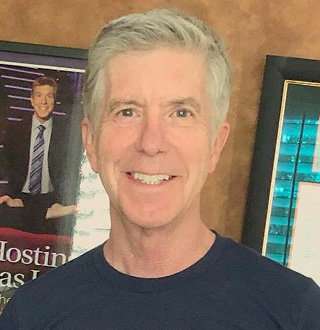 To keep calm and composed controlling one's temper is not an easy task if you are struggling with your anger management. Winning his self-battle with the help of yoga and meditation made Tom Bergeron excel in his work bagging him an Emmy award.
He practiced transcendental meditation for over 35 years!!! He meditates in the dressing room before every Live program he hosts and credits his success to yoga and meditation.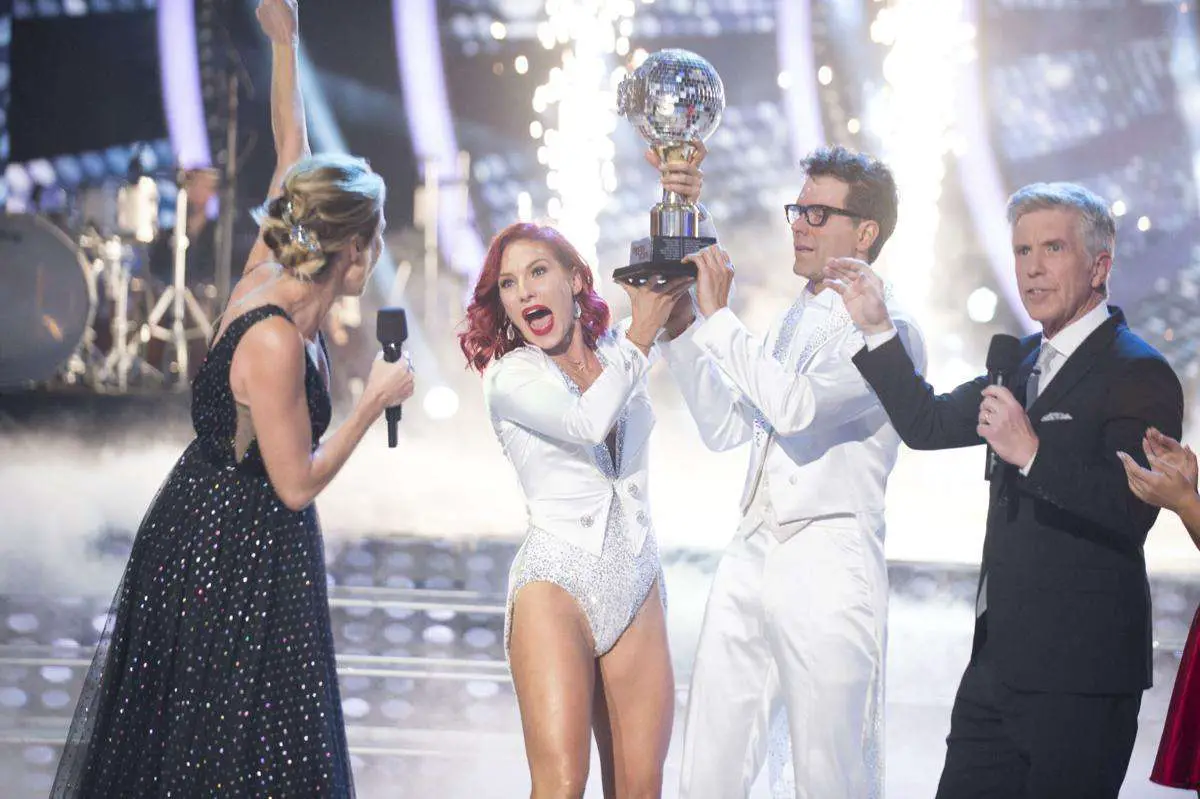 Hosting DWTS for 27 Seasons: Tom Bergeron(Right) hosting the finale of Dancing With The Stars season 27 with Erin Andrews(Right) and posing for a picture with the winners Sharna Burgess and Bobby Bones (Middle) (Photo: siouxcityjournal.com)
Tom Bergeron is an American television personality, comedian and game show host known for Dancing with the Stars, Hollywood Squares, and ABC's America's Funniest Home Videos. He won the prestigious Emmy award in 2012 for outstanding host for a reality competition.
He is the only star to have hosted every season of Dancing With The Stars from 2005 to present. At the age of 63, he adds life to each show he hosts with his comic and calm personality flavored with excellent live hosting skills. Standard height of 5'9" and excellent physique adds to his handsome personality despite his age.
Also Read: Sean Hannity, 'Hannity' Show Host's Net Worth & Salary, Among Richest!
Know Tom's Early Life and Family from his Bio
Tom Bergeron was born as Thomas Raymond Bergeron on 6th May 1955 in Haverhill, Massachusetts to now late parents Raymond Bergeron(father) and Catherine Bergeron (mother).
He had a sister Maureen Bergeron and belonged to a family of French-Canadian(of the father) and Irish(of mother) descent. He has not earned a college degree because he started working in radio shortly after graduating from Haverhill high school when he was just 17.
He entered the broadcasting business as a disc jockey at local radio station WHAV in his hometown and became a popular radio DJ of the 1980s. After that, he joined television for the first time as a host of a local game show Granite State Challenge on NHPTV.
Later, Tom moved to Boston in 1982 to join WBZ-TV as a general on-air personality and hosted several lottery shows and lifestyle shows for the network for about 15 years.
Tom Bergeron's Salary & Net Worth
Tom has managed to handle every situation on Live television shows for more than 2 decades.
Having hosted each and every season of the famous reality show Dancing With The Stars from 2005 to the present day, Thomas reportedly makes a huge salary of $ 150,000 per episode.
He owns 2 homes in America, one in Los Angeles and the other in Connecticut. His estimated net worth is 12 million dollars.
Don't Miss: CBS' Jane Pauley Career Details: Net Worth Of The Sunday Morning TV Show Host
Meet Tom's Wife & His Sweet Family
Tom was in deep love with his now wife Lois Bergeron even before marriage. His love for her was the reason to start his transcendental meditation journey, which made him a different person that we know today.
Formerly, he was an angry young man striking his fist to doors and walls out of anger. Thanks to Lois for transforming Tom to the one we see and love today on television. The couple married on 22nd May 1982 and share an unbreakable bonding together till now.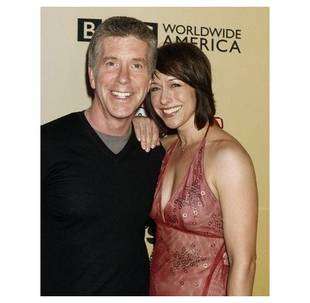 Together Since Ages: Tom Bergeron posing with his beautiful wife Lois Bergeron whom he married 36 years ago (Photo: wetpaint.com)
Related: John Canzano Puts Family Upfront! Wife, Age 42, Dotes Over Relentlessly
The beautiful couple is blessed with 2 daughters, Jessica, aged 29 and Samantha, aged 27. Tom and his sweet family live together in both of their homes in the East Coast and the West Coast depending upon Tom's work. He is an inspiration to everyone who does have self-control issues or any other issues related to anger management.