KTTV Rita Garcia Bio, Husband, Net Worth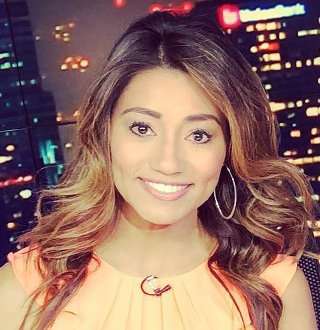 Reporter/Anchor, Rita Garcia and the word dedication go hand in hand. Constantly motivated and always dedicated, Rita is a prime example of the statement "Hard work pays off".
Currently working as an anchor for Fox LA, the Texas native has shown off her immense talent and passion towards her work time and again. When most of the world is busy dreaming in their sleep, Rita is awake searching for the biggest headlines to report on. Her work has gained her immense praise, recognition as well as awards. Someone like Rita can be looked up to as an example in the present world.
Interesting: Fox 11 Gina Silva Bio, Husband, Salary
Where Is Rita Garcia From? Includes Age, Origin & Bio
Rita Garcia celebrates her birthday on the 23rd of April in Texas, the USA as evident by one of the tweets posted by her colleague wishing her happy birthday. The year of her birth, however, has not yet been disclosed as of yet which is what makes deducing her age is a difficult aspect.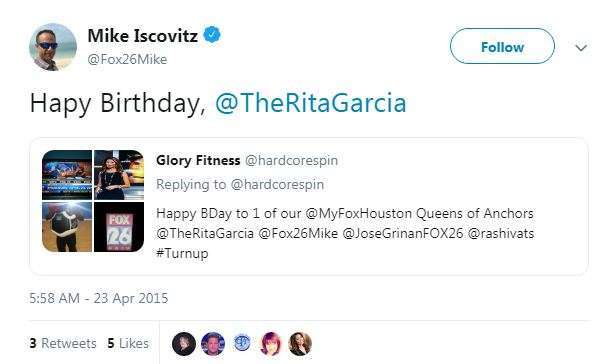 Happy Birthday: Rita Garcia's possible colleague wishing her on the occasion of her birthday. (Photo: Mike Iscovitz's Twitter| 23 April 2015)
As for her height, she stands at 5'4". Being born in America, she holds American nationality however her ethnicity remains a factor that has not yet been confirmed.
Rita Garcia Joined Fox 11(KTTV) In 2018; Includes Net Worth
Reporting and anchoring have always been Rita Garcia's passion ever since she was a little girl. She began her professional career in Rio Grande Valley in South Texas where she covered and reported about the prevalent happenings of the area such as Drug trafficking, Border Security, Illegal Immigration.
Read More:Who Is Araksya Karapetyan Husband? Sister, Net Worth
She later moved to California where she started reporting for KCBS/KCAL. Her time in California saw her cover major happenings and issues such as Earthquakes, Wildfires, Celebrity deaths and more. Her work there earned her the prestigious Tracy Miller Merit Award. She joined the Fox 11 (KTTV) team in the year 2018 where she has been working since.
When it comes to salary and net worth, Rita Garcia falls into the above average category. The exact details as to how much she earns from Fox has not yet been disclosed but as per reports of payscale, the average salary of a reporter/anchor in Fox is $66k. From where Rita stands in her career, she is sure to take home a paycheck that is well above average. As for her net worth, she could have a figure in the range of thousands.
Is Rita Garcia Married? Rumors Seem To Indicate To Possible Husband
For Rita Garcia, work has always been her top priority. She keeps her work at the highest pedestal. Anything other than work except family falls below her zone of interest. So when it comes to love and relationships, there is not much information available as Rita herself has never spoken publicly about that aspect of her life. Probably because she has little to no interest in that.
Whether or not Rita is married or not is something that only Rita has the answer to. However, in a twitter posted on 29th April 2016, she made a sarcastic video where she stated she got married.
You Might Enjoy: Fox 11 Amanda Salas Bio, Married, Salary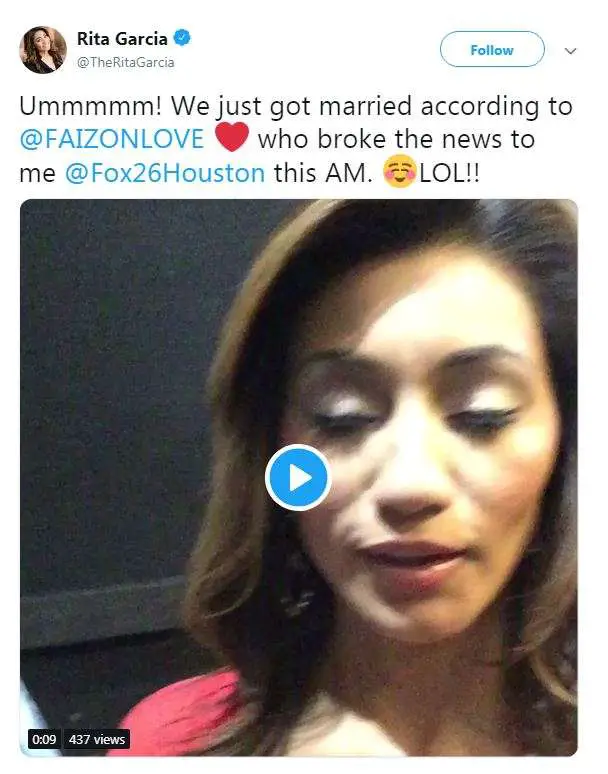 Secretly Married: Anchor Rita Garcia shares a comedic video of her reacting to the news of her getting married. (Photo: Rita's Twitter | 29th April 2016)
However, she also said that she herself was unaware of her marriage. A little fun to pass the time now and again.
---