Tyler Posey Adds a New Back Tattoo to His Amazing Body Art Collection
Yet another masterpiece!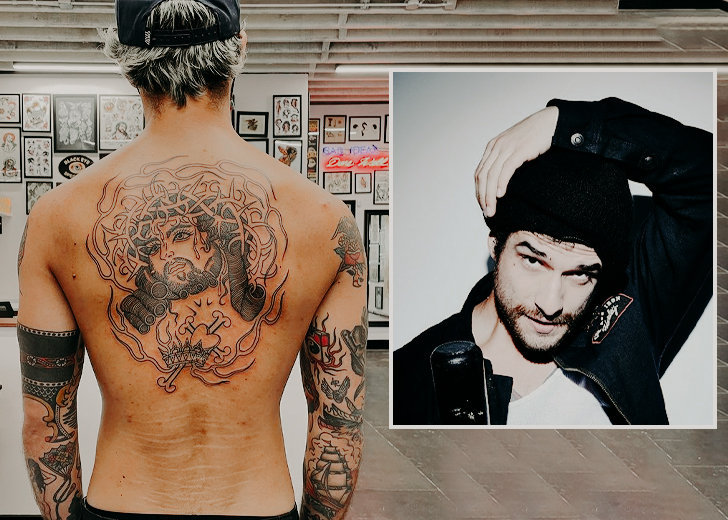 The charming and handsome Tyler Posey is an actor and singer best known for his role as Scott McCall in the supernatural teen series Teen Wolf. 
Posey is also well-known for his tattoos. He has inked every part of his body, from his back to his legs. 
Posey had to cover them up with long sleeves or makeup to be on camera. Now, he proudly shows off his ink on his Instagram and red carpets. 
Tyler Posey's New Tattoo
Posey has been adding new tattoos to his every-growing body art collection. Recently, he got a massive back tattoo from his friend. 
On June 16, 2021, the actor uploaded three photos to his Instagram showing off his fresh addition. The tattoo is of Jesus wearing a crown of thorns and looking sideways.  
Similarly, a cross with a heart in between is inked below Jesus. Finally, a simple crown is tattooed on the top of the cross. 
The tattoo is monochromatic and extends from Posey's shoulder blades to his mid-back. This is the only tattoo that adorns his back. 
Via the post's captions, the actor showed appreciation to his friend Adam and thanked him for the tattoo. 
Meanings behind Tyler Posey's Tattoos 
Posey wanted to get tattoos ever since he was just ten years old. In an interview with Teen Vogue, the actor revealed he used to draw a small-scaled version on himself and fill it with tattoos. 
Posey got his first tattoo when he was just 12 years old. He inked himself with a needle on his elbow. 
The actor has been making his childhood dream come true since, over the years, he has amassed over a dozen tattoos on different parts of his body. 
The first tattoo he got was on his left bicep, inspired by Blink 182. He paid homage to one of his favorite bands by inking the first note from one of their songs. 
That first tattoo made him realize he wanted to get more. However, being an actor, he could not ink his arms and hands as he liked. 
As a result, Posey tattooed his legs. His second tattoo was on the back of his calf, which was the most painful tattoo he ever got to date. 
He inked a multi-colored rock sign on his right calf. According to him, the tattoo took time to be inked, and since it was a multi-colored one, no part of his skin was visible. This is why it was the most painful tattoo he ever got. 
Some of his other tattoos on his right legs include an umbrella, dagger, streetlights, signs, skull, hot-air balloon, and traditional American tiki. 
The umbrella represents the shade when he has to work under the sun. The hot-air balloon and the tiki were inspired by his time in Hawaii. For him, they reflect the Hawaiian culture. 
Posey's right arm adorns many of his designs. His first tattoo on his left arm was a gypsy lady inked for good luck. 
His other tattoos include a spaceship, rose, eagle, and other birds on his right arm. The actor also has a couple of tattoos on his chest.
He has three tattoos straight down his front, from his shoulder blades to the abdomen. They are an eagle, angels with wings, and a naked woman sleeping on a crimson pillow.  
He also has a heart and a flaming bird on either of his shoulders.