Tony Robbins Celebrates Wife Sage Robbins' First Mother's Day ━ Details on His Children
Tony Robbins welcomed first child with his wife, Sage Robbins.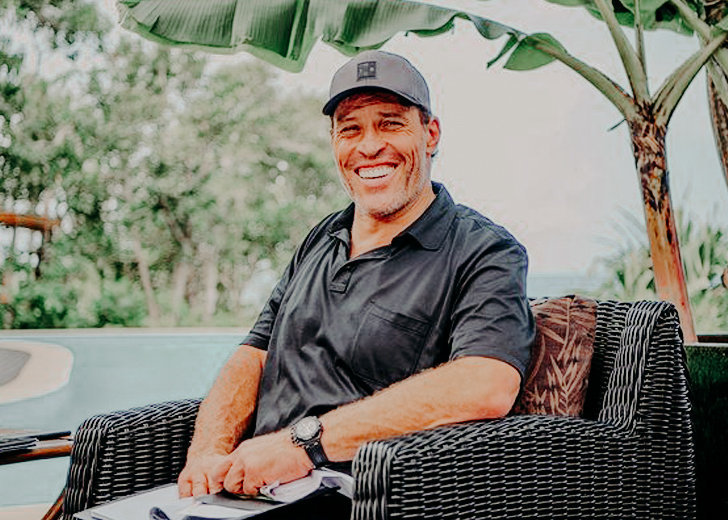 Tony Robbins celebrated his long-time wife, Sage Robbins' first mother's day after the duo welcomed their first child in April 2021.
Posting a lovely picture of his wife and their first-born on May 10, 2021, he encapsulated his gratitude towards his wife on the post's caption. The motivational speaker referred her as a force of nature and stated how her fierce love, brilliance, intuition, wisdom, and grace made their home a divine place.
He also claimed that he and his extended family were blessed to have Sage in their life.
Shifting his focus from the new-mother to all the mothers of the world, he mentioned that Mother's Day was a day to celebrate womanhood and maintained that there is none love like a mother's love. He ended his his sweet message by wishing all mothers a happy Mother's Day.
The life coach (61) and his wife (46) welcomed their first child, a baby daughter, in April 2021 through surrogacy. Robbins took the happy news on his Instragam on April 4, 2021 and revealed it was his friend who helped for the surrogacy.
Through another Instagram post on April 18, 2021, he updated his fans about his experience of parenthood and detailed that bed head snugs, and late night feedings had turned out to be a beautiful adventure.
Robbins' Relationship And Children Details
Robbins met his wife, Sage Robbins at a Hawaii motivational seminar in 2000. Mrs. Robbins' looks were enough for the author to fall in love with, and a year later, in 2001, they eventually shared the wedding vows in Fiji.
Since then, the married couple has always been together. Both of them are seen traveling the world together on Robbins' seminar tours.
Before his marriage with Sage, Robbins was in a marital relationship with Rebecca "Becky" Jenkins. He married Jenkins in 1984 and adopted her three children from her previous marriage.
However, after 16 years together, Robbins parted ways with her. Later, he revealed that the change in core values was the reason behind their split.
The American writer also has a biological son named Jairek Robbins, whom he welcomed in 1984 with his former girlfriend, Liz Acosta. Robbins' son, Jairek, follows in his father's footsteps and is now a fledgling performance coach and a motivational speaker.
His Unusual Take on Raising Children
In his 43-year career, Robbins has spoken about a wide range of topics from money management to facing ones' fears. But perhaps one of the most intriguing among them is his opinion on child-rearing.
This view was brought to light during the motivational speaker's interview with Inc. on May 16, 2017. In the interview, he mentioned that parents must be able to speak to their kids in a way that would help them increase their mindset.
He further stated parents shouldn't praise their kids by telling them how smart, beautiful, unique, perfect, or special they are, but instead, encourage them to focus on the hard work they did to overcome problems.
Interesting Read: Coach Ken Carter continues to motivate even after his Impact Academy
The motivational speaker believed that if parents followed this, their children would shape-up into a person who gave importance to hard work, effort, and persistence. This, he emphasized, would help them in both personal and professional lives.
Furthermore, the philanthropist believed that kids should learn and handle their family's finances, no matter what their age.
On April 1, 2019, he even shared a post through which he asked parents to teach their kids handle finances at home as it wouldn't be taught at schools.