Tom Cruise's Second Career In Scientology; Did Scientology & David Miscavige Manipulate Him?
Tom Cruise joined the Church of Scientology in the 80s and remains a loyal member. Was he manipulated into entering the church? Explore Cruise's history with the organization and his friendship with David Miscavige.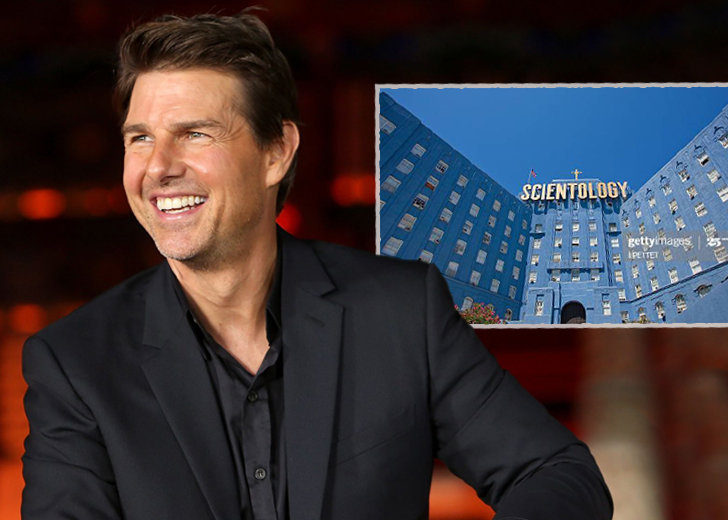 For long, American actor Tom Cruise has acted as the poster boy for the Church of Scientology. The Mission: Impossible franchise star has time and again advocated in favor of the institution and has even landed in some controversies for his views.
Take the following incident for an example: 
Back in 2005, Cruise attended Matt Lauer's Today show for the promotion of his movie, War of the Worlds. 
The interview started off friendly; Lauer asked a few questions about the actor's personal life and relationship with Katie Holmes. 
But as Matt pushed the topic towards Scientology, Cruise's tone turned serious. At first, Cruise insisted that a Christian can also become a Scientologist. Lauer, however, countered him saying if the statement said by Cruise was true, then Scientology could not be considered a real religion. 
Hearing the clever answer from Lauer, Tom Cruise stuttered for a second but soon came forward with a response. He defended Scientology as a genuine religion stating that it dealt with spirits and different forms of energy. 
During the interview, Cruise eventually turned to his "full-throttle" mode and started criticizing Psychiatry for its use of addictive drugs like Ritalin and Adderall on kids.
As the conversation progressed, he even called the profession a "pseudo-science" and went on to claim that the host didn't know the history of Psychiatry enough to be claiming that individuals have benefitted from medicines such as Ritalin and Adderall.
More about Tom Cruise's & Church of Scientology
Let's explore the most asked questions and popular facts about Cruise's history with the church, his friendship with current leader David Miscavige, alongside his influence and authority in Scientology.
Was Tom Cruise Tricked into Joining Scientology?
The Tropic Thunder actor said to People magazine in a 2003 interview that the work of Scientology founder L. Ron Hubbard helped him to overcome his dyslexia after he was introduced to the organization by a friend. 
Tom Cruise joined the Church of Scientology in 1986. The friend Tom referred to in the People's interview is frequently reported in the media as his first wife Mimi Rogers.

Tom Cruise joined Scientology in 1986, the same year as the release of Top Gun (Photo Source: Paramount Pictures/Getty Images)
Cruise revealed in the interview that the "friend" provided him with a picture book on Scientology after which the actor started reading the materials of Scientology founder L. Ron Hubbard about the learning technique called "Study Technology." 
However, Nancy Many, an ex-member of Scientology's Sea Org, told Radar Online in 2012 that Tom Cruise's membership into Scientology was not just a happy coincidence; he was rather carefully orchestrated into joining it.
Nancy claimed that the organization gained Cruise's trust by deliberately pairing him up with a Vietnam war veteran while he was filming the Vietnam war-based film Born On The Fourth July.
"I knew some of the people who kid-gloved him into becoming a member. Everything was orchestrated and orientated. Tom has a problem reading so they don't have him doing the course on his own and paired him up one-on-one. He was matched with a wonderful, wonderful man who was a hero in Vietnam and was part of a group in the Tet Offensive held down by the Viet Cong. It was done on purpose, the manipulation is often unseen or unnoticed by the person being manipulated."
The book 'Inside Scientology: The Story Of America Must Secretive Religion' also presents testimonies and statements from ex-Scientology members and staffs that paint the picture of the Church Of Scientology carefully trying to micro-manage Tom Cruis's individual issues, problems, and fears. 
Tom Cruise Indoctrination Video And Its Aftermath
In January 2008, a video of Tom Cruise preaching Scientology surfaced online. Telegraph reported that the footage was earlier shown in a 2004 meeting of the International Association of Scientologists.
However, the reason why the clip was leaked in 2008 remains unknown till this day.
In the video, Tom Cruise credits Scientology for making him a responsible person and also for helping to create a better form of reality for himself. He also praises KSW (Keep Scientology Working) documents for changing his life for the good.
The video, meanwhile, wasn't available for long as it was removed by YouTube after threats from the Church of Scientology claiming copyright infringements. However, there are still edited versions of the nine-minute-long video available on the internet. 
The leaked video brought Cruise mostly negative criticisms and made him a subject of internet jokes/memes. His intense laughter in the video, especially, became a source of mockery, with many labeling it as "creepy" and "scary."
Is Tom Cruise Still a Member of the Church of Scientology in 2020?
Tom Cruise is an active member of the Church of Scientology as of 2020. In fact, there are reports that suggest the actor has made steps in recent years to become closer to the organization and its members.
As per a People magazine's report in 2018, the actor had bought a Penthouse apartment in Clearwater, Florida only a block away from the international headquarters of the Church of Scientology.

The Church of Scientology international headquarters located in Clearwater, Florida (Photo Source: Scientology)
And, by August 2019, Cruise shifted his three sisters—Marian Henry, Lee Anne Gillotte, and Cass Capazorio—to apartments in the Skyview building in Florida.
The Sun mentioned that the actor even reserved two condos in the building, possibly for his children: Isabella and Connor Cruise. The report justified Tom's step to keep his family closer to him and Scientology. 
Tom Cruise's Influence In Scientology: Award & Authority
Tom Cruise's loyalty to the Church of Scientology over the years hasn't gone unnoticed either. For his efforts to the organization, the Jack Reacher: Never Go Back star was honored with the Church of Scientology's first Freedom Medal of Valor in 2008.

Tom Cruise on his way to receive the Church of Scientology's first Freedom Medal of Valor in 2008 (Photo Source: Scientology)
Matter of fact, Cruise is one of the most powerful members of the organization. The actor was called the second most powerful member of the Church of Scientology by Andrew Morton in Cruise's 2008 unauthorized biography of the same name, Tom Cruise: An Unauthorized Biography. The only person more authoritative than Cruise in the organization is the current leader of Scientology, David Miscavige.
Tom Cruise's Friendship With Scientology Leader David Miscavige
58-year-old Tom Cruise and 60-year-old David Miscavige have been considered as "best friends." Here's a brief report about the two. 
David Miscavige rose to power in Scientology after L. Ron Hubbard's death in 1986; Tom Cruise also joined around the same time.
As soon as David became the chairman of the Church of Scientology, his focus shifted to celebrity members of the institution, including Tom Cruise and John Travolta.
Miscavige's father and ex-member of Scientology, Ron Miscavige, told NY Daily News in 2016 that David wanted to cash in on the fame of Cruise and Travolta after he became the sole leader.
In his book Ruthless, the senior Miscavige explains that his son eventually became obsessed with the Hollywood actor and even went to visit Cruise during the shooting of his 1990 film, Days of Thunder.
According to Ron Miscavige, Cruise and Miscavige grew closer with time and developed a lasting friendship. He revealed that the two even held a midnight race once in the streets of Los Angeles.
But, if ex-Scientologists are to be believed, Cruise was once taken for granted by the church's leader. A former senior executive of the church named Mark Rathbun opened up on his blog about how Miscavige squandered Cruise's confessions for his and his friends' entertainment. 
Rathbun revealed that David Miscavige often held sessions in his personal lounge, where he along with other Scientologists would get drunk and laugh at Tom Cruise's confession reports.

Tom Cruise and David Miscavige are "bromance" goals for young Scientologists (Photo: YouTube)
Rathbun revealed that David Miscavige often held sessions in his personal lounge, where he along with other Scientologists would get drunk and laugh at Tom Cruise's confession reports.