How Tall Is Tom Cruise, How Old Is Tom Cruise, Is Tom Cruise Married & What Is Tom Cruise Net Worth? All Questions Answered
A quick look into Tom Cruise's net worth, age, marriage, ex-wife/spouses, height, and divorce.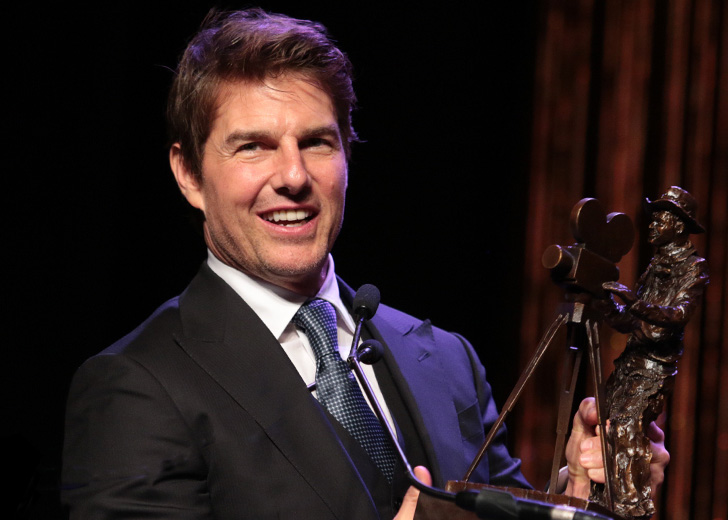 American actor Tom Cruise has been active in the entertainment business for nearly four decades. Even at the age of 57 now, he is considered as one of the most marketable actors in Hollywood.
The New York native started his career in the rom-com/drama, Endless Love, in 1981. But he eventually turned into an action star playing Lieutenant Pete "Maverick" Mitchell in the commercially successful 1986 movie, Top Gun. Later, with the success of the Mission: Impossible franchise, Cruise proved himself to be a bankable star.
Even though some of his projects have been box-office failures over the years, the actor has been steadily bestowing his fans with chart-busting movies.
According to The Numbers, 38 films of Tom as the lead actor have collected over $8 billion in the worldwide box-office, averaging over $210 million per movie.
In addition to success, Cruise has had his fair share of controversy due to his failed marriages and Scientology beliefs.
Is Tom Cruise Married: Spouse Or Dating In 2020?
The American Made actor has been married three times, but none of his marital relationships passed the test of time.  

Tom Cruise's ex-wives: Mimi Rogers (left), Nicole Kidman (middle), and Katie Holmes (right) (Photo: Pinterest.com)
Over the years, Cruise has earned the reputation of a private individual. He never speaks about his failed marriages, nor he publicly comes forward with new love interests. Despite that, he has been a subject of countless relationship rumors.
Let's take a quick look at his love life.  
Ex-wife No. 1 Mimi Rogers:
The actor first got married to actress Mimi Rogers in New York City on May 9, 1987; however, the couple divorced after three years in 1990. Mimi was the one who introduced him to Scientology.
Before the divorce in 1989, Cruise and Mimi released a joint statement acknowledging the failed state of their relationship.
Ex-wife No. 2 Nicole Kidman:
Cruise's second marriage to American-Australian actress Nicole Kidman was his longest, which lasted from 1990 to 2001.
They got married on Dec.24, 1990, in Telluride, Colorado. During their time as a couple, the two adopted two children: daughter Isabella Cruise, born in 1992, and son Connor Cruise, born in 1995. Their marital relationship ended when Tom filed for divorce in 2001, citing "irreconcilable differences."
Cruise and Nicole and Nicole Kidman first met on the set of the 1989 movie, Days Of Thunder.
Ex-wife No. 3 Katie Holmes:
The Tropic Thunder star's third and last marriage was to Katie Holmes. The couple got married in Rome on Nov.18, 2006, seven months after welcoming their only child, Suri Cruise. Seemingly, Tom and Katie's mutual love for their daughter wasn't enough to save the marriage from plummeting, and the two divorced in 2012.
Holmes and Katie's relationship was highly publicized in 2005. The previous year Katie told a reporter from Seventeen magazine about her crush on the Top Gun star. 
I used to think that I was going to marry Tom Cruise.
Holmes and her fiance Chris Lein ended their relationship after five years in 2005, according to People. Then in April 2005, a source Of People magazine confirmed that they had been dating for weeks after they were photographed together in Rome.
The official confirmation of their relationship occurred during Cruise's appearance on The Oprah Winfrey Show on May 23, 2005. Talking to Oprah and the fans, he jumped up on the set's couch and professed his love with electrifying energy.
The moment is perhaps the only time when Cruise has been publicly vocal about his love life.  
Ex-girlfriends and Dating Life:
Till now, Tom has also been linked with the likes of Laura Prepon, Penelope Cruz, Rebecca De Mornay, Elisabeth Moss, and more. 
How Is Tom Cruise's Public Image Shaped By His Personal Life?
The lack of a lasting relationship in Tom's life has often made him a subject of jokes—especially gay jokes. For instance, in one of the episodes of Family Guy, the lead character Peter Griffin jokes about Tom Cruise running in all his movies to escape his "gay thoughts." Similarly, the show also made fun of his relationship with Katie Holmes, calling Katie a hostage during her marriage with Tom.
Family Guy isn't the only TV show to make fun of Tom's love life. South Park also took a jibe at him in episode 12 of its season nine. Though the animated series didn't question Tom's sexuality in literal words, it showed the actor literally hiding in the closet and others speaking about his rejection to come out of it. 
Other than the animated shows, YouTubers, journalists, and bloggers also take great pride in making fun of various parts of Tom's life, including his height, faith in Scientology, and such. However, Tom seems unconcerned by his roasts.
Tom Cruise Net Worth: How Much Is Tom Cruise Worth?
Tom Cruise is a box-office king. As of 2020, WealthyGorilla lists him as the third richest actor in the world. His net worth of $570 million only followed behind Jami Gertz ($3 billion) and Shah Rukh Khan ($600 million).
Some of his highest worldwide grossing movies include Mission: Impossible – Fallout ($791 million), Mission: Impossible – Ghost Protocol ($694 million), War of the Worlds ($591 million), The Last Samurai ($456 million), The Mummy ($409 million), Edge of Tomorrow ($370 million), and so on. The Mission: Impossible franchise alone made over $1.15 billion in the domestic box-office and over $3.5 billion in worldwide collections till July 2018, The Number reports.

Tom Cruise with director Christopher McQuarrie during the filming of Mission: Impossible – Fallout (2018) (Photo: Instagram/ Tom Cruise)
Tom Cruise is yet to star in a movie that crosses the billion-dollar mark in the box office. Maybe his next space adventure flick could break the record.
How Old Is Tom Cruise? How Tall Is Tom Cruise?
As of June 2020, Tom Cruise is 57 years and 11 months old: His 58th birthday falls on July 3. He stands at 5 feet and 7 inches (1.7m). 
He was born to electrical engineer Thomas Cruise Mapother III and special education teacher Mary Lee. He was raised in near-poverty.