Tina Turner's Wedding Dress — A Head Turner Even Decades Later
Tina Turner married the love of her life albeit in an untraditional manner.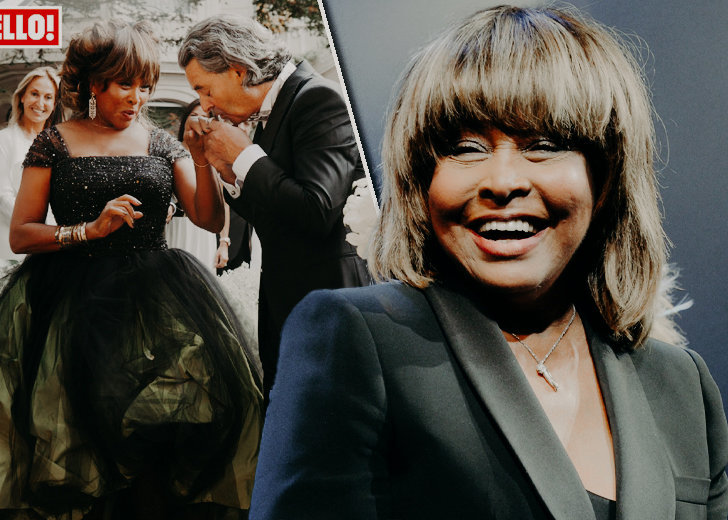 Towards the end of her HBO Documentary, Tina, legendary singer Tina Turner took her curtain call as she fought back tears, implying she wanted to retreat from the public eye and enjoy some peace. The farewell was bittersweet for fans who have been following her through her inimitable decades-long career. 
The documentary saw the music icon transition from Anna Mae Bullock, her given name, to superstar Tina Turner, and the moment she locked eyes with her second husband, Erwin Bach. After her abusive first marriage with Ike Turner, Turner got the romantic hero she deserved with Bach, who has been a pillar of support for her.  
Love at First Sight
In 1986, Bach, a 30-year-old music executive with EMI, was assigned to pick up Turner, a 47-year-old global megastar, from the airport before a concert. Turner described the moment as love at first sight. In the documentary, she explained that Turner was so good-looking that her heart went into overdrive.
She was certain she had met her soul mate, but Bach didn't feel that way in the start. He was occupied with driving her, and despite being in the car with a mega superstar, he felt unusually calm and even enjoyed the ride.
Bach found out that Turner was interested in him not long after the meeting and visited her in Nashville. In the documentary, Turner recalled the cheeky proposition she made about a future trip to Los Angeles when he visited her.
Bach ended up visiting her in Los Angeles, and that's when their relationship started. 
On Turner's 50th birthday, Bach proposed to her. The singer was cautious, and even though Bach wanted to show his commitment, she found it hard to believe and also had fears of being controlled that came with marriage. 
It wasn't yes or no. Marriage says ownership. I didn't want that 'my' anything anymore. I had enough of that.
But little did she know that she would change her mind years later. 
On Marrying Almost 3 Decades Later
The couple continued their relationship even though the proposal didn't really go according to Bach's plans. When Turner was 57, she moved to Switzerland with Bach. To this day, they live in their paradisal home Chateau Algonquinin in the Zurich suburb of Kuesnacht. 
In 2013, 27 years later, Turner knew it was finally time to get married. The couple tied the knot in a lavish ceremony on the banks of Lake Zurich in Switzerland, where they were joined by celebrity guests including Oprah Winfrey and Bryan Adams.
Tina Turner's Dazzling Wedding Dress
The singer opted for a dazzling green taffeta and black silk tulle dress embellished with Swarovski crystals, a far cry from the traditional white wedding gowns.
The gorgeous custom Armani number had a special meaning. Turner has been practicing Buddhism for decades now, and the colors of the wedding dress symbolized peace and harmony. 
Turner also gave glimpses of the most important component of the nuptials — her wedding ring after her wedding when she was spotted leaving a restaurant in St Tropez.
The singer described her marriage as "a wonderful place to be," and has been enjoying a blissful life with her husband since then.