What Is the Waldrop Family from TLC's 'Sweet Home Sextuplets' Doing Now?
A look into what is new in the Waldrop family's life.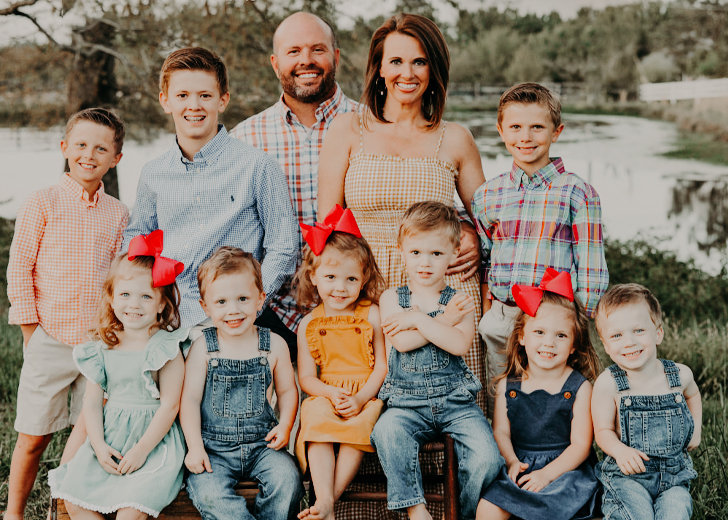 Sweet Home Sextuplets is a popular TLC reality series. The show revolves around the Waldrop family's life on a sheep farm in a small town in Alabama. 
The series follows the life of Courtney and Eric Waldrop, their nine children, including a pair of sextuplets. With three seasons and 24 episodes, the series premiered in September 2018. 
The show has been on hiatus since October 2020. Know what the Waldrop family is currently up to. 
Everything about the Waldrop Family 
Eric and Courtney have been together for more than half of their lives. They met each other in middle school and have been together since then. 
Eric calls themselves junior-high sweethearts, while Courtney regards their relationship as love at first sight.
The duo attended Alabama's Auburn University together. In their final year, Eric popped the question. 
The Waldrops waited until their graduation to get married. The couple graduated in May 2004, and in June, they tied the knot. 
Courtney always wanted a big family. She gave birth to her oldest son, Saylor, in December 2008, with no complications. However, a series of miscarriages started happening from there onwards. 
Courtney was diagnosed with a clotting disorder which aided in a complicated pregnancy.
In 2012, with fertility treatments, the Waldrops welcomed a set of twins, Wales and Bridge. 
The duo still wanted more children, and they decided to do it naturally. Courtney got pregnant with the fourth child, but again, she had a miscarriage. 
The Waldrops approached a doctor who put Courtney on a low-dose fertility treatment. She was not supposed to get pregnant with over two babies. 
Regardless, she became pregnant with six children. The pregnancy was a little stressful for the duo. Courtney's stomach swelled hugely, and she started fearing if she was eating enough. 
Her primary goal was to ensure that all the six babies were getting enough nourishment.
The sextuplets were born prematurely but healthy — ten weeks ahead of when they were supposed to arrive. 
She gave birth to three sons and three daughters via Cesarean section. Around 40 people were needed for Courtney to bring her sextuplets to the world. 
The boys were named Blu, Layke, Tag, whereas the girls were called Rawlings, Rayne, and Rivers. 
What Are the Waldrop Family up to Now?
It is no surprise the family has a busy time taking care of 9 children. The sextuplets are now three years old. 
Childhood sweethearts Courtney and Eric are still going as strong as ever. The couple just celebrated their seventeenth marriage anniversary on June 18, 2021.
Courtney took to Instagram to share a heartfelt message to wish her husband on their special day. In the post, Courtney reminisced about the journey they had together. 
From little boy and girl to this unexpected life they have with their family, the pair have been together for 25 years. Love has gotten them through all the highs and lows of their lives. 
She considers Eric her rock and her strength, who has calmed and supported her through all. She is grateful for every moment they have together. 
She further hopes they can take a break one day and have their dream anniversary trip to Hawaii.
Apart from the TV series, Courtney has a booming handmade jewelry business. The jewelry comprises various earrings, bracelets, and necklaces, which can be found on the family's website.  
Through their busy life and the global pandemic, the parents have homeschooled their children. Courtney had recently shared a clip of the sextuplets having their color lesson.
The video featured her adorable kids trying to guess the color of the cups.
The family had previously moved into a small mobile home when their dream house was in construction. Now they have moved into their permanent residence, which accommodates their enormous family. 
In June 2020, Courtney had shared a picture of their almost completed house on her Instagram. 
The family had initially started with rearing sheep on their small farm. Now they have added dozens of cattle on their farmland.  
They further hope to expand with pigs, goats, and chickens to complete the list.