Sindhu Vee Found a New Home in Stand up after Three Kids and a 'Loss of Identity'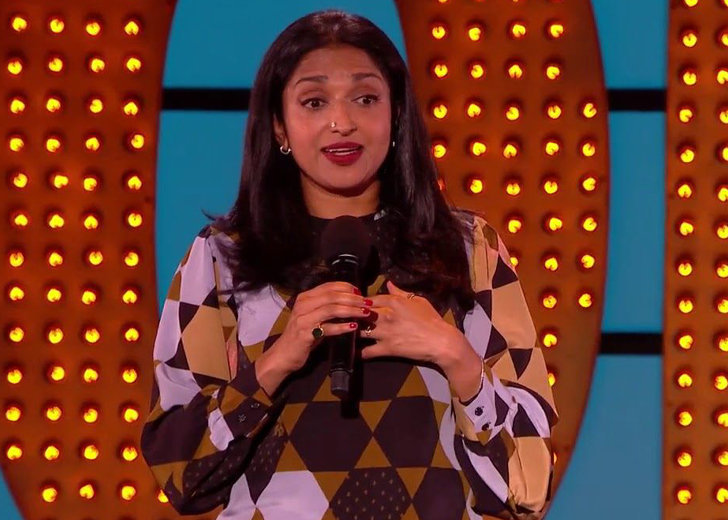 Sindhu Vee is a successful comedienne nominated for the prestigious Edinburgh Comedy Award for Best Newcomer for her 2018 debut hour Sandhog.
Her comic career has taken her to multiple well-known programs such as Live At The Apollo, Mock The Week, QI, and Have I Got News For You.
Vee's sense of humor and delivery methods have earned her a strong international following, and she has even performed on sold-out houses in India.
Now, Vee is one of the most sought-after talents in the UK circuit, but it hasn't been long since she began her journey as a comic.
And you would be surprised to know that she used to be a banker initially. Things changed after she married her Danish husband, Jakob Horder, in 2000 and welcomed three children into their family. 
Sindhu Vee's Career Transition after Marriage
Since a young age, Vee had never thought about doing comedy.
In fact, she studied in Delhi, Oxford, and Chicago before getting into banking and was a bonds tradeswoman in London. But things changed for her when she had her first child.
When she got back to work, she missed her child greatly and quit her profession.
Vee said that she couldn't be the mother she wanted to be if she was away all day for her work. And the fact that her husband was also a banker gave her the leeway to quit.
My husband and I have a common goal in marital therapy....
...making me happy — Sindhu Vee (@sindhuvfunny) November 30, 2020
The comedienne had initially thought that being a stay-at-home mother would be the thing for her.
But she got to a low point after she welcomed her third child into the family. She didn't know where she belonged.
Losing her identity then ultimately led her to where she is now, a comic with involvement in writing, acting, and podcasting.
Sindhu Vee Keeps Her Family Away from the Limelight 
Vee's first performance was in the Funny Women Competition. She seemed to have a knack for the craft as she reached the semi-finals, despite having no prior experience.
The humorist was a natural on the stage and believed she had found her place.
By 2015, she was already doing gigs frequently, and in 2018, she took her debut show 'Sandhog' to Edinburgh Fringe. 
The show got her nominated for Best Newcomer in Edinburgh Comedy Award and helped spread her name to a broader audience. 
The comedian has also won two awards while being nominated for many others. Vee won Eastern Eye: Arts, Culture & Theatre Awards 2017 and was the runner-up for Leicester New Comedian of the Year 2017. 
Although her success has kept her in the center of the limelight, Vee has kept her family life away from the spotlight. So much so she has never revealed the name and face of her children. 
She has also updated nothing much on her married life with her husband. 

Sindhu Vee reasons why her third kid is her favorite among her three children. (Photo: Twitter)
That being said, she had once hinted that her youngest kid was her favorite among her children. She posted pictures of cute postcards and shared that her third kid had made them for her. 
Sindhu Vee as An Actress
Vee's comedic fame also helped kick start her career in acting.
Her first acting role was in 2018 in the TV series Sick of It. Since then, she has played in well-known shows such as Netflix's Sex Education and Feel Good. She also wrote and played in her TV mini-series Sky Comedy: Sindhu Vee's Live and Let Love.
And while Vee finds herself cast in increasingly prominent shows, she isn't new to the business. In fact, she often boasts about having once modeled for Yves Saint Laurent.