'American Honey' Star Sasha Lane rocks in 'Loki'
Learn about openly bisexual American Honey star Sasha Lane's journey from a waitress to an actress.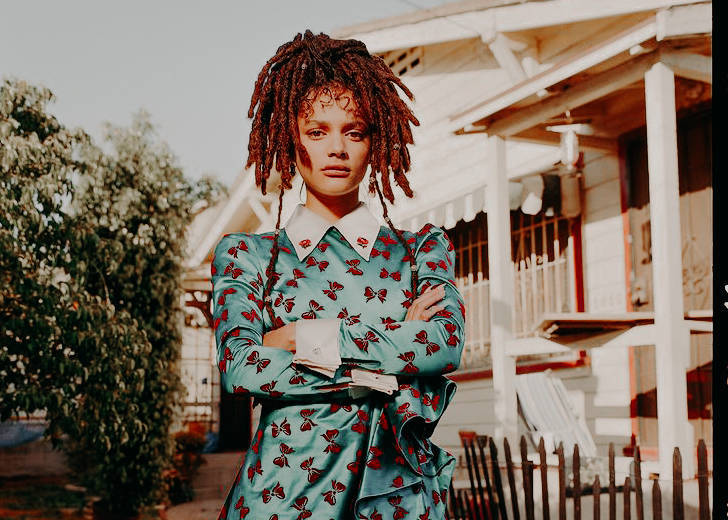 Sasha Lane is an American actress who rose to limelight overnight, portraying the character Star in her debut movie American Honey in 2016.
The movie, directed by Andrea Arnold, received critical acclaims and won several awards for narrating the story of Star, a teenage girl from a troubled home. She runs away with a traveling sales crew, driving across the American Midwest selling magazine subscriptions door to door.
After her debut, Lane went on to work in several other movies and TV shows, including The Miseducation of Cameron Post (2017), After Everything (2018), Hearts Beat Loud (2018), Hellboy (2019), and Utopia (2020).
Presently, she has been working on her upcoming TV series Conversations with Friends, where she portrays the character, Bobbi, and stars alongside Joe Alwyn, and Jemima Kirke.
Sasha Lane's Bio: Age, Family
Born on September 29, her given name is Sasha Bianca Lane, and her star is Libra.
The actress's father is African-American whereas her mother hails from New Zealand. Because of that, they embrace European and Maori descent. 
Speaking about her mixed ancestry with The Guardian on October 13, 2016, she said:
Growing up, kids would always say to me: 'You're not black enough for this.' Or: 'You have black in you, so you can't be into this.' I was called an abomination as a kid, so that registered real quick.
When Lane was young, she saw her parents divorced and as a result, she experienced numerous difficulties as a child.
After her parents separated, she lived with her mother, moving several times near Dallas before finally settling in Frisco, Texas.
The Utopia star has a brother, Sergio Darcy Lane, and two younger sisters, the older one being Leah. However, the name of the youngest sibling still remains unknown to the public eye. 
The actress has the strongest bond with her brother Sergio, an LA-based actor and model. She explained her relationship with her brother while speaking with Crash Magazine in July 2018. She stated that her brother was the closest person to her and she would give her life for him if needed. 
She further shared that though she and her brother are a lot alike, they are very different at the same time. 
My brother is the closest person to me. I would give my life for him, protect him at all costs, and I wish him a beautiful adventure for his present and future. We are a lot alike and also very different at the same time. He's my homie, and the closer we've gotten the more understanding I am of just how important family truly is.
Her Career: Movies & TV Shows 
Lane's acting career took off when she was not even looking to become an actress, making it one of the most unexpected ways to start things. 
On a sunny day, the then-19-year-old Lane was relaxing on a beach in Panama City, Florida, when she was approached by director Andrea Arnold and asked her if she was interested in starring in her next venture.
For someone who had zero acting experience, it was a nothing to lose deal—therefore, she auditioned for the role in American Honey and no prices for guessing that she scored.
She was eventually cast as the lead character in the movie and her debut performance even helped her win Best Performance by an Actress in a British Independent Film at 2016's British Independent Film Awards.
Moving forward, Lane took acting as her full-time career, and that decision led the actress to star in Meryam Joobeur's directorial short film Born in the Maelstrom in 2017.
In 2018, she starred opposite Nick Offerman and Kiersey Clemons in the movie Hearts Beat Loud, and in The Miseducation of Cameron Post, which was directed by Desiree Akhavan.
Her movie The Miseducation of Cameron Post was critically acclaimed for its "sensitive, understated portrayal of adolescent self-doubt and discovery," and won the Grand Jury Prize at the 2018 Sundance Film Festival.
The following year, Lane portrayed the character of Alice Monaghan in Neil Marshall's directorial film Hellboy and appeared as Cassie in the horror-thriller film Daniel Isn't Real.
The year 2020 was another achieving year for the actress, as she was cast as Jessica Hyde in the American remake of the British television show Utopia, created by Gillian Flynn. The show was well-received by the audience.
Before becoming an actress, The Miseducation of Cameron Post star worked as a waitress at a restaurant in Frisco, Texas, and was a stand-out athlete on basketball, track, and field teams.
Lane's Net Worth
Working on hit films and shows has surely helped the talented actress amass a healthy net worth for herself. Her net worth estimates at $1.5million. 
Besides acting, Lane also earns from her modeling stint, advertisements, and sponsored content on Instagram.
Cast In Marvel's Upcoming Series 'Loki'?
Since the announcement of the Disney+ and Marvel series Loki, it was rumored that Lane will be one of the stars in the series alongside Tom Hiddleston, Owen Wilson, Sophia Di Martino, Gugu Mbatha-Raw, and Richard E. Grant.
Sasha Lane portrayed Hunter C-20 in Loki. Hunter C-20 is a soldier of the Time Variance Authority, which is an agency concerned with monitoring realities throughout the multiverse and attempting to keep temporal interference to a minimum.
The actress was asked if she was interested in comic books, to which, Lane replied by saying:
To be honest, it's never really sparked me. I found a couple of graphic novels that were true crime murder mysteries and that was kind of cool, but I've never really had that kind of interest in them, though this one is obviously good (laughs).
The Golden Globes also reported that one of her upcoming projects was comic-related, i.e., the superhero series, Loki.
Personal Life: Lane Is Openly Bisexual
Actress Lane is openly bisexual—she took to Twitter in 2015 to reveal her sexuality. In her coming out tweet, she was unhappy with a group of people who wrongly targeted her just because she was bisexual.
I feel like people keep trynna include me in they threesomes bc I'm bi and they think ill do all the work and it'll make their bf amused — Sasha Lane (@SashaBianca23) February 3, 2015
The actress again came in front to talk about sexuality at the Sundance Film Festival in 2018 while she was promoting her LGBT film The Miseducation of Cameron Post.
She related the film's story with her own life, saying, "the story really hit home for me, coming from a household where my brother's gay and I'm gay."
She further explained that she liked her character in the film for her free spirit and own way of thinking. 
She [her character in the film] grew up in a community where everyone was free and lived life in a certain way. Then her mother brought her into a community that was very conservative and unaccepting of her. But both those communities were boxes. I could relate to that because, regardless of how free I am in spirit, I grew up in Texas and that is kind of like a box.
In the film, she played a teenager named Jane, who is in a conversion therapy center because she is caught having an affair with a female classmate on prom night. But to her surprise, she meets other queer people for the first time at the therapy center.
Lane Gave Birth In 2020 
The actress is proudly raising her first child whom she gave birth to in April 2020. Lane is yet to reveal the name of her baby as well as the baby's father. 
She is doing her best as a single mother and that is evident as well, as she often posts pictures and videos with her baby on Instagram. 
On March 8, 2021, she shared a few adorable pictures of her baby on Instagram, writing, "Our day every day and whenever wherever we please my kid."