Who Was Sue Aikens' Husband Of 17 Years? Who Is Boyfriend Michael Heinrich?
Sue Aikens has never really let anyone in public know about her personal relationships. However, that is different now: Sue Aikens's openness about her latest romantic relationship is transparent in her Facebook and Twitter. And, it has already raised questions if her new boyfriend is her husband or not.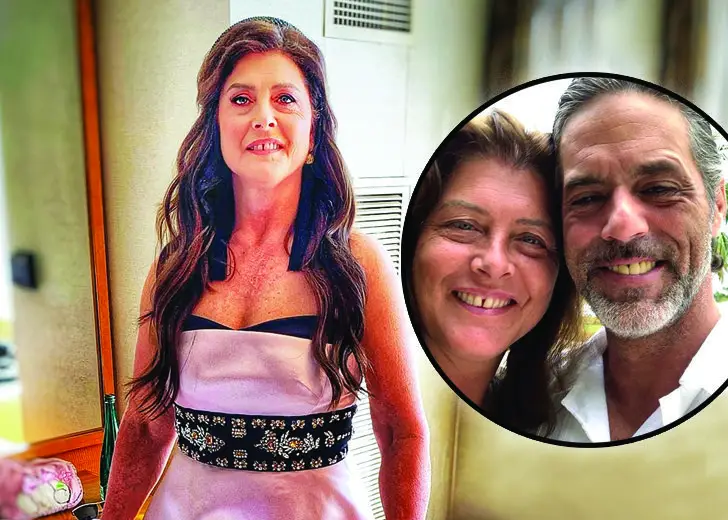 National Geographic star Sue Aikens's openness about her latest romantic relationship is transparent on her Facebook and Twitter profile. And, it has already raised questions if her new boyfriend is her husband or not.
Aikens has a past history of marriages, according to various sources found during our research. She is also a grandmother and has two children.
Who Is Susan Aikens?
Susan Aikens, a.k.a. Sue Aikens, has been featuring in the National Geographic's reality TV show, Life Below Zero, since 2013.
She is also the founder of Kavik River Camp. She purchased the camp in 2002
Who Is Sue Aikens's Current Boyfriend?
The 57-year-old Sue Aikens is dating a New York native named Michael G. Heinrich. In an Instagram picture uploaded by Sue on 26 March 2019, he is wearing a construction worker-like outfit in the picture. And sure enough, his profession justifies his attire.
His profile on Facebook reveals that he works as a journeyman electrician for Local #3 IBEW, which is based in Flushing, New York.
Sue Aikens Calls Boyfriend "Sweetie"
Aikens is very open about her relationship with Heinrich. She makes frequent posts about him.
Her latest post about him came on 26 July 2020. In the caption of the post, she called Heinrich a sweetie and said that one has to make time for their loved ones.
You have to stop and make time to give a moment to your sweetie.
Then, she admitted her long-distance relationship with him while expressing her love.
Long distances can be tough, but we both make it work. Love you sweetie.
She also used #sweetheart and #missyou to express her feelings towards him.
Just like Sue, her boyfriend is also open about their relationship on his Facebook page. For a matter of interest, his profile reveals that Sue and he had things going on at least since July 2018. She has been regularly commenting on his pictures on Facebook since then.
Is Sue Aikens Already Married To Michael Heinrich?
Even though both Sue and Michael's social media accounts are filled with love-filled pictures and cute messages for each other, there isn't anything that suggests that they are married.
Another thing to consider when talking about them being husband and wife, especially right now, is that they are in a long-distance relationship. Aikens lives in Alaska, where she handles her own Kavik River Camp and stars in Life Below Zero. Similarly, Michael lives in New York, considering his employment info from his Facebook profile.
Therefore, considering the lack of evidence, it would not be right to assume that they are married as of now. We will have to wait for one of them to confirm or deny the speculation.
Sue Aikens Has Two Children From Second Marriage
Sue has been married thrice in the past, reports The Cinemaholic.
According to the magazine reporting on her marriage and relationship status, the television documentary star's first husband "reportedly" passed away because of a brain tumor, and her more than one-and-a-half-decade long marriage with second husband Eddie James ended in 2004 before Aikens relocated to Alaska. The entertainment publication elaborated in the report that James died in 2004 and the pair had two children together—a boy and a girl.
The magazine, however, didn't touch on the context of her reported third husband.
Another magazine, Answerafrica, states that her third husband allegedly separated with Aikens to be with a younger woman.
Aiken Stayed In Oregon during her Marriage With Second Husband
Kavik River Camp founder Sue Aikens previously lived with her second husband in Oregan before she permanently moved to Alaska. Talking to Straitstimes, Aikens explained her motivation to live in the isolated environment accepting the wilderness Alaska had to offer.
She said, "I am born an explorer and an adventurer, so the city life and its people were always difficult for me. And I loved and had a keen sense of belonging with the animals, so if I had not moved to Alaska, I would probably still try to find a way to get close to nature."
She then expressed that she had learn to accept the nature of life.
And you get what you get in life, so you either accept it or grow and change it to suit your needs. I've never been upset with my mother or others for how my life turned out. It has made me who I am and I like me very much.
In the interview report published in 2016, Startimes disclosed that Aikens' two children were aged 28 and 32 at the time and both of them had their "own families."
Sue Aikens' Son Got Married in 2016
Posting a snap that featured her son and herself in a joyful mood, Aikens wrote, "I slipped the collar last week to see my Son wed his girl." She congratulated the newlywed via the tweet post and humorously joked proclaiming, "You can't take the Idgie out of this tomato..."
Sue Aikens Is Officially a New Grandmom
One of her children gifted Sue with a grandchild in January 2020. On one of her Instagram post in January 2020, she disclosed about the birth of her grandbaby, writing "Grandbaby Arrives." The post featured the good news along with multiple pictures of close family and friends attending the special moment.
However, the birth of the newborn was not Sue Aikens' first experience of being a grandmother. Answering a comment made by a user in her Twitter replies in 2015, she revealed that she had "grandkids" from her daughter.