Rachel Crane Age, Wedding, Parents | CNN Reporter Bio Reveals
American journalist Rachel Crane has made a name for herself through her association with CNN...Her bio describes herself as a colossal tech & space nerd...some fascinating wikis about her...the long-time boyfriend and girlfriend tied the knot in a glorious wedding...loves to spend time with her parents...never misses her birthday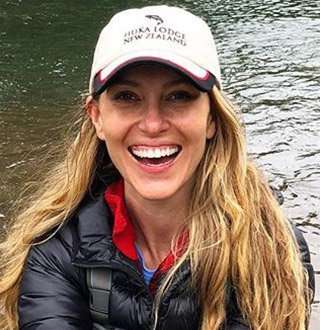 American journalist Rachel Crane has made a name for herself in the world of science and technology after interviewing ingenious stars such as SpaceX and Tesla CEO Elon Musk, Amazon CEO Jeff Bezos, Google's director of engineering Ray Kurzweil, and NASA's William Gerstenmaier, through her association with CNN.
It is not just her professional excellence that has helped her hug the limelight. It has been more than eight months since she had the best day of her life after getting married to Andrew Marks.
To find out more about the star as well as the wedding, we've gathered some fascinating wikis about her covering her Biography, her family life, her love story with her husband, and their beautiful marriage!
1. Rachel Crane's CNN Career
As a CNN Digital correspondent, Rachel, aged 39, covers pop, culture, and innovation. She creates original video content for CNN's platforms, including the original series, City of Tomorrow, which highlights alteration in cities around the globe.
Mixing It With the Bigwigs Of Technology: Rachel Crane interviews Tesla CEO Elon Musk about Boeing and NASA. (Video: Youtube.com)
She also travels extensively to report on technology advancements. She flew to Abu Dhabi to cover about the pre-planned sustainable city Masdar. She also went to California to taste wine made by robots from Napa Valley.
She has also explored four spaces capsules as well as covered the privatization of space at NASA's Kennedy Space Center. She has als been to San Quentin Prison to see how the institution taught inmates to make minisatellites.
Related: Jeff Greenfield, Married With Wife And Family; Third Time A Charm?
2. Her Bio: Parents, Birthday, Tech Nerd From Early Age
Born on 26 October 1985, Rachel Crane was born in Los Angeles, USA. She graduated from Princeton University with a bachelor's degree in religious studies. She also graduated from New York University with a master's degree in news and documentary film.
Her bio describes herself as a colossal tech & space nerd, with an interest in science and space from a young age. Away from the mystic world of science, Crane loves to spend time with her parents, especially her mother. She never misses her birthday, and in return, her mother doesn't forget her little daughter's birthday with mentions on social media every year.
She credits her mom as 'the woman who taught me how to laugh so hard you almost pee.'. Meanwhile, she has inherited her 'monster' genes from her dad, whose nickname was 'monster' when worked for the government.
3. Met Her Husband At Birthday Dinner
Rachel Crane and Andrew Marks went to the same high school in Los Angeles. But despite going to the same school, she didn't know him even though he knew her.
Years later, they were seated next to each other at a friend's birthday dinner and officially met each other. She recalled the moment she realized that she knew her and said,
"When I saw him, I was like, 'You . . . I know you!' We didn't speak to anyone else at the party. It was pretty instant."
After that, they started dating each other.
4. Engaged Inside Flower Wonderland
Rachel and her then-boyfriend Andrew Marks had been dating for more than a year and living together in an apartment as well. After an average Friday, she went home exhausted, but she didn't know what she was walking into when she entered the apartment.
When she walked into their apartment, she was surprised to see her place being transformed 'into a flower and candle wonderland.'. She recalls the moment as magical, beautiful, and intimate.
Similar To This: CNN's Sanjay Gupta On Bright Side Of Weed! Along With Perfect Family He Shares With Wife
5. Extravagant Wedding With Andrew Marks In 2018
After getting engaged in a romantic manner, the long-time boyfriend and girlfriend tied the knot in a glorious wedding on 23 March 2018. It makes sense as Andrew is the heir to the billionaire Howards Marks. The couple got married in the French Riviera with a ceremony at the Villa et Jardins Ephrussi de Rothschild. Every detail of their wedding was out of this world.
Being a nerd that she is, they celebrated with themed 'Rachel Loves Andrew to Mars' Shirts. There was no shortage of flowers, and the whole reception was covered with them.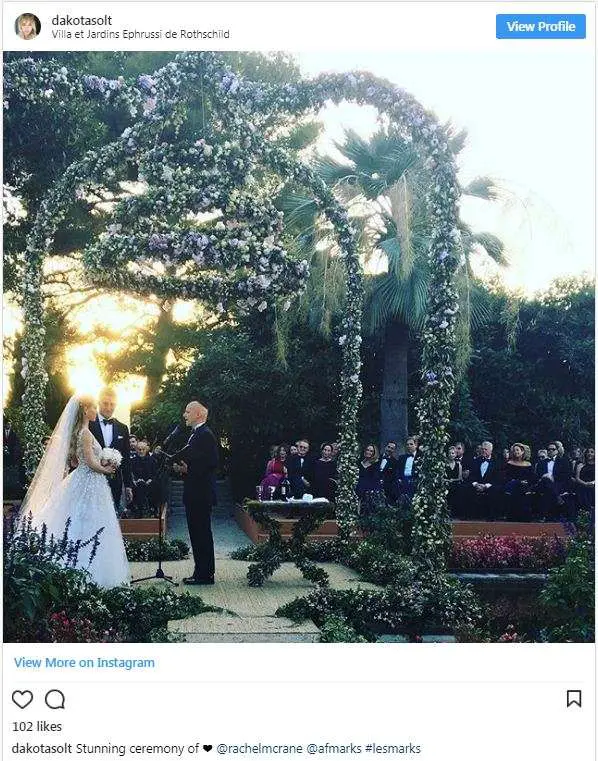 Rachel Crane and Andrew Marks moments before they said 'I Do' on 23 March 2018. (Photo: Instagram)
The bride and the groom looked stunning. The bride was draped in a white gown adorned by a long veil, while her husband rocked a tuxedo with a bow tie. 
But the best moment of the day came when the father read the sermons and the couple said 'I do.' With the sun setting in the background, a new relationship was slowly rising in its infancy.