Married With Wife And Family; Jeff Greenfield Married Third Time A Charm
Jeff Greenfield, Married With Wife And Family; Third Time A Charm? An award-winning American television journalist and author, Jeff Greenfield is a prominent name in the realm of journalism and media. He also holds the status of political, media and cultural analyst on the favorite news channels of United States.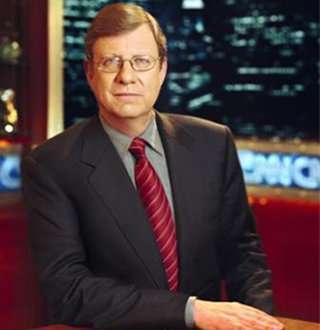 American television journalist, Jeff Greenfield didn't have a successful conjugal life in the past, as he had to go through two failed marriages before finding his current wife, with whom he shares a beautiful bond.
Jeff Greenfield is a prominent name in the realm of journalism and media. He also holds the status of political, media and cultural analyst on the favorite news channels of United States.
On 92nd Street Y: Jeff Greenfield talks behind the headlines alongside New York Times White House correspondent Maggie Haberman and First-rant political reporter Alex Burns (Published on 16 April 2018) 
Jeff has won three Emmy Awards for his remarkable work in news network, two for his reporting from South Africa and one for H. Ross Perot's profile.
Jeff Greenfield's Bio: Age & Broadcasting Career
Jeff Greenfield was born on 10 June 1943 in New York City to a lawyer father, Benjamin and librarian mother, Helen Greenfield. He grew up in Manhattan and graduated in 1960 from the Bronx High School of Science. He further has obtained a bachelors degree in arts and law.
You May Also Like: Will Cain With Married Status At Age 42! CNN, Wife, Education, Salary, Net worth Details
At first, Jeff appeared on the Firing Line television program around 1968 and was the host of "CEO Exchange," a national public television series, featuring in-depth interviews for five seasons.
He then worked for CBS News from 1979 to 1983 as a media commentator and later, went on to work as a political and media analyst for ABC News from 1983 to 1997. He too served as a lead analyst at CNN from 1998 to 2007. Moreover, on May 1, 2007, Jeff returned to CBS News as a senior political correspondent until April 2011. At present, he hosts PBS's Need To Know and also does political commentary on NBC Nightly News.
As an author, Jeff also has contributed to eleven books and has written for Time, The New York Times, and Slate.
According to sources, Jeff's estimated net worth is $700k, but his current salary is kept confined.
Jeff Greenfield's Words on Today's Political Coverages 
Jeff took out all the kept in opinions while calling out CNN's Anti-Trump Panels on Brian Stelter's Show on 30 September 2018. He didn't hesitate to mention his thought on the network's political coverage showcasing more punditry and less reporting.
While stating his skepticism for almost everything he hears, Jeff tackled the topic of Judge Brett Kavanaugh facing sexual assault allegations. While the topic was revolving around the potential scope of an FBI inquest into the case, things soon delved into the journalistic ethics.
Jeff also admitted that he didn't find it surprising in his view that a considerable percentage of the press thought of itself as a type of resistance while he referenced opposition to Donald Trump's presidential administration. He hinted on speaking the truth while correcting Donald Trump's statements.
Read Also: Keith Olbermann Obscure Married Status After Girlfriend Makes Him Gay? Media Veteran Personal Info
Without sparing any criticism of CNN, Jeff bluntly said that every time he looked at the network, he only saw panels instead of reporting and exchanging views. And he didn't step back to mention about the majority of the network was hostile and critical to Trump in some way.
For the matter of Brett Kavanaugh's confirmation, Jeff suggested that Brian Stelter's network had initially sided with the judge's opponents and that many of its people had already taken a stand about the nomination.
Jeff Greenfield Struggle For Serene Conjugal Life
Jeff Greenfield, the senior political correspondent, had his first wedding with Carrie Carmichael in May 1968, whom he got divorced in February 1993 after 25 years of togetherness. Carrie is a writer, actor and has written five books and also performed in Design Your Kitchen, a contemporary play by Kate E. Ryan produced at the Flea Theater in May 2004.
The columnist, Jeff has two grown children from Carrie: a daughter Casey(45), and a son David(36). Casey Greenfield is family law attorney in New York. Although the information about the son is yet to surface out, Jeff posted a picture with his son after an outing to the ballpark on Twitter in September 2014.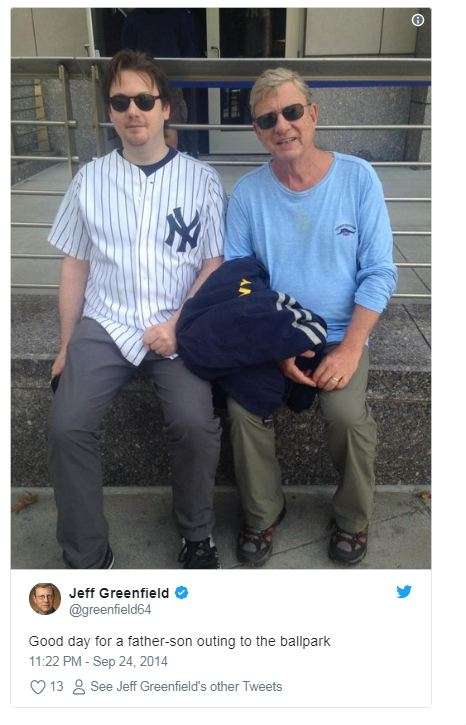 Ties That Bind: Jeff Greenfield posts a picture with his son on Twitter as they go for an outing to the ballpark on 24 September 2014 (Photo: Jeff Greenfield's Twitter)
Jeff is also a grandfather of five grandchildren. The post in his social site clues that the New York native loves to hang out with his son and grandchildren.
You May Also Like: Michelle Bernard Family: Graciously Married With Husband No.2 - Personal Life
After the separation with Carrie, he got married to Karen Gannett in April 1993. Jeff first met Karen 13 years before marriage when she was a news producer at CBS news.
Karen was also a consultant to the Museum of Television and Radio in New York  The couple is no longer together now, keeping the date and the reason for their split concealed. Moreover, no any news regarding their children has come to surface till date.
It was after the two failed marriage that Jeff came across his current wife Dena Sklar with whom he pronounced wedding vows in February 1997. Jeff doesn't have any children from Dena, but the two are cherishing their marriage that has completed the milestone of 20 years of togetherness.