Inside Questlove and His Girlfriend Grace Harry's Apartment
A look into Questlove and his Girlfriend Grace Harry's bright and colorful home.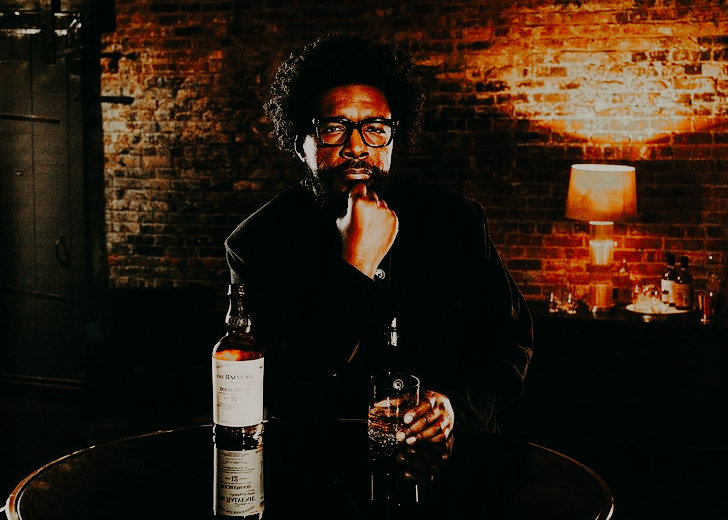 Questlove (born Ahmir Khalib Thompson), and his partner Grace Harry showcased their intimate residence in an April 2021 episode of Open House NYC.
Harry, whose actual job role is a Joy Strategist, took the audience on a tour of their New York residence with a city view, which she labeled as her "playroom in the sky."
A Vibrant yet Sophisticated Bedroom 
As she exhibited the master bedroom with off-white walls, Harry explained she loves to design every area around feeling. 
"So, I wanted to still have our aesthetic, which is bright and colorful, which was not easy to find in bedding," she added, noting that she used bleach and dye to turn a plain white bed sheet and into purple.
A cheetah-print quilt and elegant cushions on the top of the bed completed the look. The bedside tables comprised natural light brown wood and had several decor items. 
Some other decorative items in the room included a neon sign depicting a woman's rear in a thong above the bed, singing bowls, a flower vase, and a gold piece on the wooden dresser.
However, Harry explained that everything else echoed going in, shutting it down, and restoring the relaxing atmosphere. 
The room also had several pieces that are less about color and more about significance. For instance, she acquired a barnacle planter at a California flea market and a piece of black tourmaline, which is thought to repel negative energy.
Colorful Bulbs and Massive Artworks
The apartment also featured several multi-colored cool light bulbs strewn around. "So, I love to change things up," she noted, 
Talking about the living room, the showstopper was a big bright red leather couch accompanied by the matching colored carpet on the floor. The large, dark brown wooden center table was piled high with books, a flower vase, and other trinkets.
The plain-off-white walls were covered with contrasting and bright patterned art pieces of various sizes, while the flooring was all hardwood. The space felt quiet and earthy thanks to a large plant beside the couch.
The massive artworks throughout the walls, a machine in the kitchen that read "Questlove's Popcorn," and a little trampoline in a corner, are among other interesting elements in their intimate home.
About Grace Harry 
The Roots drummer initially sparked dating rumors with a mysterious lady by addressing his "girlfriend" multiple times without actually revealing her name.
But in a December 2020 interview with Rolling Stone, he divulged little about his girlfriend and admired her as a hero, revealing her name — Gracie.
My girlfriend Gracie is a godsend hero. She introduced me to the world of Dr. Joe Dispenza (new hero) who taught me that I am my own hero.
Harry was born in Brooklyn, New York. She is an ex-wife and manager of Usher. The two went separate ways in March 2018 after ending their two-year-long marriage.
The couple announced in a joint statement that they had mutually divorced, stating that they would remain deeply attached and loving friends.
Before dating Usher, she was the proud mother of two kids, daughter Leaf, and son Raiden.