Why Paula White Said She Never Had A Husband After Two Divorces?
Pastor Paula White said that she now has a "real" husband. Paula married Jonathan Cain, a musician, in 2014, and they have been together ever since. This was the third marriage for both of them, and in Paula's case, a marriage that has finally brought her a real husband after two abuseive and failed marriages.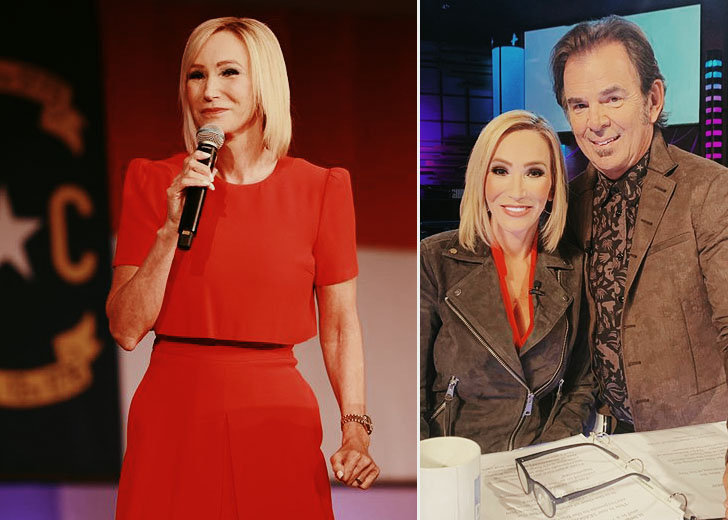 Evangelical Pastor Paula White Cain, the first female clergy member to deliver the invocation at the presidential inauguration back in 2017, may have been married thrice, but she claims to have found a "real" husband only in her third marriage.
Paula and Jonathan Cain, her third and current husband, have been together for quite a while now, and their relationship seems to be going very well.
How did Paula White First Meet her Husband Jonathan Cain?
Paula White Cain and American musician Jonathan Cain first met sometime around July 2010 when they were in the same SouthWest Airlines flight en route to San Antonio, Texas.
She got into the flight carrying, and while walking, she dropped her book right in front of Jonathan. This small incident sparked a conversation between the two, which led to them having a more in-depth insight into each other's lives during the three-hour-long flight. They opened up about each other's lives, and Paula even prayed over Cain, who was a "displaced Catholic" at the time. 
Their connection only got more potent by the day, and they finally started dating, despite their 16-year age difference.
When did Jonathan Cain Become Paula White's Husband?
Approximately four years after their first encounter with each other, Paula got married to Jonathan.
In an interview with Life Today TV in October of 2019, Jonathan said that he and Paula actually got married three times. Paula further added that they got married once for The Father, once for The Son, and then for The Holy Spirit.
They officially got married during their trip to Ghana in December 2014. In a quiet, low-key ceremony officiated by one of White's Pentecostal mentors, Paula and Jonathan shared their vows the first time.
Then, for the second time, they held a public wedding at an Orlando hotel in April 2015. There are no further details available for the third marriage that they mentioned in the interview.
Paula White Cain Deems Jonathan Cain a True Husband She Never Had 
In the interview with Life Today TV, Paula also revealed astonishing information about how she felt regarding her current and past marriages.
White said that she had been married before, but she never felt like she had a husband.
I've been married before, but I never had a husband. I have a husband (now).
She must have meant that in an emotional way as she was married twice before she tied the knot with Jonathan. This claim hinted to how she felt about her ex-husbands and the fact that her previous marriages were abusive. She also gives insight on her feelings of how she feels with Jonathan that feeling was not there in her last two marriages.
Paula's First Marriage Lasted just Four Years
The reason why she said that she did not have a husband before she married Jonathan Cain might be because of how her ex-husbands treated her, and because of her experiences in the past.
A victim of sexual assault from an early age, she became a born-again Christian in 1984 when she was 18, as she had mentioned multiple times as having been saved when she was 18.
In February 1985, she got pregnant with her first son with Dean Knight, a local musician in Maryland. She married him shortly after and gave birth to her only biological son, Bradley Knight, in November 1985.
However, their marriage took a turn for the worse when she found out that her son was getting abused, which might have led to his drug addiction. These problems in the family led to her getting a divorce from Dean in 1989.
Her Second Marriage was an Abusive One
Paula met Randy White, a pastor at the Damascus Church of God in Maryland, at a church. Randy also ended his marriage with his first wife, Debra Ellis, in 1989. The pair got married in 1990, leading to Paula being a stepmother to Randy's three children.
Their marriage lasted only for over a decade as both had begun taking marital counseling by 2003. In another interview with Life Today TV, Paula said that Randy had put her into a difficult situation.
During one of their anniversaries, Randy proposed her with an ultimatum that she would never accept. Further, he threatened her that if she did not take the ultimatum, she would lose everything; her family, ministry, finances, and everything else, too.
Following this, Paula and Randy announced their divorce in August of 2007, a second for both of them.
Paula White was also Involved in an Alleged Affair in 2010
Paula yet again made the headlines when the news of her alleged affair with Evangelist Benny Hinn started to surface. This was right before she met her "real" husband, Jonathan Cain.
Paula was spotted holding hands with Benny Hinn in the streets of Rome in July 2010. It was also claimed that they allegedly stayed in the same room in a hotel.
After the story broke, Paula and Benny both clarified, saying that they were just friends.